Dim sum is a tradition for many Chinese families and it's becoming more mainstream as our taste for global cuisine broadens. It's something our family does almost every weekend. Since we're coming up to Chinese New Year, I thought I'd give you all a dim sum how-to to guide you on your way!
What Is Dim Sum?
Dim sum itself translates to "choosing from the heart." Often, as a child, family would call up on any given weekend morning and ask us if we want to go "Yum Cha," which is the act of going for dim sum—the direct translation is "drink tea." Dim sum is usually served as brunch any day of the week. As you get older (like, much older) going a bit earlier will help to beat the rush. Dishes are served like tapas style meant for sharing. Ideally you want to have 3 or more people to be able to get enough variety.
How To Order?
In a very traditional Chinese restaurant, the dishes often come around in carts with servers yelling out what they have. Many restaurants now have converted to selecting from a menu for a fresher, made-to-order service. Orders for dumplings are generally 3 or 4 pieces and menus are split into categories: steamed, fried, baked, desserts and house specialties. For a guideline, you would often order 3 dishes per person. You can order more if needed.
You should also note that if you have allergies it's best to go to a restaurant that is accustomed to serving non-chinese clientele. These restaurants will be more accommodating. Most of the dim sum prep work is done ahead of time and cooked to order so there is not always an opportunity to omit peanuts from the Chiu Chow dumplings you may want to try.
Dim Sum Etiquette:
Going for dim sum is often an act of patience. If you happen to go during peak times, you may find yourself waiting for your table. Numbers are given by the hostess upon arrival and you simply wait for the number to be called out. Here's the sticky part that drives some people crazy—numbers DO NOT get called in sequence of when you arrive. NOOOO. It's a well-formulated system based on the number of people in your party as well as when the tables are available. So, patience is a virtue. Definitely try to make reservations—they sometimes work but most of the time you will still be required to wait… but not as long as walk-ins. There are no special privileges for kids or elderly because it's a cultural norm everyone to eat out.
As soon as you get your table you will be asked what type of tea you prefer. Most restaurants have several types. Jasmine or Oolong are the most common. Tea will arrive at your table promptly and a charge is automatically added to your bill anywhere from $1 to $3 per person. When you've run out of tea, tip the lid of the teapot so it leans open on top. That signifies to the waitstaff that you need more boiled water. You may also notice at other tables this: if someone else pours tea into another cup, a couple of taps on the table means "thank you."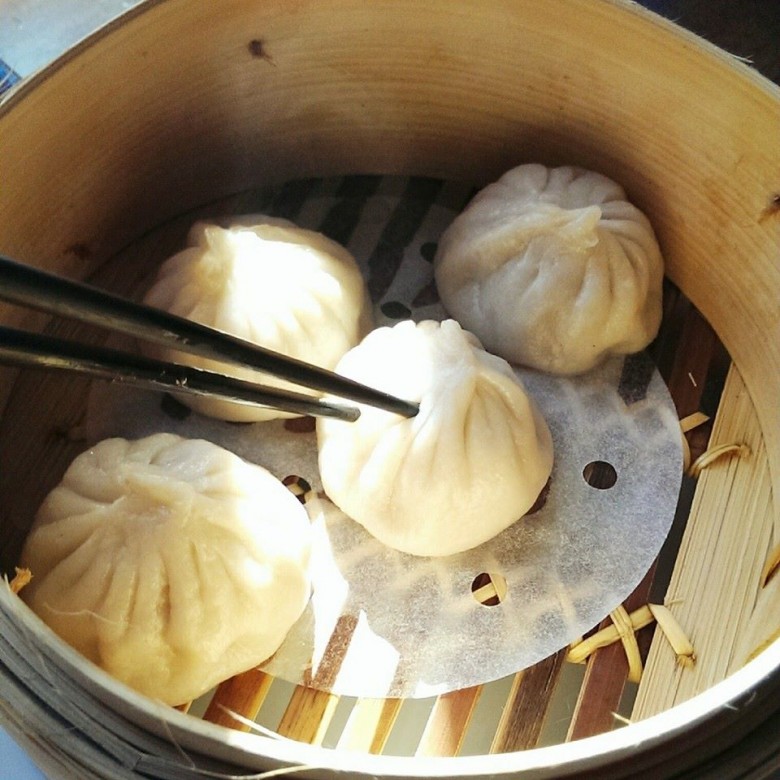 If you require  assistance from staff ask those that are dressed more professionally. The ones with suit jackets are managers that will attend to requests like drinks, utensils, and extra hot sauce. The servers who bring the food to the table only serve. They do not answer your questions but will request a manager to come by. When you've received all your dishes (and by the way, they don't always come out in order that makes sense. You may get dessert delivered earlier than you may wish but it will just remain on the table) and have enjoyed your meal, it's up to you to request for the bill.
Chopsticks are given to each person as expected BUT when the bamboo steamers and plates arrive, use the extra chopsticks (often a different colour) as your serving utensil. Never use your own chopsticks to pick food to your plate or to serve others. Also, please never stick your chopsticks upright in your food. It's considered rude.
In Chinese custom for any meal at home or out at a restaurant, the eldest people at the table are served first. Then children and women. Men usually goes last. It's also a Chinese tradition for people to fight to pay for the bill at the end of the meal. It's very symbolic and entertaining.
Popular Dishes To Order…
Har Gow — steamed shrimp dumplings
Siu Mai — steamed pork and shrimp dumplings
Xiao Long Bao — steamed soup dumplings
Char Siu Bao — bbq pork buns (comes either steamed or baked)
Cheung Fun — steamed long rice noodle crepes with various fillings
Ngo Mai Gai — steamed sticky rice lotus parcels wrapped in banana leaves ( you don't eat the leaves)
Chui Chow Dumplings — steamed pork shrimp and peanut dumplings
Congee—- rice soup (preserved egg is also known as 100 year old egg or century egg… and tastes like it sounds. An acquired taste)
Egg Custard Baked Tarts for dessert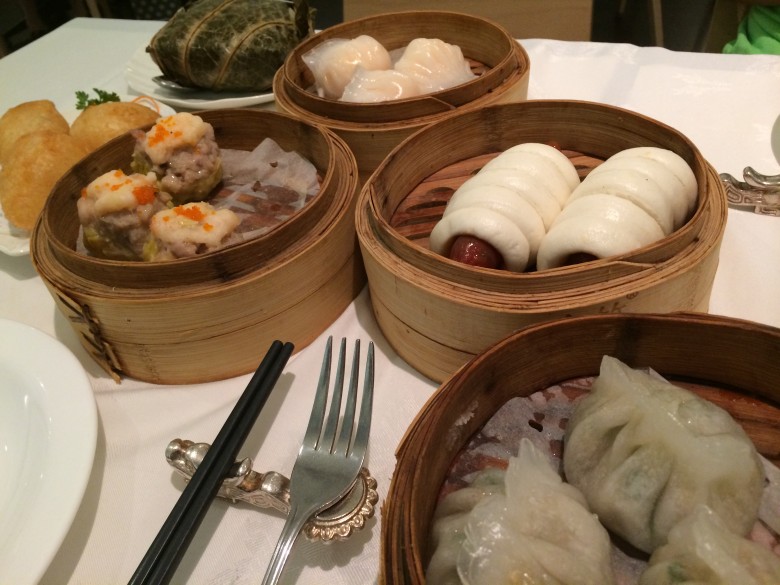 Where To Go?
In Toronto and surrounding GTA  there are TONS of great restaurants that serve dim sum every day. Here are just a few of my favourites that you may want to try…
Dynasty  Chinese Cuisine: 69 Yorkville Avenue, Toronto
Crown Prince Fine Dining: 3600 Victoria Park Ave.,  North York
Kwan Dim Sum: 1496 Yonge Street, Toronto
Rol San: 323 Spadina Road, Toronto
Paradise Fine Chinese Dining: 5505 Leslie Street, North York
Pearl Bayview Chinese Cuisine: 2901 Bayview Avenue inside Bayview Village Shopping Centre
Pearl Harbourfront Chinese Cuisine: 207 Queens Quay West, 2nd Floor. Inside Queen's Quay Terminal, Toronto
Skyview Fusion Cuisine: 8261 Woodbine Ave., Richmond Hill
If you have any questions about dim sum, feel free  leave a comment below or  Tweet me @theculturepearl on Twitter! And let me know where else you've been for dim sum in Toronto or elsewhere!