I've always wanted to experience what it's like to be on one of those cooking reality shows. You know, the ones where you're under pressure and then presented to highly regarded food critics — like a sacrificial lamb? Yep. I recently was invited to participate in the Pressure Cooker media challenge.
I was invited to get a taste of what it would be like to be on the set of PRESSURE COOKER, a new reality cooking show that premieres October 7th on the W Network. This crazy food challenge pits home cooks against each other in a race against time with the real life pressures of cooking at home when time is tight and ingredients limited. The dishes are then judged by one of the toughest food critics in the world, Giles Coren. If that doesn't  intimidate you, then you're a rock.
So, here's what happened… when I entered the kitchen arena, I had this in mind. I totally got this. This is a typical scenario in my house. Cooking under pressure to feed hungry boys ALL THE TIME. I love finding the challenge of whipping up something that is good and nutritious with whatever is kicking around.
I knew I was in trouble as soon as I saw the ingredients like Fluff, tomatoes, rosemary, vanilla, yogurt, pecans, orange juice, bread, sausages… and drew a solid blank. We had 20 minutes to cook. We were told that we would be judged on presentation, taste and overall creativity. Well, I plunged into an omelette, or frittata whatever. "I got this," I thought to myself.  Or do I? I glanced over at my competitors. One is doing an omelette thingy too (with a GoPro attached to his head, I might add). Great. Others are whipping up French Toast and such. But it was too late. The rule was whatever ingredients you've touched, you've got to use. I accidentally grabbed a cucumber and a bag of chocolate chips. Oops.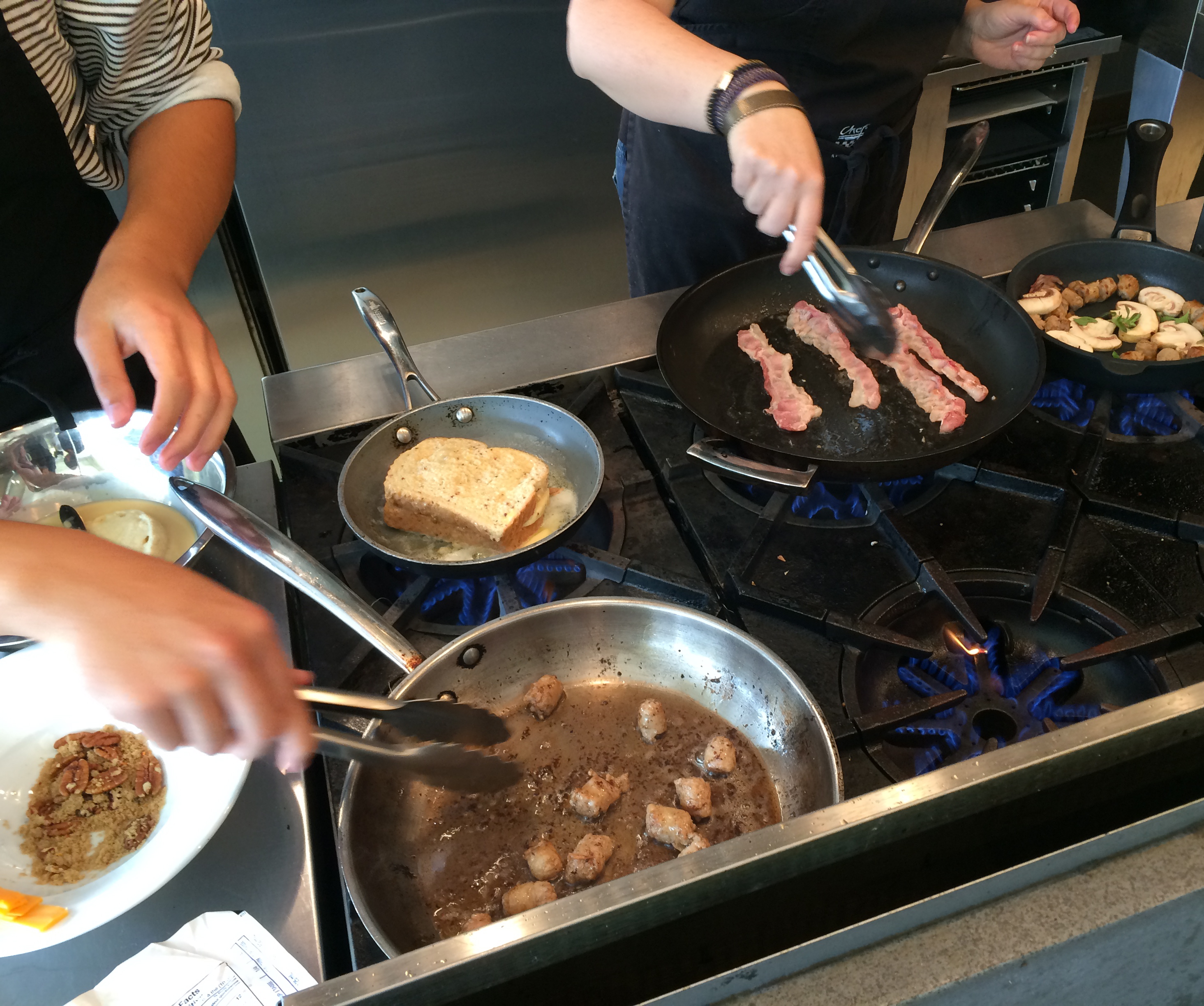 I admit to having a really cool experience despite food critic, Giles Coren, saying that my dish looked like something that he'd get at a hotel… and it wasn't a compliment. Anne-Marie Withenshaw, host of the show, was a little gentler, "Hey, we're urban moms, we go out to eat, right?" (fist pumps). But  not to worry, I had TONS of fun and I'm never making omelette thingies again. But for the real contestants I can see just how stressful this would be. I met with Maddie and Kiki, sisters that applied to be contestants on PRESSURE COOKER. They cooked along side us and just kept smiling and cracking jokes. How do they manage to keep it all together on the actual show, I wondered. "Oh, no, we are still traumatized from the experience!" Kiki mentioned, laughing!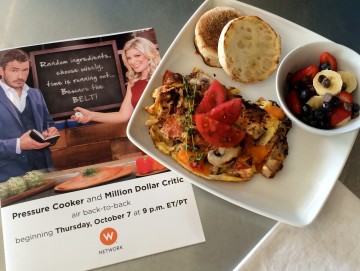 PRESSURE COOKER features Giles Coren, (The F-Word, Million Dollar Critic), as the tasting expert alongside award-winning entertainment TV personality, host Anne-Marie Withenshaw. Each episode features four competitors vying for one of the largest weekly grand prizes in Canadian television, one year's worth of fresh groceries from Walmart SuperCentres. Each week two celebrity guest chefs who will serve as coaches for the competitors as they show how creative you can be with the same ingredients. Guest chefs include: Duff Goldman (Ace of Cakes, Iron Chef America), Hugh Acheson (Top Chef), Rocco DiSpirito (Top Chef), Stefano Faita (In The Kitchen With Stefano Faita), Alex Guarnaschelli (Chopped, Iron Chef America), Rodney Bowers (chef and owner, Hey Meatball!), Graham Elliot (Masterchef judge), Nadia Giosia (Nadia G's Bitchin' Kitchen), Anne Burrell (Secrets of a Restaurant Chef, Iron Chef America), Eric Greenspan (The Next Iron Chef) and DJ BBQ (YouTube star on Jamie Oliver's Food Tube).
This is a show looks really great! I'm  definitely going to watch! PRESSURE COOKER premieres on Tuesday, October 7th at 9:00 pm on the W Network.