So, during TIFF I was caught several times rushing to get dinner on the table for hubby and the kids. Sure, they can fend for themselves but with hubby's busy work schedule there are only  so many times you can order pizza or throw down a charcuterie board and yell "Smorgasbord" in front of hungry boys.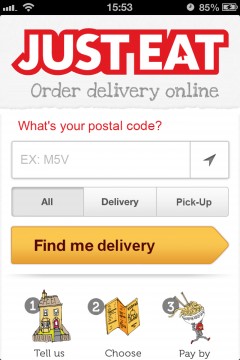 A new app caught my attention with the food delivery service JUST-EAT. Timing was great and the APP was appealing to me. So, I downloaded the free APP from iTunes in anticipation of one of those crazy days.
A bit about JUST-EAT.ca… it's Canada's largest food ordering site  servicing 160 cities and towns across the country, from Victoria to Halifax. In Toronto, the company has over 680 restaurants on their roster!
How it works…
The APP is great for us busy moms on the go. The other day I was rushing to get home and thought I'd give the APP a try. On my iPhone I uploaded the postal code to where I wanted the food delivered. Restaurants that delivered to the area popped up. I went through the list, hungry, and discovered that DRAGON PEARL, a chinese restaurant I'm familiar with, was on the roster. Perfect! I knew what to expect in terms of quality and freshness of food.
No time was wasted as I was running around doing errands. I selected the menu items and placed the order easily. I didn't have to be home to do this! I also love the selection of restaurants from Thai, Italian, Indian, Japanese and more. The delivery arrived at my steps when I expected it to. Friendly service from the driver who was directly from DRAGON PEARL. He explained that I was their first Just-Eat Order EVER and he was quite diligent on ensuring that everything was done right. The restaurant even included a bonus fruit salad to my order which was a nice touch!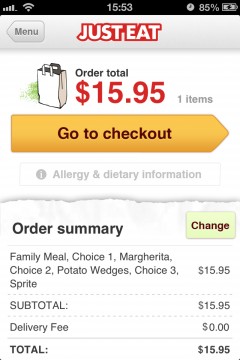 It's easy as you can set up everything on a credit card and not have to worry about transactions at the door or having cash on you. JUST-EAT.ca manages your account and deals with the restaurants.
The JUST-EAT APP also includes a rating system so you can see what other  users have to say about each individual restaurant. I'm liking that this has also broaden the delivery food selection for us as well.
I'm thinking this will come in handy as the kids get heavily into their extra-curricular after school activities. Hockey parents… take note! Also great for university students!
You can grab the APP here at iTunes compatible with iPhone, iPad, and iPod Touch.
This post is not sponsored, and as always all opinions are my own!