Was it a dream? Someone please don't wake me up just yet. I'm still savouring an event I had attended recently at the Shangri-La Hotel in Toronto. I was invited to experience a taste of what this luxury hotel had to offer for this spring.
I've always said that when I grow up I'd like to live in a luxurious hotel. Wishful thinking but a girl can always dream, right? But there's just something about the Shangri-La. Perhaps it's the subtle beautiful oriental flower scent that washes over you when you walk through the doors. Or maybe is it's the high ceilings and asian artwork that welcomes you in the lobby. It's definitely the attentive service and genuine smiles that greet you by each member of the staff.
I have had the opportunity to peak inside this luxury hotel several times for events like TIFF press conferences (yes, that time we were in the same room with Hugh Jackman and Jake Gyllenhaal). I've also met friends for drinks snuggling up to the Lobby Lounge fireplaces. By the way, I swear the city's best lounge live entertainment is hosted here. I'm not talking about people watching. I mean real musical talents that are often found playing here after work hours and late nights. The acts they bring in are so good there are even times that people actually get up and dance! They are THAT good!
But this particular visit was an invitation to an intimate gathering of foodie and lifestyle influencers hosted by the hotel and my friend Daniel (aka dothedaniel.com) for the unveiling of the new Garden Suite and spring menu at BOSK, the Shangri-La Hotel's signature restaurant.
I was honoured to be included in this group. We all felt like family getting together to share a meal chatting away about life with much laughter along the way. It truly was a wonderful and well-thought out evening. But that was no surprise coming from this luxury hotel! Every detail was taken care from start to finish.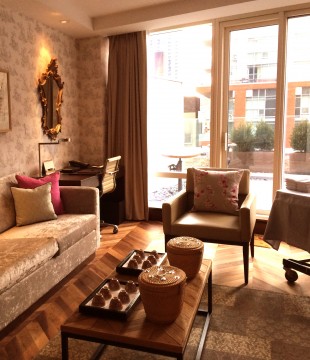 This evening's  special event gave us a quick tour of the hotel. We meandered through the lobby where the afterwork crowd seemed to relax and unwind with cocktails or late afternoon tea. We had discovered that they have over 75 different teas in their library and if you aren't sure what to order, then ask their in-house Tea Sommelier! I had inquired if they also carried the flowering Jasmine Tea…and, yes, of course they have it! It's beautiful if you have a chance to experienced that.
We also checked out their beautiful new Garden Suite – different from the other suites I've seen. This one has it's own garden terrace and worth checking into! A large canopy bed and deep tub beckons for a blissful weekend away! It's on my "Honey, let's go" list.
Just as our thoughts started drifting off to dreaming this life of luxury we were offered a taste of a the Lobby Lounge's latest hockey themed cocktails at the lobby bar. Hey, it is Canada after all. No comment about the Toronto Maple Leafs but drinks proudly named Hat-Trick (a twist on a Caesar made with a choice of gin, vodka, or tequila) and Zamboni (a refreshingly citrus fizzy concoction made with Southern Comfort and Bacardi White Rum) were clear winners!
Dinner at BOSK was spectacular.  In a private dining room, we were treated to a tasting menu with new dishes for the spring season and signature favourites. Chef Damon Campbell is the executive chef for Shangri-La Hotel and has returned to Toronto after spending the previous four years in Asia. He first joined Shangri-La in 2008 working in Kuala Lumpur as chef de cuisine for the hotel's award winning signature restaurant, Lafite, garnering numerous awards. He was nominated by Time Out Magazine for 'Chef of the Year' in 2009. He quickly become executive sous chef at Edsa Shangri-La in Manila, Philippines that housed six international restaurants. Prior to that I was pleasantly surprised to learn that he had also worked in Vancouver with Diva at The Met and La Toque Blanche in West Vancouver. He also worked as chef de partie under the direction of Michelin-starred chef Thomas Keller at French Laundry in Napa Valley.  A restaurant that I had visited about 15 years ago and one of the first spots that had made a foodie impression on me.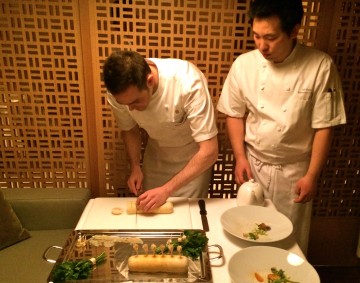 Here at BOSK Chef Campbell took the time to walk through each outstanding dish. Each one so very unique and reflective of his culinary career. There is no doubt that this restaurant is truly something special and worth visiting. Presentation is every bit as important as the flavours. All your senses are focused and rewarded. Outstanding dishes like the marinated fluke with citrus snow is beautifully presented and insanely fresh. The Caviar Donut is crazy good and I will never look at another donut quite the same. It's completely raised the bar and well, that powder sugar dusted jelly-filled has been officially kicked off my list. The Nova Scotia Lobster with house made gnocchi is a delightful signature dish that understandably is a dining room favourite. "The staff love me when I ask them to make those tiny gnocchi," says Chef Campbell with a laugh. To them, I say thank you! Your hard work is very much appreciated!
The wine collection here boasts over 700 bottles selected by in-house sommelier, Mike Moffatt. If you want to talk wines, this is the place to be. Some of the rarest and most interesting offerings are available here. Many from vineyards that are not accessible to us at the LCBO but make rare appearance not only in this restaurant but also debuts in Canada.
Needless to say, the dining experience at BOSK has introduced me to another amazing chef in Toronto. We're very lucky to have him!
I had posted a few photos from the event on Twitter and Instagram #iheartbosk (find me @theculturepearl) and I'm still bumping into people on the streets who are still commenting about how amazing everything looked! I plan on returning to BOSK soon as we have a few special occasions to celebrate!
Shangri-La Hotel Toronto and BOSK restaurant are both located at 188 University Avenue, Toronto. Visit www.shangri-la.com for details. BOSK is open for breakfast, brunch and dinner.