It's the first week back to school and the kids have already made a few requests for their school lunch boxes. I'm totally happy to have their input if it means they will eat it. We had some winning lunch ideas last year that I've kept at the back of my mind. After several years of making daily lunches, I know that I can get into a rut.
Sobeys and celebrity chef Jamie Oliver want us to know that deciding what to put in your kids' lunch box doesn't need to be difficult and it doesn't always need to be perfect. "It's all about finding a balance, and keeping it fresh and exciting with colourful, tasty, nutritious food that your kids will enjoy, and importantly, that they'll want to eat," says Jamie.
So what makes a good lunch box? Jamie says to "make sure there's an overall balance of protein, dairy, fruit, grains, and vegetables." He also encourages parents to get their kids involved. "I often get my kids to help out with making and packing their own lunches – it's a great way of keeping it fun, giving them a better understanding of food and a sense of ownership, all of which will help them develop healthy eating habits that will last a lifetime."
Here are some handy lunchtime tips that have saved me from boomerang lunches (you know, the ones that come home barely touched?) while offering up a balanced meal.
Deconstructed Lunch: Following the restaurant trend, "deconstructing" a sandwich gives the kids the opportunity to build their own lunch. A great idea is to use paper or silicone cupcake liners to separate food groups. And yes, I actually call it a "deconstructed" lunch when they ask me. "Bento Style" Japanese presentation (or charcuterie style) is not only visually appealing but is also a fun and easy way to offer up several delicious food groups in nicely proportioned and fitted container. Kolbassa slices, hard boiled eggs, cheese cubes, berries, cucumbers, red pepper strips, cauliflower, crackers, pretzels, dried fruit, and dips are all great choices.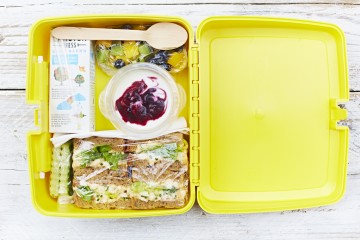 Shapes and Colours: Use cookie cutters for sandwiches and even smaller cookie cutters for fun cheese shapes. Cut large apples into sticks (spritz with lime juice to keep from browning). Include naturally bright coloured fruits and veggies that kids love.
Dip and Dunk: Add in a small container of plain yogurt, hummus, roasted red pepper, baba ganoush or any other dip with a few sticks of veggies, crackers, pita bread etc!
Bread Swap: Sliced bread is so predictable. Switch it up and use different style buns like ciabatta or panini, pita pockets, wraps, or even pancakes to hold everything in! Tip: plastic wrap is great for wrapping up sandwiches but it can make tortilla wraps soft so use wax or parchment paper to keep them fresh, just roll up and twist the ends like a Christmas cracker. Also, fill sandwiches or wrap right to the edge so that every bite has enough filling…and maybe the crusts won't get left behind!
Condiments: Add an unexpected condiment to sandwiches for a twist on taste.  A bit of tapenade, or even a dip used as a spread instead of butter or mayo can offer up something fun for kids with more advanced palates and like variety. My older son loves spicy so we've added extras like red pepper dips, Italian hot peppers and even Sriracha.
Not a Sandwich AGAIN: Grab a thermos and give your child the comforts of homecooking. Make extras of your family's favourites like hearty stews and homemade soup (that roast chicken you had last night – the bones will make a perfect stock today, just add veggies), or offer up a thermos of meatballs in sauce with a bun on the side to dip or make a meatball sandwich. Add a small container of grated cheese on the side. Leftover cooked chicken can be tossed and made into an easy pasta salad too!
Slushies: Freeze your juice boxes and by the lunch hour, it makes a perfectly thawed drink and it will keep the lunch box cool until then.
Surprises: We all love a little treat, right? Pack edamame instead of carrots and celery or roasted seaweed snacks. Homemade bars and cookies are always the best! Make your own chocolate covered pretzels easily for a nice lunchtime finisher.
Notes: Include in a message or joke that will surely make them smile and remind them that you're thinking about them.
The #BetterFoodForAll Challenge
So, how do you make a lunch box better? Sobeys and Jamie Oliver want you to join the #BetterFoodForAll Challenge! Snap pictures of your better lunchbox tricks, snack ideas or whatever inspires you or your kids! Share them on Instagram and Twitter with #BetterFoodForAll by September 11, 2014 for a chance to WIN a cooking lesson with Jamie Oliver in Toronto this fall.
Details here: www.betterfoodforall.com
This post was sponsored by Sobeys