Has all the energy drained out of you? Did you already eat your lunch and go outside for a walk in the sunshine? Is it 2.30 pm?
If you're experiencing an afternoon crash, the good news is, you're not alone. California Almonds conducted a recent survey surrounding the workday slump and found that 85% of Canadians experience one at least one afternoon crash a week around this time. And in nine out of ten provinces, respondents yearned for something sweet to combat it.
So what should you reach for when your energy is sapped and productivity is non-existent? Since Canadians have a sweet tooth, it's tempting to reach for the candy. But the types of food you eat can have a huge impact on how you feel later in the day. Almonds are a delicious and convenient alternative to combat the dipping blood sugar levels post-lunch. They provide 6 grams of protein, 4 grams of fiber and 13 grams of good, unsaturated fats which help satiate hunger and prevent irritability. Plus, they provide the perfect crunch.
Almonds are also a great source of energy-boosting and stress-busting nutrients including B vitamins. They're especially high in vitamin B2, which helps produce anti-stress hormones, including serotonin, our "happy" neurotransmitter helping to seize the afternoon!
Registered Holistic Nutritionist, Peggy Kotsopoulos, says that for energy to be sustainable, it's best to incorporate fibre, good fats and protein to your sweet treat to keep blood sugar balanced and keep you fuller longer. A simple trick of adding almond butter to your chocolate chip cookie recipe or to a piece of dark chocolate does this.
Kotsopoulos has developed these scrumptious snack recipes to keep you going all the way through the afternoon and beyond!
Chocolate Chip Almond Cookies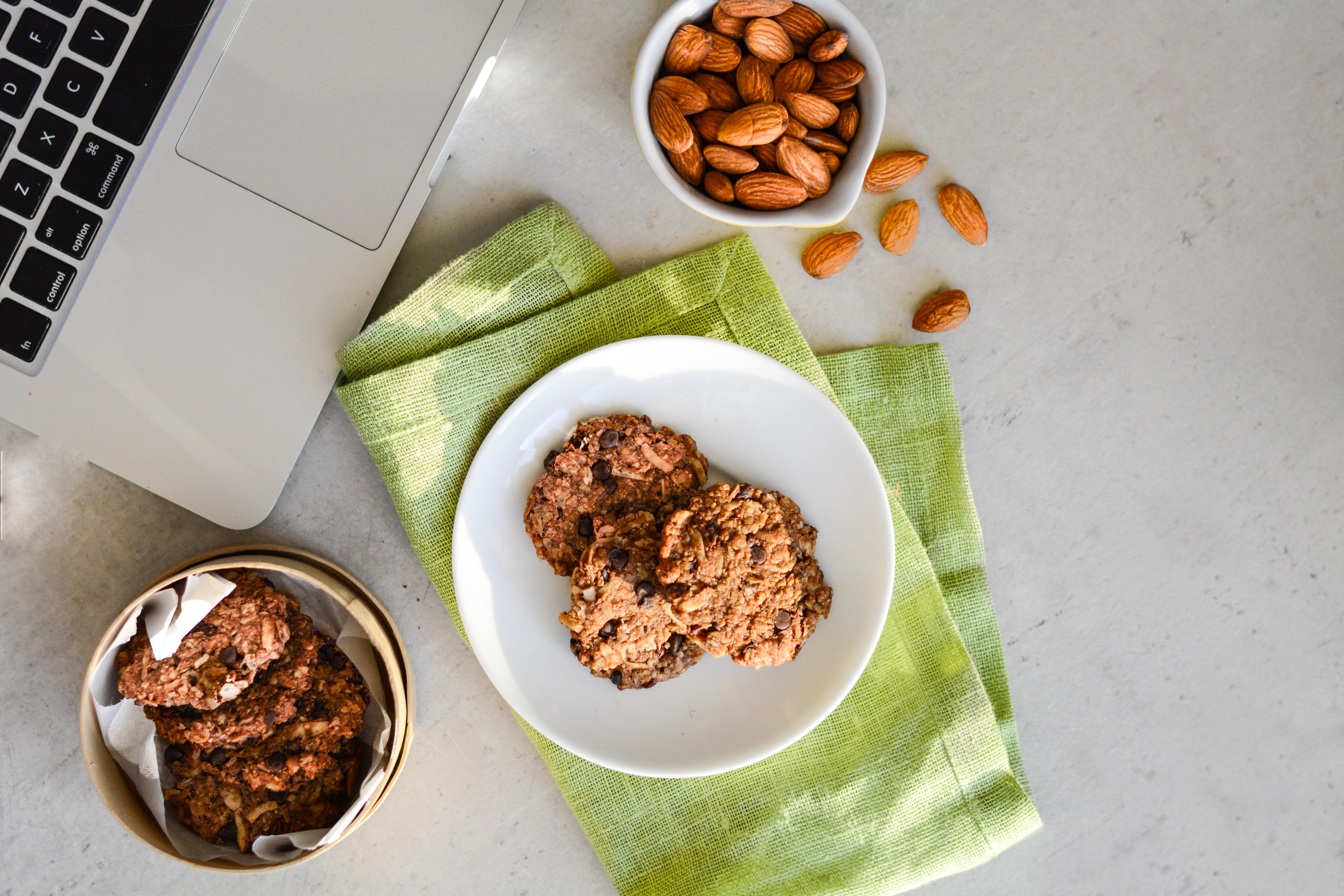 Ingredients
1 cup (250 mL) unsalted almond butter
2 tablespoons (30 mL) ground chia (mixed with 1/3 cup [75 mL] water)
1/2 teaspoon (2 mL) cinnamon
1/2 cup (125 mL) maple syrup or coconut sugar
Pinch sea salt
1 cup (250 mL) 100% rolled oats
1 cup (250 mL) coconut flakes, unsweetened
1/2 cup (125 mL) dark chocolate chips (semi-sweet)
1/3 cup (75 mL) slivered almonds
Preparation 
– Preheat oven to 350°F (175°C). Prepare a cookie sheet lined with parchment paper or greased with about 1 tablespoon coconut oil.
– In a large bowl, mix almond butter, chia mixture, cinnamon, maple syrup or coconut sugar, and sea salt until well combined, then mix in remaining ingredients. You may want to mix with your hands to ensure the ingredients are well combined and a dough-like consistency is formed.
– Roll into golf ball–size balls, then press flat on the prepared cookie sheet.
– Bake until golden, about 20 minutes. Let cool completely before eating.
Cinnamon-Maple Candied Almonds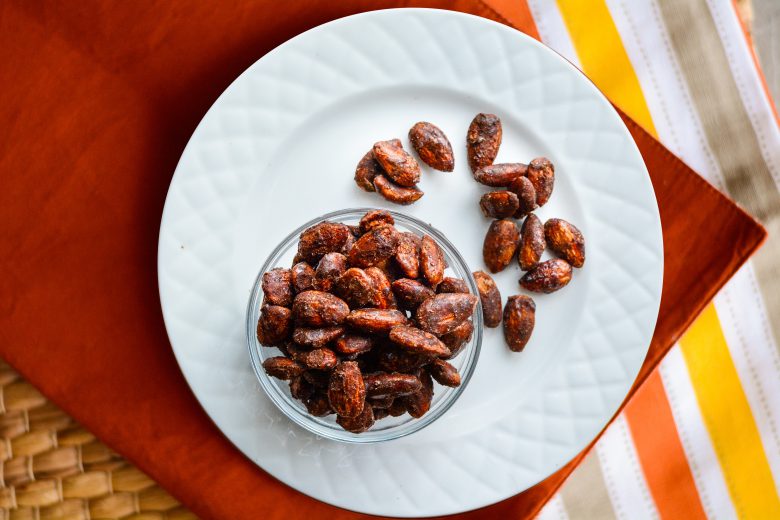 Ingredients
2 teaspoons (10 mL) ground cinnamon
1/4 teaspoon (1 mL) cayenne pepper
1/2 cup (125 mL) whole natural almonds
2 tablespoons (30 mL) maple syrupPreparation
– Mix cinnamon and cayenne in a small ramekin and set aside.- Turn stovetop to medium heat. In a non-stick pan, gently toast almonds until they start to pop, roughly 4 minutes, stirring consistently with a wooden spoon to avoid burning.
– Add maple syrup (it will start to sear), immediately add the cinnamon-cayenne mixture, continuing to stir consistently, until well combined and the almonds are coated, roughly 2 minutes.
– Remove from heat and transfer almonds to a cooling dish. Let cool completely.
Chocolate Mocha Almond Clusters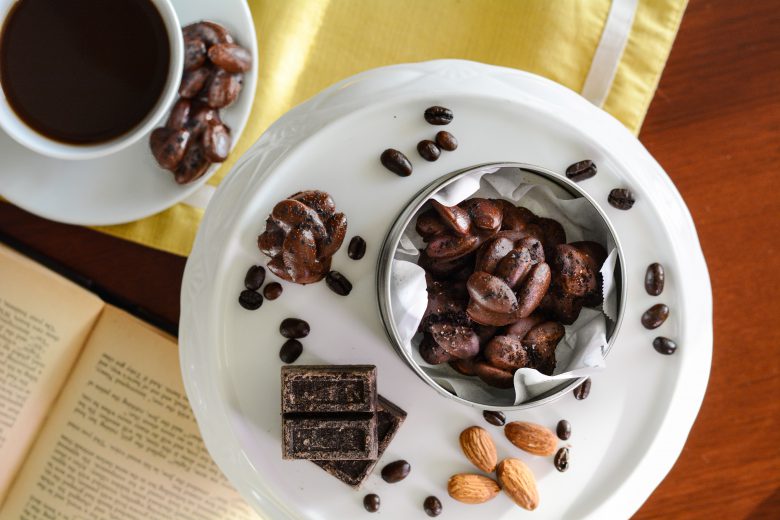 Ingredients
1 cup (250 mL) chopped dark chocolate
1 tablespoon (15 mL) coconut oil
1 tablespoon (15 mL) espresso (strong brew)
1/2 teaspoon (2 mL) vanilla extract
1/4 teaspoon (1 mL) ground cinnamon
1 cup (250 mL) whole natural almonds
2 tablespoons (30 mL) coconut flakes, unsweetened
Preparation
– In a double boiler on low heat, melt dark chocolate with coconut oil, espresso, vanilla, and cinnamon. Continue to stir and remove from heat before chocolate completely melts to avoid chocolate from over cooking.- Stir in almonds and coconut and mix to completely coat. Using a tablespoon, create small clusters and drop onto a wax paper–lined baking sheet and refrigerate until cool and set, for about 2 hours.