I tend to do many things at the same time because, let's face it, women are especially good at multi-tasking. For instance, I will help my kids with their homework while making dinner and paying the bills online. I will workout with friends so we can catch up while squeezing in some cardio. Recently a friend wanted to meet for coffee, but instead, I suggested she join me for a spin class.
"You wouldn't get me to a spin class unless it was like a dance club," she said. She didn't want to just sit on a bike and pedal next to me. If she was going to exercise with me she wanted lights, loud music, and disco balls. She wanted an event. Something fun.
I found just the place when I did a class at SPINCO. With two studios already situated in British Columbia, they recently opened a Toronto location in September. Two more venues—in Vancouver and Halifax—are opening this spring. It took me less than a minute on the bike to discover that a SPINCO class is as close as you can get to a club atmosphere without actually being in one.
With blaring pop music, a motivating instructor encouraging you to give it your all,  and even strobe lights, SPINCO isn't just for spin buffs (or the faint of heart). The newest trend has groups of people booking spin classes for a range of activities, including charity events and bachelorette parties.
"Typically, people go to the gym or a class and then leave and continue on with their day, but when you have the opportunity to make your workout an event, there seems to be more of a sense of community," says Michelle August, founder of SPINCO. "We noticed this during some recent influencer events; they all knew each other from Instagram and it was a chance to not only workout together, but catch up."
Each studio is perfect for an event or party because SPINCO has a snack bar area where you can bring in catered food and have drinks after a class. "It's really up to the party, but it's customizable," says August, who opened her first studio in 2014 in Kelowna, B.C. at age 22. On the leading edge of trends in fitness (and multitasking!), I was excited to ask August a few questions about her business and what makes spinning at SPINCO like a party on a bike.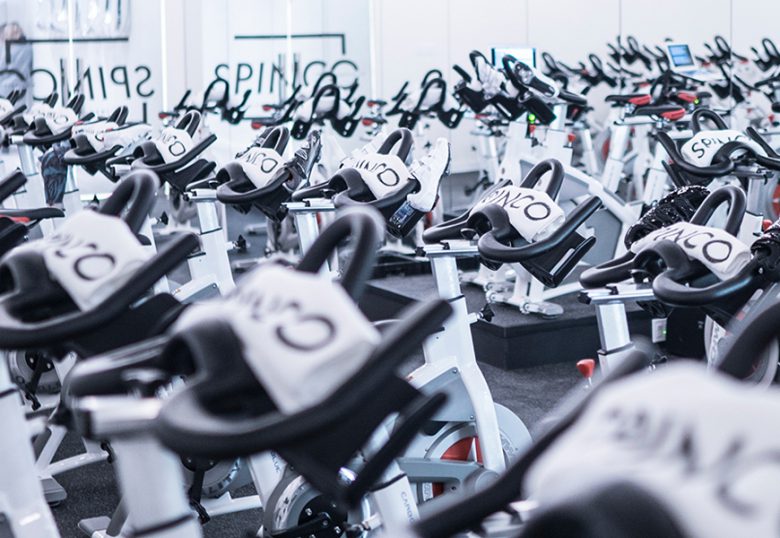 Q: What's unique about SPINCO?
A: SPINCO is more of a community than a studio—everyone knows each other and is excited to come to class. My instructors are also my best friends, and we can interact and speak to every rider that comes in. We get to know them personally and can help them achieve a higher state of physical and mental well-being.
Q. What inspired you to create SPINCO?
A: At first, I didn't really know whether or not I wanted to cater to spinners, yogis or rowers. I just knew I wanted to build an experience, a workout that anyone could look forward to every damn day. Most importantly, I wanted to build a community; a place where our clients would find solace and leave with the feeling that they are stronger now than when they stepped through the doors. I think we have done a great job of that.
Q:. Why is spinning such a great workout?
A: The SPINCO class is an intense, full-body workout that incorporates weights and uses the bike to work the legs, arms, shoulders, back and core. Personally, I find spinning to be a great workout because there's nothing else that can get my heart pumping and sweat dripping to the extent that this does. Music also plays a huge role in each spin class. At SPINCO, we play our music loud as a way to motivate riders to get out of their heads, leave their doubts behind and just get lost in the ride.
Q. How can people incorporate it into their workout routine? (Does it replace running? Should it be done a couple times a week for cardio?)
A: I think spinning is the best aerobic exercise to incorporate into any workout routine. It adds cardio and switches up the current aerobic activity for those looking for something different. We have riders who come twice daily, and we have others who come once or twice a week to supplement the other forms of exercise they are doing. As long as it makes you feel good, there are no limits to where you can go with spinning.
Q. What do you love most about spinning?
A. I love the feeling I get when I finish a killer spin class. That feeling that you can conquer any challenge placed in front of you—it truly does become an addiction!