My little one loves being in the kitchen so as soon as February rolled around we started checking out a few Valentine's Day recipes that he could help make too! Here are our three favourites that are easy and yummy. Adult and kid approved!
RASPBERRY SUGAR-FREE HEART COOKIES
We've tested out this recipe and the cookies turned out really great! Perfect for gifting to diabetics too! Xyla Xylitol is an all natural sweetener and available in health food stores. It can be substituted cup for cup in any recipe that calls for white sugar and if brown sugar is in order, simply mix 1 cup of xylitol with 2 tablespoons of Yacon Syrup and shake the mixture until evenly brown.  We thought these tasted pretty good!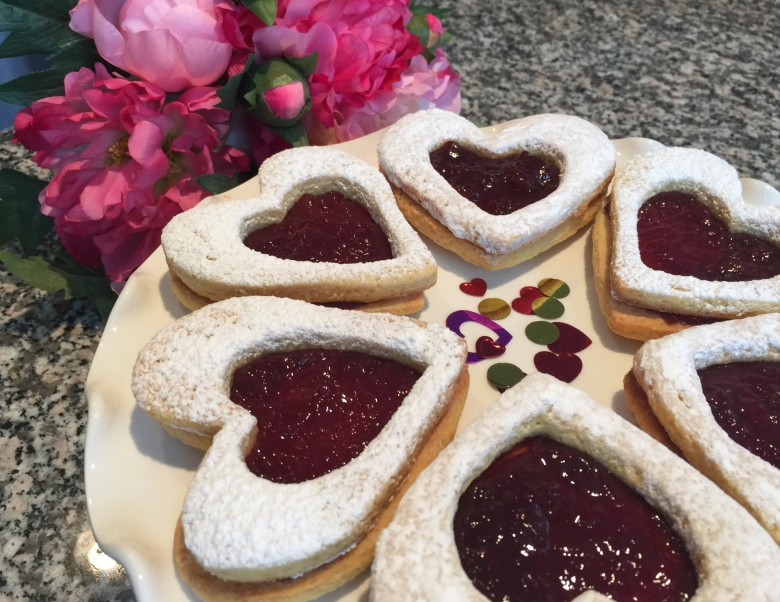 Ingredients:
2 ¾ cups all-purpose flour, divided
1 tsp baking powder
¾ tsp salt
2/3  cup unsalted butter, at room temperature
1 cup Xyla® xylitol
2 eggs
2 tsp vanilla
¾ cup Xyla® Raspberry Jam
Instructions:
Stir flour with baking powder and salt in a large bowl. In another large bowl, beat butter with sugar on medium-high using an electric mixer, until fluffy (approx. 3 min). Beat in eggs, 1 at a time, scraping down sides of bowl as needed. Beat in vanilla.
Using a wooden spoon, gradually stir in flour mixture, just until evenly blended. Form into a ball. Divide dough in half. Shape each half into a flat disc. Wrap separately with plastic wrap. Refrigerate until firm, at least 1 hour or up to 1 week.
Preheat oven to 375F. Line 2 baking sheets with parchment paper. Dust a rolling pin with flour. Roll dough no thicker than 1/4 in. on a lightly floured surface. Cut out shapes with a 2- to 3-in. heart cookie cutter. Transfer to prepared baking sheets and place about 2 in. apart. Use a smaller cutter to cut out centres of half of the cookies on baking sheet.
Bake one sheet in centre of oven until cookies are pale golden, 7 to 8 min. Place cookie sheet on a rack for 5 min. Then remove cookies to a rack to cool completely. Repeat with remaining dough. Gather dough scraps and form into a disc. Chill until firm enough to re-roll.
Assemble cookies by generously dusting cut-out cookies with icing sugar*. Spread about 1 tsp jam on each bottom half. Then set sugar-dusted cookies over jam-covered hearts. Store cookies in an airtight container at room temperature up to 1 week or freeze up to 1 month.
*Xyla® Icing Sugar: Mix ¾ cup of Xyla® xylitol with 2 tablespoons of corn starch to get sugar-free icing sugar
Prep Tip: Add flour to batter with a wooden spoon; using an electric mixer can make cookies tough.
CHOCOLATE CREPES made with Green & Black's Organic Chocolate (Recipe courtesy of Michelin Star awarded Chef Tom Aiken) 
It's no secret that Green & Black's Organic Chocolates are my favourites. Their Ginger is my go-to flavour but it's a premium chocolate that is great for cooking and baking as well and available in grocery stores everywhere. The dark chocolate isn't as bitter as others I've tried and the kids enjoy it as well. But this recipe is great..just add a bowl of fresh berries on the side!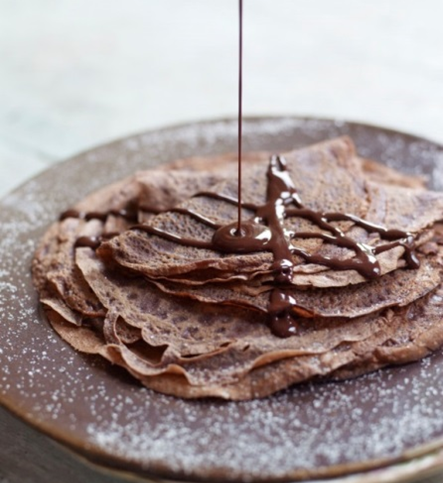 Ingredients:
4 Tbsp unsalted butter, melted
2 oz Green & Black's Organic 70% Dark Chocolate, broken into pieces
1⁄4 cup superfine sugar, plus extra for sprinkling
1 3⁄4 cup all purpose flour
1⁄4 cup good quality cocoa-powder
4 large free-range eggs, plus 2 egg yolks beaten
2 cups 1% milk
Oil for cooking
Directions:
Gently melt together the butter and chocolate over low heat. Set aside.
Mix together the sugar, flour and cocoa powder and sift into a large bowl. Make a well in the middle and add the beaten eggs, then the milk, then the melted butter and chocolate.
Pass the batter through a fine sieve and leave to rest for a couple of hours.
When you are ready to cook, heat up a large non-stick frying pan and rub with a little oil. Add enough crepe mix to the pan, tilting it from side to side, to make a thin cover.
Cook for a minute on each side and slide the crepe onto a warm plate lined with parchment paper and sprinkle with superfine sugar. Continue to cook the crepes until all the batter is used and layer each one with a sprinkling of sugar as you go.
Serve immediately, perhaps with some chocolate sauce. Makes: 18 – 20 crepes
Chocolate Sauce:
3 1/2 oz Green & Black's 85% Dark Chocolate, broken into pieces
3 Tbsp hot water
Directions: Melt the chocolate in a microwave or heatproof bowl over a pan of barely simmering water, making sure the bowl doesn't touch the water, then remove from the heat. Add the hot water and whisk until fully emulsified.
Tips: To get an even coating of oil on your frying pan, use a paper towel to spread it over the hot pan. To prevent burning, keep your pan well oiled and cook the crepes over medium heat. If you think the mixture is too thick, add a little extra milk.
DECADENT CHOCOLATE & RASPBERRY LAYER CAKE
My family raves about my home-made chocolate layered cake but it's time consuming. I've found a perfect "cheat" for those days that you don't have much time but still want a delicious cake. It totally passes the test of tasting fully home-made! Shhhh!!!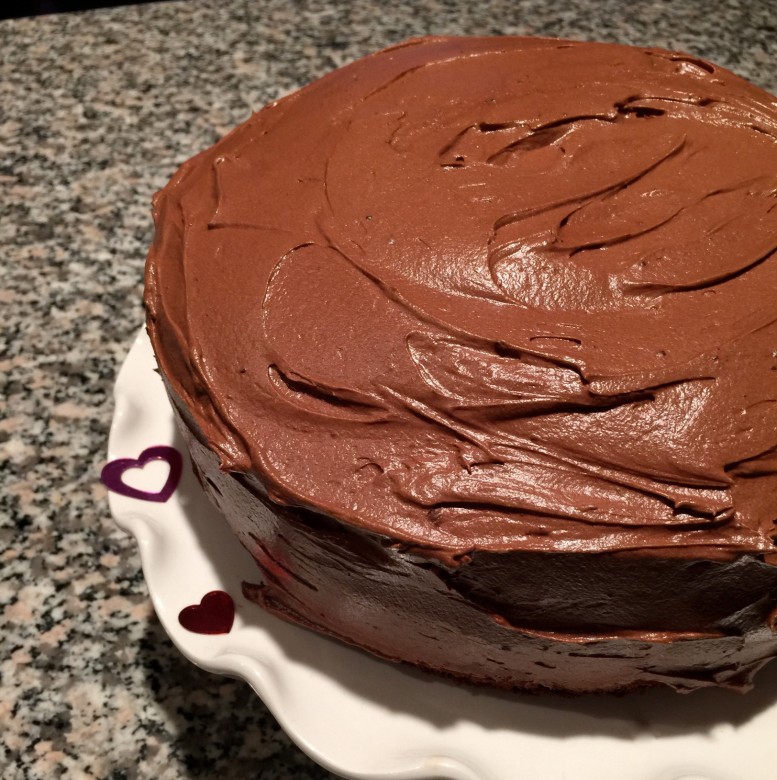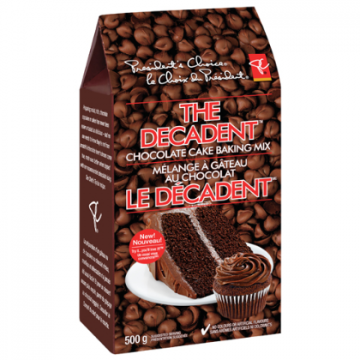 Cake Ingredients:
PC Decadent Chocolate Cake Mix
3/4 cup raspberry jam
Directions:
Follow the instructions on the box to make two 8 inch round cakes. When done, set aside to cool.
Homemade Chocolate Frosting (recipe on the box)
1/2 cup butter, room temperature
2 1/2 cups icing sugar
3/4 cup cocoa powder
3 to 4 tsp  milk
pinch of salt
In a medium mixing bowl, mix with electric mixer the butter on medium until light and fluffy.
Gradually add in the icing sugar until well blended then add in cocoa powder and salt.
Then gradually add in milk until desired consistency for spreading.
Assemble the cake:
Place first chocolate cake layer on dish and spread a thin layer of chocolate frosting on top.
Then dollop the raspberry jam and gently spread evenly on top of the frosting layer.
Add the second cake layer on top and finish off the rest of the cake with frosting.