As Canadians, you would think we'd be used to winter by now.
But every year, as the colder months roll around, we fall into the same old trap; denial (maybe it won't go below zero this year?), anger (why can't we feel our goddamn faces?) and eventually a kind-of-acceptance (it's fine, we just won't leave the house until spring).
This year, we've decided to embrace winter and all the wonderful things (yes, there are wonderful things) about it – and we think you should too. It's great for kids to play outside PLUS, the bond that grows between parents and kids when we get outdoors together is even better.
We've come up with a few tips to make sure you don't just survive – you thrive, this winter.
Layers, Layers, Layers
Getting kids into any kind of winter gear is about as easy as squeezing into our skinny jeans after Christmas. And no sooner than we've zipped them in and swaddled them up like burritos, they're telling us they need to pee.
The key here is layering. Channel your inner onion and wrap up in lots of layers so you and the kids can keep warm and dry whilst letting the skin breathe. They'll be better insulated and able to move easier without feeling bogged down with a heavy coat. Plus, it's easier to strip off for pee-breaks than the dreaded snowsuit and easier to get in and out of car seats.
Always Check the Temperature
Who cares if it's a balmy 2 degrees when the RealFeel temperature is a frigid negative 15? If you don't have one already, install a weather app on your iPhone and make it your best friend.
Check it a day ahead and again in the morning (things can change fast) so you know what to expect and plan accordingly. Perhaps if it's -18° C outside, it might be worth shortening your adventure to the park or bringing a thermos along filled with your favourite warm beverage. Equally, wearing layers you really didn't need when it's 5 degrees and sunny is a waste of time.
In the words of Scar from The Lion King, be prepared.
Take Short Breaks Indoors
A spontaneous stroll might sound delightful, but let's face it – we all realized that carefree living is not that easy when we became parents. What will make everyone far happier is a plan that includes indoor pit stops to keep the grizzling at bay and allow everyone a chance to thaw out a little.
Scope out places to stop ahead of time to avoid endless wandering and tears (yours and the kids).
P.S hot chocolate is an excellent way to bribe any little (or big) people who need some convincing to stay out longer.
Dress Appropriately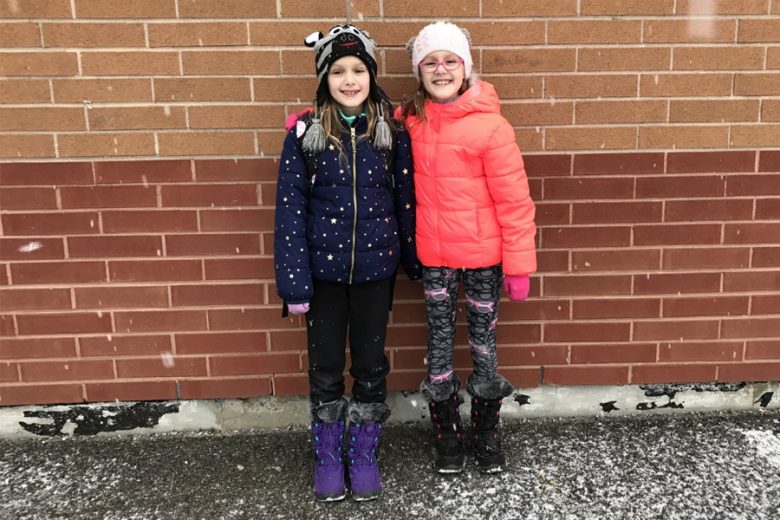 There's no such thing as bad weather – only bad footwear. So say Kamik, the Canadian, family-owned company from Quebec. And given that they've been making quality, stylish boots suitable for Canadian winters for over 100 years, we're inclined to agree with them.
The Ava boot ($90) is just sporty and mature enough to tempt kids into leaving the house this winter, while they're secretly working overtime with their moisture wicking lining and foam insulation. And since they're good for up to -32°C, you can be confident that there won't be any moans of "Mom, my toes are cold!"
But what about the adults? We don't want clunky winter footwear that we dread wearing either! Luckily for us, Kamik really gets Canada – which means their range of boots transition perfectly between outdoor play and urban exploring.
The Women's Rogue 6 ($150) is a fashionable alternative to the traditional winter boot, with a soft boa lining and ThinsulateTM insulation that will keep your feet toasty even in very cold weather (up to -32°C).
And for dad? The Yukon 5 ($130) is ideal for city dwellers. Not only are they great for stepping outside and playing with kids, they're also comfortable when you're walking from the office to the subway. They have a RubberHe outsole, Kamik's very own technology, which is super lightweight, making it the perfect transition for the warmer days of winter too.
Try Something Fun
If your kids don't like the cold, they probably won't want to leave their cozy living room with the promise of visiting your usual haunts. Grocery shopping is NOT an adventure and most kids will not want to spend the day running errands with you.
Free play contributes to children's development, whether it's physical, social, emotional or intelligence – but we need to give them a decent motivation to get outside.
Offer them something new and exciting – if you've had some snowfall where you live, sledding is a cheap and fun way to get kids outside for hours. Alternatively, take them out to analyze snowflakes – have them observe their shapes and sizes.. Or find a local Christmas market to take a stroll around – and reward everyone with some delicious gingerbread or a pretzel.
This post is sponsored by Kamik, but the thoughts and opinions are our own.