I'm staring at my wall with one painting hanging on it. I know there's something missing and then it hits me: I should create my own little gallery with a bunch of different framed pieces. A collage of memories that is modern in feel that I often see in home decor magazines. But I admit that I'm intimidated since it already takes me a while to measure out just one framed piece. So how do you find the balance between just enough and overboard?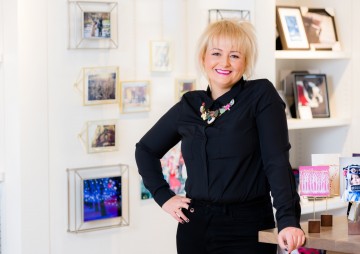 Desta Ostapyk is the BLACKS Design Expert and when I mentioned to her that most of my framed pictures of the kids' artwork, favourite vacation pics lean against the floor or wall, she was ready to set me straight with five easy tips for creating that most amazing gallery wall!
1. Ditch the measuring tape. Don't stress about making everything on your wall perfect! In fact, using mismatched frames, different sized photos and using BLACKS to print on a variety of materials like acrylic and aluminum create a contemporary looking wall that is only achieved by playing around with what you have available. Mix and match until it looks right to you and play with the layout on the floor until you're happy with the balance. Take a picture and apply your finished layout to the wall.
2. Mix it up. While photos will be the main focus of your gallery wall, adding other wall accessories like mirrors and metal objects like arrows or other fun shapes will add necessary space and breaks to your gallery wall, ultimately making your photos stand out more.
3. Make your pics pop. Choose complementary colours and finishes for your picture frames and mats to make your photos stand out. If you choose to include lots of multi-coloured photos, clean frames to separate your pictures also helps the eye focus on each individual one.
4. Play with placement. Gallery walls are not restricted to living rooms! If you're stumped on how to fill any wall in your house – whether it's in the kitchen, bathroom or even a bedroom – gallery walls with personalized photos can spruce it up. If you're tight on space, try a collage multi-photo frame from BLACKS to create the gallery wall effect all within one piece of art.
5. Make it personal. Your home should reflect who you are, and so should your gallery wall! Using your own photos to make gorgeous pieces of wall art on materials such as canvas and metal, will really make your wall unique.