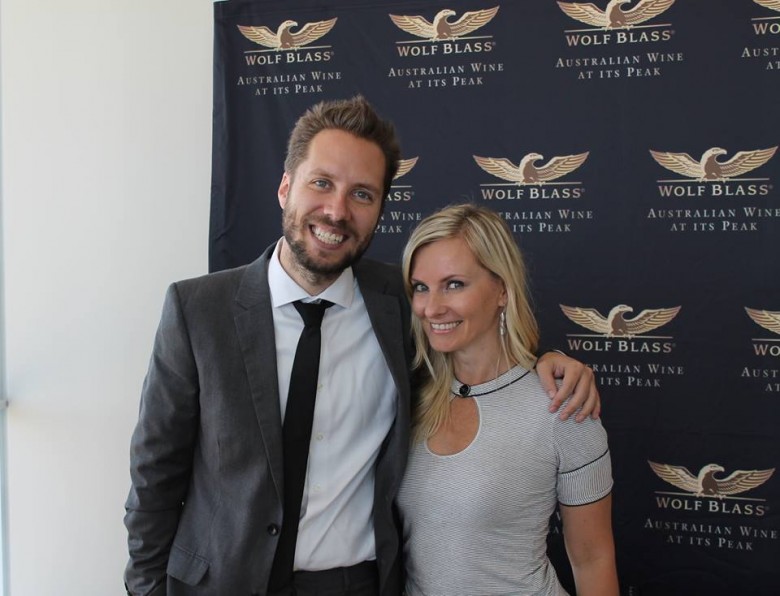 TrendHunter.com founder Jeremy Gutsche is excited to talk about wine. And who can blame him? All the elements of enjoying fine wine are here. It's a beautiful September day and we are in the Wolf Blass room at the Bask-It-Style lounge. It's on the 54th floor of a high-rise which offers a breathtaking view of the Toronto skyline. TIFF is upon us and as the official wine supplier, Wolf Blass has partnered with Gutsche to uncover what's hot in wine culture.
TIFF marks the start of the 30th anniversary celebrations of  the iconic Wolf Blass Yellow Label and before our chat, I am offered a choice of their wine. My pick is the 2012 limited edition Shiraz Grenache Mourvèdre. It is served in a whimsical, stemless squishy plastic glass with an imprint for my thumb. This is not your typical way to serve wine, but then again, I sort of expected it to be different. After all, I'm meeting with a leading innovation and trend expert.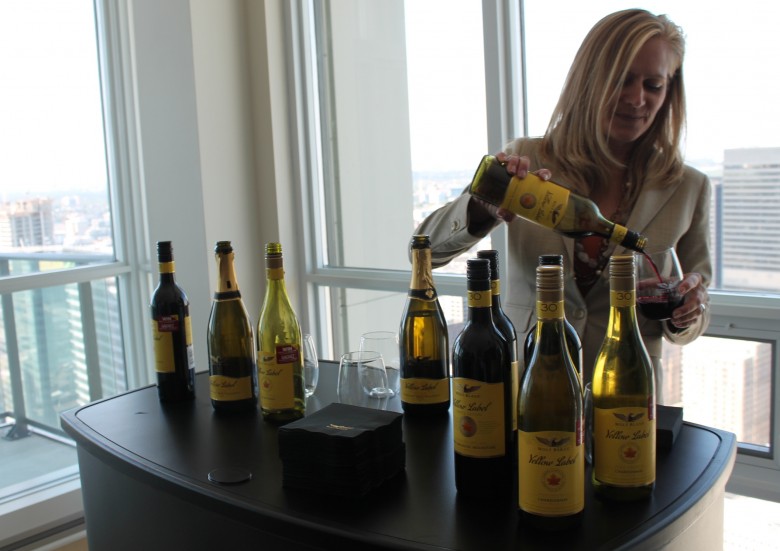 Jeremy Gutsche launched TrendHunter.com back in  2006 and since then, it's become the world's largest online community for trend spotting, cutting-edge ideas and innovation. Based in Toronto, the website gets 45 million monthly views and has 124,000 "insatiably curious" members.
"Imagine you have the need to find your next idea." says Gutsche "Now you have six stadiums of people around the world hunting ideas for you but the cooler part is – we review everything, publish it and use our audience as if it was a focus group. And we wonder  – within wine or lifestyle, tech or fashion – 'what do they like more?' Then we filter that down and work with a lot of brands ranging from Crayola and Intel to Nestle and now – Wolf Blass."
Wolf  Blass has a history for being an innovative company and its 79 year-old founder – Wolfgang Blass – has set wine trends himself. As one of the world's most successful and award-winning brands, Wolf Blass wanted to find out ways in which wine influences our lives " socially at the table and on the tablet."
Working together, TrendHunter.com and Wolf Blass have uncovered five hot wine trends, and as we settled into some comfy leather chairs, Gustche took me through them:
1. Wine-inspired style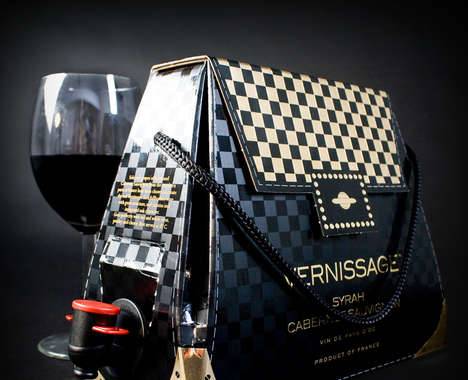 "Wine is becoming fashionized. Things have gone in a different direction where people now leave their decanter out on the table and it shows they like wine. Now you can have a conversation with your buddies about it." says Gutsche.
Forget those boring old dusty bottles in your parents' cupboard, it's wine's turn to shine. These days, wine comes in gift boxes that look like couture purses and can be paired with funky stemware. Buy one of these, and you won't want to put it in a brown paper bag as you carry it out of the liquor store.
2. Wine Experiences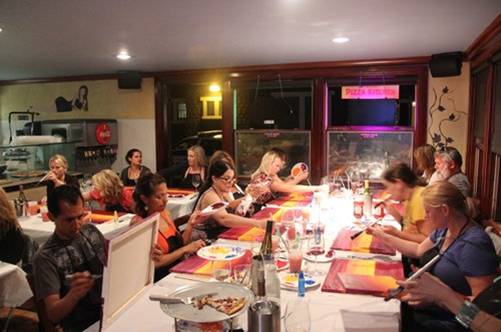 Wine has always provided a great reason to gather, but now we're socializing with wine in more unique ways. Personalized packages allow you to write messages on the box – at a going-away party for example. And when it comes to travel, boomers  are planning "Winecations", by seeking winery tours around the world. There are even wine painting parties.
"You can paint anything, even on walls!" explains Gutsche. "Wolf Blass was looking for fun trendy things to do to celebrate their 30th anniversary, so the final party for TIFF will have blank canvases up and if we're lucky, there'll be an A-list celebrity what will paint something!"
3.  Counting Calories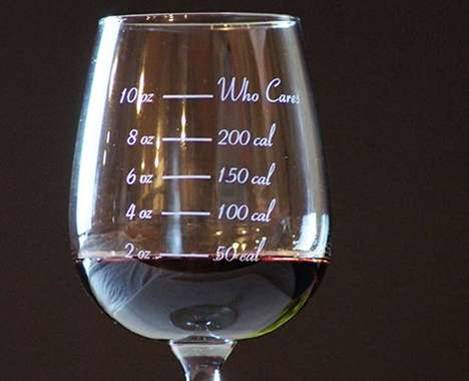 More and more wine lovers are caring about their waistlines, giving rise to a new category of portion-controlled and reduced alcohol options. To help them stay fit and trim, there are accessories that have built-in reminders of their heath goals.
4. Celebrity Crush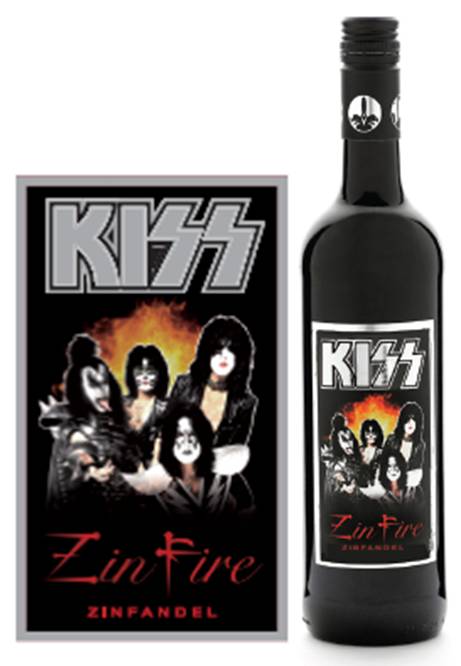 While celebrities entering the world of wine isn't new, (Director Francis Ford-Coppola has had a winery since 1975) today there seem to be more celebrities than ever who either own a winery or have their own wine brand. Drew Barrymore recently launched her own Pinot Grigio, while Brad Pitt and Angelina Jolie's 2012 Château Miraval Côtes de Provence Rosé comes from their 1,000 acre estate in France and has been in high demand since launching in March.  Rock stars are in on the game too. Even KISS has lent their name to wine!
5. Everyday Sommelier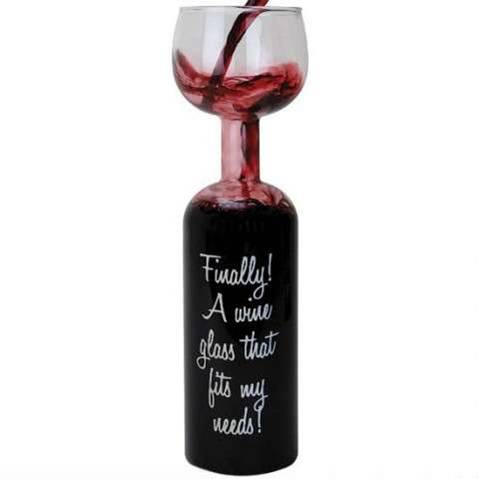 More and more of us like gadgets and apps that "de-snob" wine and make it fun.
"Wine used to be this elite part of the world that you didn't know about and your parents had a choice of these bland type of bottles. They weren't sommeliers." says Gutsche "But now, everyone can be an expert thanks to cool apps."
He's not kidding. There are hundreds of wine apps for smartphones which provide easy access to information and allow any one of us to become "wine experts". By using apps such as Google Goggles , you can scan a wine label and get more information about it – right on the spot. It's a great way to impress friends or a date!
"Wine is exactly the opposite of eliticism now." says Gutsche before I leave. "It's not how my mom used to buy wine where it would be 'I want to buy a cabernet to go with the meal'. It shifted towards brand experience and delivery. Now wine is playful and fun and there's goofy things and it's kitchy – with fun glasses!"
I'll toast with my squishy glass to that!