Canada's youngest rock band the Brothers Dubé will perform on the iconic Canadian Pacific Railway Holiday Train during its stops in Toronto, Hamilton, Cambridge, Ayr and London, Ontario. With contributions being made to local  food banks along the route, the Holiday Train strives to make a difference, one stop at a time.
On Friday, November 29, 2013 the Brothers Dubé will perform in Toronto (750 Runnymede Rd.), and on Saturday, November 30, 2013 the Brothers' will take to the boxcar stage in Hamilton (Western approach to Kinnear Yard, opposite Gage Park). In addition, performances on Sunday, November 30, 2013 will take place inCambridge (Former Galt Station, 10 Malcolm St.), Ayr (CP railway crossing at Inglis St.), and London (Richmond St. Railway Crossing between Oxford and Central).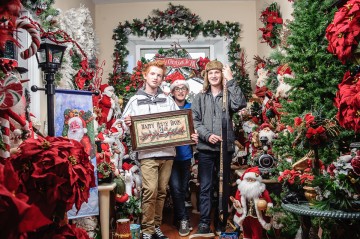 Travelling from Beaconsfield, Quebec, to Port Moody, British Columbia, the Holiday Train's three week journey visits over 150 communities across Canada. Great musical talent including Melanie Doane, Jim Cuddy, Matt Dusk, Doc Walker and the Brothers Dube and more will perform on the famous boxcar stage illuminated with thousands of LED lights.  A contribution to local food banks is made at every stop; attendees are encouraged to donate non-perishable food items or money. Starting in 1999, the Holiday Train has raised over $7.4 million and over 3 million pounds of food in the U.S. and Canada.
Uniting Canadians from coast to coast, the Canadian Pacific Railway was founded in 1881 to link Canada's populated centres with the vast potential of its relatively unpopulated West.  Shaping the nation, the railway helped build the foundation that would eventually turn Canada into the diverse country that it is today.
For more information on the Canadian Pacific Railway Holiday Train, please check out www.cpr.ca
For more information about Brothers Dubé , visit www.brothersdube.com