There can be a lot of expectation and pressure around Valentine's Day but planning the perfect date doesn't have to be stressful. But don't panic! You're just days away…I know. But just remember it's the thought that counts. You ARE thinking, right? Here are a few fun ways to help you on the road to romance this weekend…
FOR THE SILLY IN LOVE:
LaDiDa App (Universal -$2.99)
Woo your sweetie with a song! LaDiDa is a reverse karaoke app that uses artificial intelligence to help you sound like a professional singer. Sing or rap into your iPhone, and LaDiDa will analyze your voice and compose music to match.
URBAN DADDY App (Universal – Free)
This app will help you create a fun-filled night. Just select what you want to do (try "I'm Game for Anything") and who you're with, and Urban Daddy will give you a handpicked list of the nearest spots that fit the bill, complete with venue descriptions, photos and GPS-powered directions to get you there fast.
FOR THE LAST MINUTE DINNER NIGHT OUT:
OpenTable App (Universal – Free)
Making Valentine's Day dinner reservations last minute used to be a game of luck. OpenTable eliminates stress by letting you know what's available at a glance.
UBER BLACK CAR & TAXI SERVICE App (Universal – Free)
Pick up your date out in style. On-demand service means no reservations required and no waiting in taxi lines.
FOR A NIGHT SNUGGLING UP TO THE FIREPLACE:
JUST EAT App & website (iTunes, Google Play – Free)
You don't have to go out! Stay in and  have an intimate dinner right in your own romantic space! Place your dinner order through just-eat.ca from one of many restaurants around the city. There are currently 4000+ restaurants in cities including Toronto, Vancouver, Calgary, Edmonton, Montreal, Ottawa, Winnipeg and Regina on the site that makes fresh food delivery right to your door.
YUMMLY APP (Universal -Free)
Yummly puts every recipe in the world in your pocket. Cook a delicious meal for your sweetheart with the most powerful recipe search, recipe recommendations just for you, and a smart shopping list. But these Mexican doughnuts! OMGOSH!
FOR EXTRA BROWNIE POINTS (EVEN THOUGH YOU'RE LAST MINUTE):
Make it a gift your Valentine will never forget by adding a personal laser-engraved message to any iPod or iPad. It's easy and it's free. Give it that special touch with beautiful signature gift box and red ribbon through the Apple Online Store.
Say it with music and load their new iPod with a playlist of your favorite songs, or let your Valentine choose with an iTunes gift. If you can't be there to see your special someone in person, see them smile when you say "I Love You" with FaceTime on iPad, iPhone, iPod touch, or Mac. http://store.apple.com/ca/browse/home/ipod/editorial/engraving_giftwrap
I personally love the (PRODUCT) RED line of merchandise at the Apple Store. (PRODUCT) RED has generated more than $215 million for the Global Fund to Fight AIDS in Africa. The line includes an iPod and RED accessories for iPhone and iPad.
SPA FINDER  App (Universal – Free)
Spoil your special someone with a spa appointment. Locate local spas, discover special offers and book treatments.
GIFTAGRAM App (iTunes App Store – Free)
If you're in panic mode and don't know what to get, select the gift through the app on your phone. GIFTAGRAM will contact the gift recipient directly to confirm delivery address and that's it. It's easy peasy. What I love is the well thought out and "curated" gift items on their site. Big Bonus!  They'll package it up all nicely and have it delivered within a couple of business days! And don't forget that bottle of Veuve! Delivery charges are included in the price. Toronto only.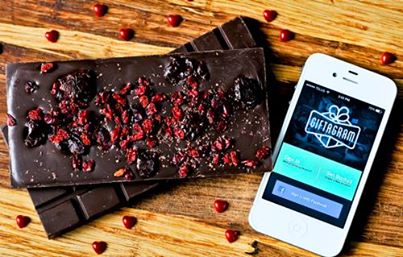 GOT KIDS? VALENTINES ARE FOR THEM TOO!
Kids Fingerpainting – Valentine's Day (Universal – Free)
Kids can draw you a picture and personalize it with a frame and their autograph or beautiful saying!
Biscuit's Valentine's Day Storybook App (Universal -$2.99)
Much more than just a book—you can read the story or have it read to you. There are also memory games, a coloring book, sticker activities and more.
Draw with Hearts Happy Valentine's Day App ( Universal – Free)
Draw animated hearts with special effects on your pictures or on a nice background, and share them via email/twitter/Facebook!
iSnuggle App (Universal-Free)
Create your own Valentine e-cards by combining baby animal characters, kid-safe love messages, and little cheery animal sounds. There are a variety of backgrounds including three heart types for Valentine's Day or create backgrounds from your photo album.
COLORING BOOKS- VALENTINE'S App (Universal – $1.99)
Create exclusive Valentine's Day e-Cards in just a few clicks!
MATCHING HEARTS (Universal – $0.99)
A fun matching game using candy hearts. Catchy tune and sound effects. Score is based on how fast you finish matching.
Happy Valentine's Day!