Families and musical lovers are in for a real treat as WICKED takes the stage for a solid run until November 2 at the Ed Mirvish Theatre in Toronto! This pop-U-lar musical is a real crowd pleaser for all ages (okay, I admit that I've been singing the songs all day). The touring musical production hosted it's media night on Thursday to a full house and had everyone under its magical spell.
If you're not familiar with the storyline, WICKED is the untold story of the witches of Oz before Dorothy and Toto ever ventured down the yellow brick road. The two young witches, Galinda and Elphaba, meet in sorcery school and  are complete opposites — one is popular and pretty, while the other is, well, green and misunderstood. WICKED takes us on their journey from loathing each other to an unlikely friendship proving as always that we shouldn't always judge a book by its cover. This is the story about how the two became known as The Wicked Witch of the West and Glinda the Good Witch of the North.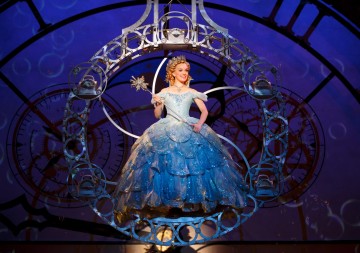 Kara Lindsay delivers a decadent Glinda (or Ga-linda) the "popular" girl in school — who assumes that she can get by in life based on her good looks and giving people what she assumes they want. Lindsay serves up strong healthy doses of laughter and engagement keeping the musical moving at a steady pace.
Laurel Harris puts on a stellar performance as Elphaba the Wicked. This simmering character is confident and smart and Harris gives her the depth Elphaba needs every step of the way from school girl to full blown witch. When she performs Defying Gravity she completely blows you away with raw emotion and her amazing power. Together with Lindsay, they pull out all the tricks to entertain the audience…."pop-U-lar" takes it to another level of hilarious!
The story line stands on its own even if you, or your kids, haven't seen the movie, Wizard of Oz or read the book Wicked. But for those who have, you'll be interested in seeing how parts of that story are subtly woven in. Ever wonder about the Tin Man, Scarecrow and the Lion? I won't reveal it…but they are worked in!
Everything about this musical is wickedly entertaining from the stunning stage set to the elaborate costumes, but the musical also offer up discussion with kids on themes like friendships, personal values, differences, stereotyping and what it means to be popular. Is it better to do what others want you to do? If you feel like something isn't right, can you do something about it?  And what about the consequence we have to face when making our decisions?
WICKED is a favourite musical for a wide-audience of all ages. So far, it has grossed over $3.3 billion worlwide and has been seen by over 40 million theatre lovers in over 100 cities including US, Canada, England, Ireland, Japan, Germany, Holland, Australia and more.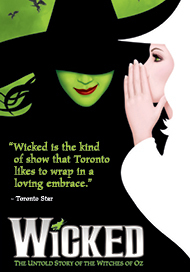 WICKED  by Stephen Schwartz and Winnie Holzman, based on the novel by Gregory Maguire, is now playing at the Ed Mirvish Theatre, Toronto until November 2, 2014. For tickets and performance schedule visit www.mirvish.com
Note: WICKED LOTTERY! A day-of-performance lottery for a limited number of orchestra seats will be held. Two and a half hours prior to each performance, people who arrive in person at the Ed Mirvish Theatre box office (244 Victoria Street) will have their names placed in a lottery for a $25 cash only ticket. Limit of two tickets per person. More details on the site.