It's true that the days are getting shorter, and the nights a little cooler, but there are still 33 days of summer left.
That's plenty of time to grab a great book and park yourself on a back deck, hammock, beach or Muskoka chair to indulge in a little summer reading.
Fortunately for you, I have six great books to recommend. There's something for everyone here; any one of them would make a great summer read.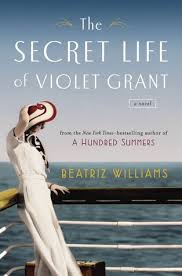 The Secret Life of Violet Grant, Beatriz Williams
published by Penguin Group Canada
From Goodreads, "Manhattan, 1964. Vivian Schuyler, newly graduated from Bryn Mawr College, has recently defied the privilege of her storied old Fifth Avenue family to do the unthinkable for a budding Kennedy-era socialite: break into the Mad Men world of razor-stylish Metropolitan magazine. But when she receives a bulky overseas parcel in the mail, the unexpected contents draw her inexorably back into her family's past, and the hushed-over crime passionnel of an aunt she never knew, whose existence has been wiped from the record of history."
This book has it all; interesting characters, cosmopolitan settings, intrigue and passion. A socialite (and wannabe magazine writer) inherits her aunt's long lost suitcase. She starts researching her aunt and stumbles upon a family murder mystery with great historic implications. Think "Rules of Civility"- lite.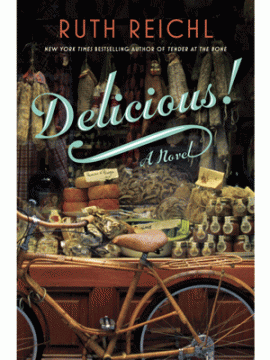 Delicious!, Ruth Reichl
published by Random House
From Goodreads, "Billie Breslin has traveled far from her California home to take a job at Delicious, the most iconic food magazine in New York and, thus, the world. When the publication is summarily shut down, the colorful staff, who have become an extended family for Billie, must pick up their lives and move on. Not Billie, though. She is offered a new job: staying behind in the magazine's deserted downtown mansion offices to uphold the "Delicious Guarantee"-a public relations hotline for complaints and recipe inquiries-until further notice. What she doesn't know is that this boring, lonely job will be the portal to a life-changing discovery."
Do you love food? Do you love a good story? You won't be able to put down this debut novel by former Gourmet magazine editor-in-chief Ruth Reichl (but you'll have to regularly wipe the drool off the pages).We all knew Reichl could write, but now we know she can come up with great stories, too!  Think "The Joy Luck Club".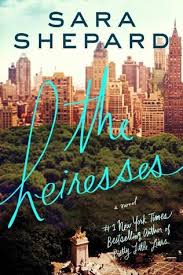 The Heiresses,  Sara Shepherd
published by HarperCollins
From Goodreads, "The Heiresses is a whip-smart mystery that simmers with the wicked sense of humor and intrigue that made Sara Shepard's number one New York Times bestselling Pretty Little Liars series a must-read, must-watch phenomenon."
The Heiresses is an edge-of-your seat read that will keep you flipping pages. Someone is out to murder four New York City heiresses and you're along for the ride. A tale for the tabloid era in which we live, The Heiresses is full of interesting characters, twists and turns. Think "Gone Girl".
One Plus One, Jojo Moyes
published by Penguin Group Canada
From Goodreads, "Suppose your life sucks. A lot. Your husband has done a vanishing act, your teenage stepson is being bullied and your math whiz daughter has a once-in-a-lifetime opportunity that you can't afford to pay for. That's Jess's life in a nutshell—until an unexpected knight-in-shining-armor offers to rescue them. Only Jess's knight turns out to be Geeky Ed, the obnoxious tech millionaire whose vacation home she happens to clean. But Ed has big problems of his own, and driving the dysfunctional family to the Math Olympiad feels like his first unselfish act in ages . . . maybe ever."
Do you remember the film Little Miss Sunshine, about a road trip made up of family and semi-strangers that took one weird turn after another, but left you cheering for the characters and wishing you could spend just a few more kilometres with them? Jojo Moyes' newest novel will leave you with a similar feeling. Think "About a Boy".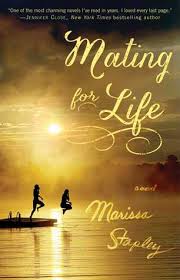 Mating for Life,  Marissa Stapley
published by Simon & Schuster
From Goodreads, "With pitch-perfect honesty and heartwarming humor, this captivating debut explores marriage, motherhood, identity, and what it takes to love someone—family members, friends, or spouses—for life."
Family tensions, cottage visits, long buried secrets…Mating for Life, Marissa Stapley's debut novel has it all. I love a novel like this for summer reading; it's got multi-generational conflict, sibling rivalry, highs and lows and ups and downs.  Think "The Interestings".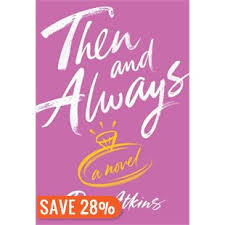 Then and Always, Dani Atkins
published by Penguin Group Canada
From Goodreads, "Rachel's life is perfect. A handsome boyfriend, great friends and the prospect of starting at university in a few weeks means she's never been happier. But in a single heartbeat her world falls apart forever."
This is the book I recommended to all of my girlfriends when they asked what they should read during their summer vacation. "Then and Always" is an enjoyable story with likeable characters (always important to me for a vacation read; do I want to spend my time off with these characters?). The writing is straightforward and entertaining and the style is quick and breezy. It's a love story with a twist. Think Bridget Jones Diary.
33 days…that's lots of time for some summer reading. Tell me, what have you read and loved this summer?