One of Montreal's most celebrated singer-songwriter Florence K was born into a musical family. Florence K took the K in her stage name from her musical father Hany Khoriaty, and has toured the world with her mother Natalie Choquette, a well-known Canadian opera singer. Florence K has released a number of multi-language albums including Bossa Blue (2006), La Historia de Lola (2008), Havana Angels (2010), and Trilogia (2012). Her passion for several languages creates the foundation for her music repertoire. Producing her own unique genre of music, Florence K infuses Spanish, French, English and Portuguese songs with bossa nova, blues, pop and Cuban rhythms.
In 2006, Florence K was invited to perform at the Montreal International Jazz Festival and was also awarded her first gold record for Bossa Blue, with sales exceeding 50,000 albums. A year later, she returned to the festival to play three sold-out shows.
Florence K has performed alongside well-known French musicians such as Patrick Bruel, Isabelle Boulay and Bernard Lavilliers. In addition, she has performed for 300,000 spectators including the Duke and Duchess of Cambridge at the Canada Day festivities in Ottawa. She has also had the honour of singing "O Canada" for 55,000 people at the closing ceremonies of the Pan Am Games in Guadalajara, Mexico.
Beyond her musical talents, Florence K is also known for her commitment to philanthropy and raising awareness about charitable causes. She is the  Quebec Ambassador for UNICEF Canada. She's also has incredible fashion sense and style. She has recently established a partnership with world-renowned French luxury brand, Chanel. Florence K has recently released her latest album I'm Leaving You (it's amazing! I'm lovin' the latin vibe) and I had the opportunity to speak with her about being a performer and a mom!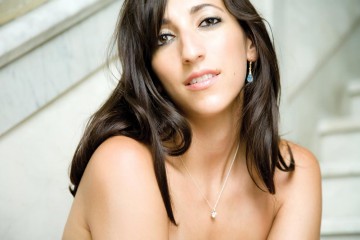 Congratulations on the launch of your new album "I'm Leaving You"! It's already number 2 in sales in Quebec. What are you feeling right now?
I feel awesome!!! It was a long journey to make this record and it represents a big steppingstone in both my personal and professional lives. This album is certainly my most personal one, I open up in it like never before and it sure feels special to know that my audience is following me in this!
Signing with Universal Music Canada earlier this year… how has that furthered your career so far? And working with producer Tchad Blake, what was that like?
Universal Music plans to release this album not only in Canada but also in other places around the world. Hopefully, this will allow me to travel and share my music with as many people as possible. Larry Klein, who produced the record, became a mentor to me. I felt privileged to write the record with him and to record by his side. He guided me like no one ever did before! Furthermore, he was able to create a bridge between my latin and blues influences and a more pop sound, which is exactly what I wanted to achieve.
The first single from this album is "You're Breaking My Heart", what is it all about?
It's about love being a drug!! Sometimes you get so infatuated, so in love, that it almost becomes pathetic. We lose a sense of ourselves, and the only thing that can make us feel better is to get a bit of attention from the loved one. It can be a total addiction! I have experienced that before and I wanted to share it in this song, but with a touch of humour also.
Your music has a Latin flair, what (or who) inspired that? Any favourite Latin artists?
I became fond of Latin music in 1997, the year that Buena Vista Social Club released their epic album. I fell in love with it. I thought it was genius. I was fourteen and it was the only thing I would listen to. Just the way Ruben Gonzales played piano, the blend between traditions and love songs, it was unbelievable. A few years later, when I was working as a pianist at a polish restaurant in Old Montreal, I would play half of my sets with a Latin groove! Bossa, salsa or bolero. I just thought it added more sensuality and spice to the whole thing!
You're a mom as well… how do you juggle family life and your singing career?
It hasn't always been easy, but now I am lucky enough to have a wonderful nanny, my kid goes to school during the day and I live really really close to my mother! That's my secret!
When you're on the road, what must you bring with you?
My yoga mat. I carry it everywhere. Backstage, in hotel rooms, I have a few of them in different formats. I'm totally addicted (in a very positive way) to yoga. It changed my life and my singing and I do it every day. I would like to do my teacher training one day. In Montreal, I do Moksha Yoga.
In this day of social media, is there pressure to be constantly on Twitter/Facebook? How has it helped you?
I kinda like Twitter! It's less intimate than Facebook and it allows me to share some experiences very quickly with my fans and friends. Pictures and little thoughts… It also is a great tool for promotion.
In 140 characters or less describe your new album. 
I'm Leaving You celebrates my will to leave the past behind and to embrace my new life, in a very groovy, bluesy and pop way!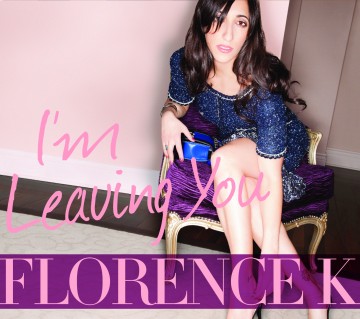 If you're in Toronto this week,
Florence K will perform a free concert at First Canadian Place on October 22, 2013, debuting songs from her recently released album I'm Leaving You!
Visit her official website at FlorenceK.com
Take a listen here… her latest hit "You're Breaking My Heart (mi droga)"… I've got this song on replay!
[youtube id="0r0n_UEup_U"]