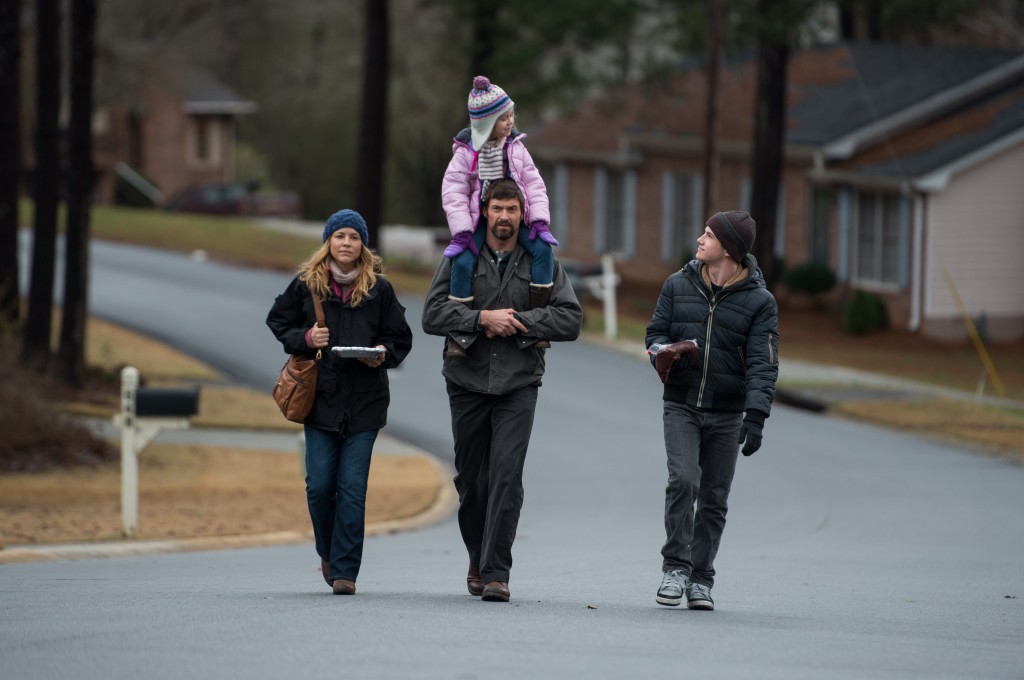 As one parent to another, I'm going to ask you to imagine something extremely painful. Imagine that your child is missing and you feel the police weren't doing enough to find her. As hard as it is to think about, try to… for just a second. Now… how far would you go to find out for yourself where she is and who took her? What would you be prepared to do in your quest for the truth?
This is the powerful premise of "Prisoners" – a gripping  thriller which opens today and was the runner-up to TIFF 2013 People's Choice Awards. I screened it during TIFF and it got to me. Really, REALLY got to me. By the time I was half an hour from the end, my legs were shaking because this suspenseful and dramatic story was so intense. "Prisoners" is a very powerful, thought-provoking, well-acted film which you shouldn't miss.
Hugh Jackman stars as Keller Dover, a carpenter who faces every parent's worst nightmare when his six-year-old daughter goes missing together with her young friend. Heading the investigation, Detective Loki (Jake Gyllenhaal) arrests a suspect, Alex Jones (Paul Dano), but a lack of evidence forces his release.
As the police pursue multiple leads and time passes, Dover gets more and more desperate. Knowing his child's life is at stake, the now frantic Dover decides he has no choice but to take matters into his own hands. The film goes on to show the duality between "vigilante justice" (represented by Dover) and "law and order" (represented by Loki).
Jackman and Gyllenhaal are supported by a stellar ensemble cast. Aside from the two Oscar-nominated leads, this movie also features Oscar nominee Viola Davis ("The Help," "Doubt"), Golden Globe Award nominee Maria Bello ("A History of Violence" and "The Cooler"), and Oscar nominee Terrence Howard ("Hustle & Flow"), with Academy Award winner Melissa Leo ("The Fighter"). How's that for a pedigree?
"Prisoners" is directed by Canadian Denis Villeneuve, who you may know for his Oscar-nominated foreign language film "Incendies" – a film that left me reeling for days afterwards. So I should not have been surprised that under his direction, "Prisoners" gripped me the same way.
The day after I saw "Prisoners", I sat down for a chat with the film's producer Kira Davis. We met at the Shangri-La Hotel, just a couple of hours before the film's second TIFF press conference and discussed the making of the film, finding the right director, and of course, Hugh Jackman.
You're a mom. What about the story drew you in?
Reading it originally, I was totally taken with the material. I loved how it was a thriller and you couldn't tell what was going to happen. But the idea of having children missing, I thought 'I don't know if I want to do this.' I finished the script and thought 'I can't do this. I don't want to live in this world. But it's SO good.'
It's a hard subject. Especially for parents. Hugh Jackman said it really well at our press conference this morning: 'I think it's true and it's honest, and it's allowing you to look into a place in yourself that's scary and painful.'
Did you always have Denis Villeneuve in mind to direct this film?
No. We had been looking for a filmmaker and wanted someone who can take it and not make a commercial thriller version of it – a very genre-type of movie. We didn't want it to become really commercialized. A lot of people we were talking to were European. I had been given "Incendies" to watch. And I saw the movie at 3 o'clock in the afternoon and I was gut-wrenched. I couldn't stop thinking about it. From the scenes in his movie, the violence, the intensity, the emotions, I thought this was the person who can bring something really wonderful to our project and not make it sensationalized.
Denis a very humble person. He created this wonderful trust between actors and the whole team and that's what you end up seeing on the screen.
Was Hugh Jackman your first choice?
He was our first choice in the beginning, but he was busy, and then we came back to him a second time once Denis came on board. Denis and I went to New York and I could see Hugh feeling out Denis. He was like, 'I just watched your movie last night and I loved it'. I don't remember what the question was but he asked Denis something like, 'how would you do this or that'. Denis said 'I don't know. Maybe it's not the right answer but I'm just being honest with you'. You could see the trust and the bond building with them. Hugh immediately said he wanted to do to movie.
What are you favourite moments of making this film?
I was there every day and every morning as I was going to work, I'd sort of pinched myself. I mean who wouldn't, when you get to see Hugh Jackman and Jake Gyllenhaal every day!
It was a pretty jovial set – for such a dark movie. As soon as we said 'cut', Hugh was just wonedering around and he knows the whole crew, we were just haning around. We were teasing him. He was getting ready for his next "X-Men" movie, so he was eating like crazy, because he has this diet he has to be on. So he was eating eight eggs in the morning and six pieces of toast and 13 pieces of bacon. Everyone knew that every two hours, here's Hugh's plate of food with his 16-egg omelet!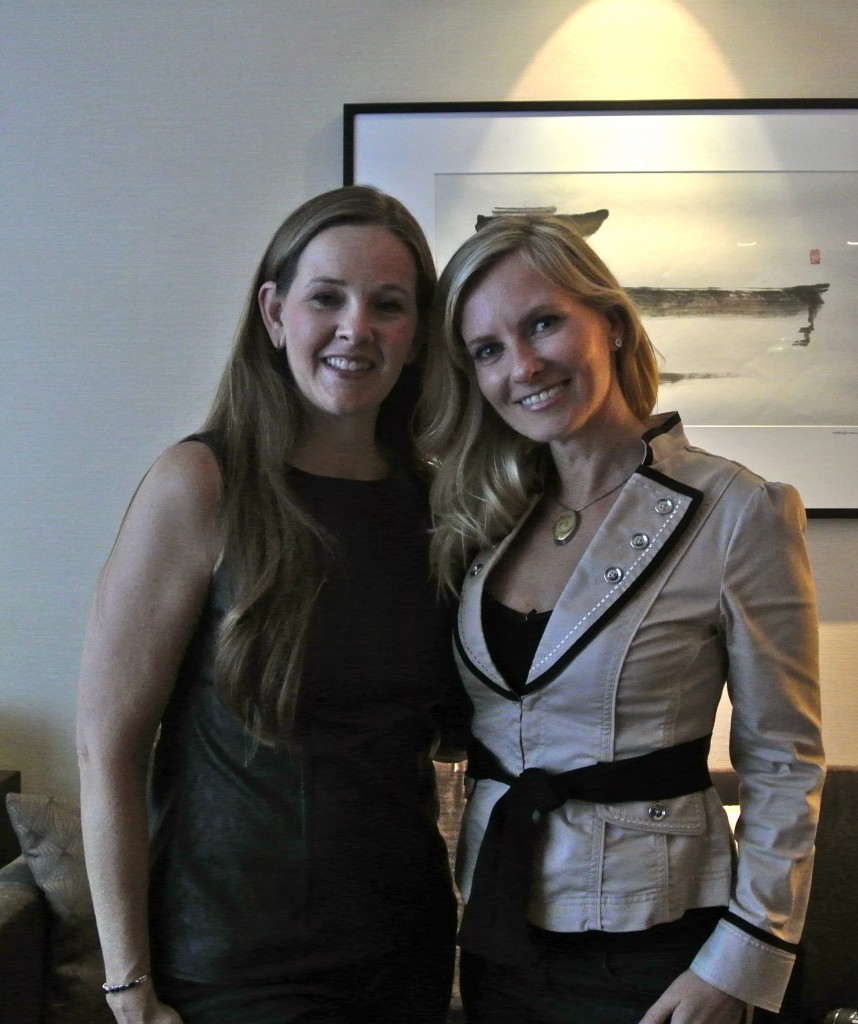 What to say to audiences who may not want to see a film about child abduction?
There are all sorts of movies you could go see. You can be a fan of romantic comedy, period pieces, but everyone likes a good movie. If we're going to pay our $12 (which is hard-earned) to see a movie, we're choosing carefully. Whoever you're going with [to see this movie] is going to love going with you. You're going to have a lot to talk about afterwards. Plus, a lot of pretty faces to look at!
We can see Hugh doing "Wolverine". But you know what he's going to do, we know that character. Seeing Hugh being a dad and a vigilante and seeing Jake in this cat-and-mouse role… he has an unusual chemistry with Hugh… that's exciting. To me, it's a little bit like going to the theatre, in a way. It's something different and exciting.
Hugh Jackman is such a likeable actor. Yet, he's so different in this film.
It's a very hard role to cast for. For example, you can give Sean Penn that role. And Sean Penn has a persona of being a very intense guy. So there's no surprise there. You'd be like, 'Of course he's gonna do that, that's who he is.'
Whereas Hugh has that nice guy quality where you're like, 'Wow, he's really taking it into his own hands. That's different, that's exicting!'
But I think if you line up 25 fathers and 25 mothers and you ask, 'If your child was missing and you think you know somebody who was involved and the cops aren't doing anything…' you'd be like, 'Okay, I'm going to do something. I'm going to hunt them down, I'm going to get the information out of them. Where is my daughter? WHERE is my child?'
That's what you'd do. There would be varying degrees of WHAT you would do, but nobody would inactively sit and say ,'Okay I'll just wait and see what happens.'
[youtube id="KWhS0xN3C0g"]