In the spirit of friendly sportsmanship and an ode to the Winter Olympics, the Toronto Symphony Orchestra invites families to witness the excitement of the original Orchestra Olympics!
The musicians are currently in training for the big event! It will be fun concert no doubt! The programme will include some familiar tunes that will move everyone in the audience. Kids will recognize songs such as the Olympic Fanfare & Theme (John Williams), Overture to William Tell (Rossini), Skaters' Waltz (Waldteufel) and more.
The concert will be held at Roy Thomson Hall (Toronto) on Saturday, February 22 at 1:30 pm and at 3:30 pm.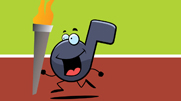 Join a half-hour early to hear "The Maverick Brass", a brass quintet from the University of Toronto will be performing in the lobby!
Visit www.tso.ca for more details on this and other upcoming TSO Family Concerts. Tickets are $17 for balcony seats and $29 for main floor when you buy 3 or more.
And may the best instrument win!