The majority of us can say that we know someone who's turned to a fertility clinic. We've heard the stories of success but also the "what if's". A new, thought-provoking stage production, Within The Glass by playwright Anna Chatterton, explores the human dynamics when two couples are forced to decide the future of their IVF child.
Two couples from different socio-economic backgrounds are mistakenly implanted with the wrong fertilized eggs. Each others. Unfortunately, one doesn't take which leaves one woman pregnant with the other couple's baby. The personal moments in the play make us question how we make important decisions that would impact our lives. By no means does this play poke fun at the medical advancements.
I had a chance to sit in on a rehearsal and I had so many questions that swirled in my own head.
Loosely based on a true story, playwright Chatterton read an article about a couple who had a similar experience to this and took her artistic and creative skills to flush out who these characters were. No one specific was in mind when it came to developing the characters but it was more of the premise of the story that is intriguing  and the conversations to be had after seeing it. So, what's it about?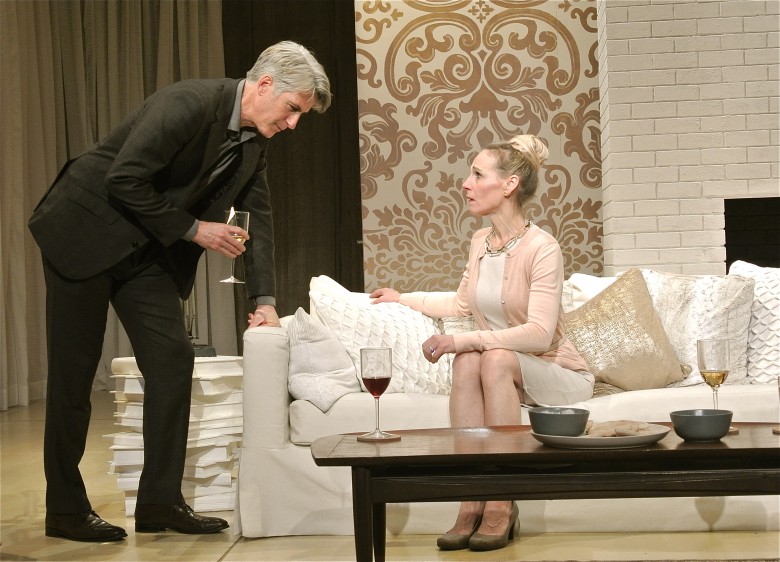 "Both couples had gone to the fertility clinic for very different reasons," explains Andrea Donaldson, director, "the play operates in real time when the couples come together for the first time in their lives having never met before, to try to sort out the problem but ultimately each individual completely disagrees with the others on how they should proceed and who should get the baby."
So many issues come to mind on both sides as you wonder who has a say in the nurturing and growing of this fetus as well. "There are definitely decisions that need to be made and neither of which can live with ultimately so it's quite interesting."
Do the couples become friends? Donaldson tells us that neither of them really become good friends. "It's a very, very funny play and there's a lot of wicked humour that emerges and you'll see why," says Donaldson. "The couples expose themselves to each other in a way that they've never had to at a dinner party. Most people who are strangers at a party don't have to go beyond the surface. They are complete strangers yet they are fighting passionately for what they both want."
So, this also begs to address the thinking of how far is too far when it comes to science and technology interfering with nature's ways?
"Absolutely, with nature and any kind of progress, including medical, comes at a cost. Any kind of social advancements comes at a cost. So, questions from a hundred years ago didn't involve wondering about embryos being implanted in the wrong person or having to deal with these types of conflicts. It's a gift for people who want to get pregnant in alternative ways but there are also ramifications around that too. What Anna 's done as a brilliant playwright is that she's basically lifted every strand of the pro and con argument within a dramatic force without choosing any one side." says Donaldson.
The play has already begun and the response has been great. "It's amazing how people are tweeting and writing about which character they agree or side with. Even our staff really have some fun debates about it," says Donaldson. "Even if you think you dislike one character, somehow the show all of the sudden can turn your opinions around. Ultimately in a human story, we all have ideas about laws and our own personal sense of ethics, but every situation has so much grey area worth discussion."
Within The Glass is now on stage until February 14, 206. at the Tarragon Theatre in Toronto. Talkbacks from January 19 to January 24. A special Lecture Conversation will happen on January 16 with Dr. Kerry Bowman.