I had a chance to chat with comedian Jessica Holmes whom I consider the "mutha" of everything funny, which is perfect because Mother's Day is on all our minds this week. We caught up with her recently at the Ovarian Cancer of Canada's Love Her Event in Toronto and she's as warm and friendly as all get out!
If you were a mom from a sitcom, who would you be and why?
I'm Cam from Modern Family. I turn to creativity & goofiness in times of stress or panic. That would leave my husband Scott (aka Mitch) to pick up the responsible side. And sports, he really has to make up for my lack of sports jargon; "c'mon Jess! There's no baskets in football!"
The Ultimate Mother's Day for you would be……?
Lol, my husband is going out of town this Mother's Day eve to see a game in Montreal. He'll be back for dinner on the big day. But I gladly gave him permission to make the trip; cause a happy, fulfilled husband means more ammo for me down the road. "You weren't there for me on Mother's Day! The least you can do is drive to the gas station to get ice cream for me right now. And yes, I realize it's 2 am!"
Do your kids think you're funny? How do they react when they see you on TV?
I haven't shown my kids many of my tv appearances and I don't know why I'm reluctant in that area. But I do provide them with lots of live comedy at the dinner table. My six-year-old laughs at everything I come up with, but my daughter has developed her own comedy act; now it's more like I'm her audience.
You're a wellness coach?! How did that happen?
I've always loved pop psychology and studied it a bit in University. But it wasn't until after I developed (and recovered from) post-partum depression that I wanted to put a little more depth into my comedy, and give the audience a bit of a take-away to go with the laughs.
You've also written a book and you're working on a second one. You mentioned that you'll include funny stories about hurdles we all overcome… do you think we give moms enough credit?
I am so grateful for all the moms who take a chance and share their honest experiences; the wonderful AND the mortifying! So many women helped me through the tough early years with their refreshing honesty and support, that I feel compelled to pay it forward and tell moms that they're amazing, that they're more than their mistakes, and that whether your parents are alive, or passed on, that you're STILL somebody's baby and you deserve to honour yourself.
If so, got any advice on how moms can shake it off?
Most of the jokes I tell are about situations that started off terribly and then, over time, became something I could laugh about. In my business we say Tragedy + Time = Comedy. So when I'm going through something awful, I picture how it will translate into a funny story down the road. I think "can I just hang on until the day comes when this is nothing more than a punchline, or a hysterical conversation with my girlfriends?" And so far, I have hung on. We have a re-gift party every year so that we remember to laugh at the bad stuff.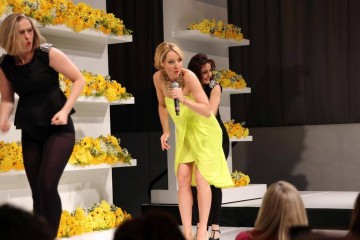 You're always on the go… what re-energizes you?
I do tabata (interval training in short bursts) for about 8 minutes a day. It makes me feel strong and wakes me up during the afternoon lull. I also started playing basketball and soccer with women in my neighbourhood a few years ago (I'm terrible and uncoordinated) but I still feel like an olympic champion by the end of the game.
Who makes you laugh?
I'm a sucker for great stand ups like Gerry Dee, Louis CK, Chelsea Peretti, Russell Peters etc. I grew up on comedies like Big Business, Outrageous Fortune, Airplane, Austin Powers and finally with my be-all-end-all fave: Bridesmaids.
Who is the most inspiring person you've ever met?
I'm such a fan of Loretta LaRoche—she's on my vision board. She's sort of the Bette Midler of the speaking circuit: a wonderful mentor who mixes comedy with anecdotes about chilling out. And on a deeper level, I'll mention my mother: who just retired from a long career as a rape crisis counsellor; whose patience and soft demeanour I didn't inherit but gratefully soak up every chance I get; and whose unconditional love gives me optimism and steadiness in life's challenges. Oh balls, now I'm crying!
Awwww….you're awesome! Thanks again Jessica!