It's been a crazy few days here in Toronto with the Film Festival in full swing. Celebrities are being whisked from  press conferences, screenings, parties and interviews. We know they all get "gifts" wherever they go so we were invited to take a sneak peek inside a few of Toronto's best gifting lounges because we know you're curious! And who's already been in the first few days!
At the Tastemakers Lounge located at the InterContinental Toronto Centre Hotel there's already a steady stream of stars picking up some goodies as they head to the nearby press room for their interviews. Stars like Nazneen Contractor (Star Trek Into Darkness, 24) and Chad Connell (The Mortal Instruments and Nikita) have been spotted at this lounge with the Jessica Jensen exclusively designed VISA TIFF Tote was filled with goodies that included items for the comfort of feeling at home.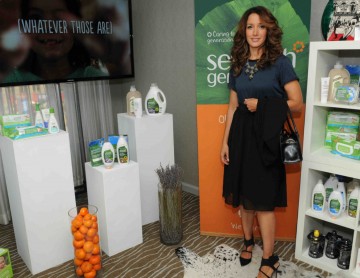 Jennifer Beals (Cinamanovels) mentioned that she use to do a treasure hunt game with her daughter when she was young and thought that uKloo was a great idea. She also mentioned that she's a big fan of Seventh Generation products and already uses them at home. Actress Georgina Reilly (L.A. Complex) was excited to discover the brand as well as she's recently switched to all-natural cleaning products at home.
popchips and O.N.E. Coconut water were choice snacks at this lounge for many of the celebrities including Katie Boland (Gerontophila), Maxwell McCabe-Lokos (Lars and The Real Girl), Lauren Lee Smith (The Listener), J.P. Manoux (Spun Out) who all seem to have a lot of fun posing with Katy Perry in the photo booth. Director Pan Nalin (Samsara, Valley of Flowers) who had tried these for the very first time having just landed fresh off the plane! 
Racheal Ancheril (Rookie Blue) couldn't get enough of popchips, joking "they're not shareable!"
There seems to be a lot of celebrities who enjoy reading so it's was perfect that there was a mini-library of novels from Penguin Canada. Actor and director Peter Stebbings (Madison) was particularly interested in the titles as he was sipping Pluck's iced chai tea, as were Ben Cotton (Cinemanovels) and Kett Turton (Cinanovels).
Gia Milani (All the Wrong Reasons) was excited as she checked out the great Canadian brands at the lounge and mentioned it was her first time at TIFF and at the Tastemaker's Lounge.
What's in the Tastemakers Lounge this year…
Seventh Generation all-natural home cleaning products is a brand that we've reviewed on our site and I personally have used including laundry detergent and dishwashing liquid. The line also includes personal care products and I noticed great baby products here as well.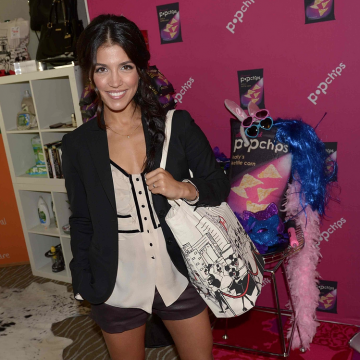 popchips is always a favourite snacker of mine but I hadn't tried Katy Perry's Kettle Corn chips. I brought some home for the kids and they loved them as well. Highly addictive! I'll be popping them into their lunch bags this week for sure!
O.N.E. Coconut Water 'cause you want a healthy drink and the convenient TetraPak is easy to take along with you.
Korhani Home Decor includes great fashionable and durable are rugs. There were a few great pieces that were in the lounge from a Great Gatsby inspired look to a punchy bright pink one at the popchips photo booth.
Pluck Tea was new for me and I loved the names of their tea blends all representing different unique parts of Toronto like Kensington Market.
Wendell Estate Honey's packaging is so beautiful. At first glance I thought it was a luxurious body product! The artisanal raw honey was also on Dragon's Den and it's perfect for a nice warm cup of tea!
Penguin Canada offered a few selections and I was particularly interested And The Mountains Echoed from the bestselling author, Khaled Hosseini (The Kite Runner and A Thousand Splendid Suns)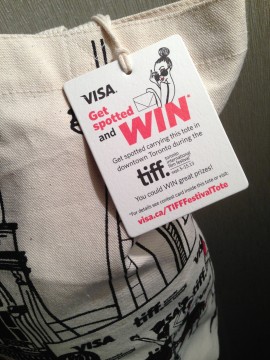 Jessica Jensen is a Canadian-born handbag designer under her own namesake and is no newbie in the world of design. She has garnered over 10 years of experience designing for international brands including Calvin Klein, Michael Kors and Roots. Jensen also designed this year's most coveted TIFF bag for VISA. You can get the limited-edition tote through the LCBO while quantities last. If you're spotted on the streets during TIFF you'll be surprised with goodies likes movie tickets, KOBO Arc tablets, prepaid Visa Cards and other great perks!
The Real Collective T-shirts are stylish and comfortable.. I mean super soft!
uKloo – an award-winning treasure hunt game for kids would be great for parents to save the kiddies from boredom! It's a great little game perfect for home or vacation and is a fun way to encourage reading and research skills.
Bobble Water Bottles are being coveted at the lounge and it's no surprise! One Bobble filter bottle replaces 300 throw away water bottles!
Dentyne – needs no explanation right? But perfect in between all those one on one press interviews! And yes, one must always practice safe breath!
Alto Collectives wooden accessories including very cool billfolds and iPhone cases.
Cake Beauty's Be Delectable Hand Cream smells as yummy as it sounds but the celebrities are loving it after all the hand-washing and dryness must get from all the hand-shaking!
AWAKE Chocolate – I had my first one last year during TIFF and it's gives you that buzz. Think caffeine and chocolate combo. Huzzah!
If you follow us on Facebook and Twitter @urbanmomsca , I'll be posting more celebrity sightings there!
Happy TIFFing!