If you think cliques end at high school, think again. Do we all have a desire to be accepted and belong to a group? I look around me and yes, it's true. It doesn't stop at teenagers. The film Preggoland takes an entertaining look at how one woman's  friendships take a turn as they enter the mommy stage of life—when diapers changes and playdates rule the conversations and when family responsibilities take priority over a girls' night out.
When 35-year-old Ruth ruins a baby shower with her juvenile antics, her old high school cronies—who are all mothers now—promptly de-friend her. But when she is later mistakenly thought to be "with child" she is inexplicably welcomed back into the group. Although she initially tries to come clean, the many perks of pregnancy are far too seductive to ignore. Preggoland is a comedy about our societal obsession with babies and the lengths we'll go to be part of a club.
Preggoland is very much star and screenwriter Sonja Bennett's "baby". In addition to starring in the Canadian indie, the award-winning actress penned the script—this is her first foray into screenwriting. Sonja realized there weren't as many roles for women over 30, so she decided to be proactive about her career by writing herself the juicy lead she'd been craving. "I was interested in exploring how motherhood changes female friendships, the artifice of this giant clique or motherhood and the pregnancy pedestal," says Bennett.
I had a great opportunity to ask Sonja Bennett about her film and about being a mom…
For some reason, some friendships tend to fade off. It's heartbreaking in some cases, but is it okay to let some of the friendships go?
We all change and our family and work situations change the contexts of our friendships. That's normal, I think. It's definitely okay to let some friendships go! It makes room for new ones. And often they'll come back to you when the phases of your lives are aligned again.
Do you think dads go through the same thing?
I don't sense dads go through the same way, no. I don't think becoming a dad changes a man's identity in the same way becoming a mom changes a woman's. And I think fathers have an easier time compartmentalizing their lives than mothers do. When I go to get-togethers with other parents all the women are all trading stories about potty training and school registration and the men are in the other room talking about movies and pocket knives.
Society tends to try to protect pregnant women, but it isn't always welcome. What funny situations have you come across when you were pregnant?
Everyone (including me) likes to guess the sex of an unborn baby. An elderly Greek woman that lives in my neighborhood assured me with such conviction during my first pregnancy that I was having a girl that despite having had 2 3D ultrasounds with some pretty clear twig and berries… I started preparing myself for raising a hermaphrodite!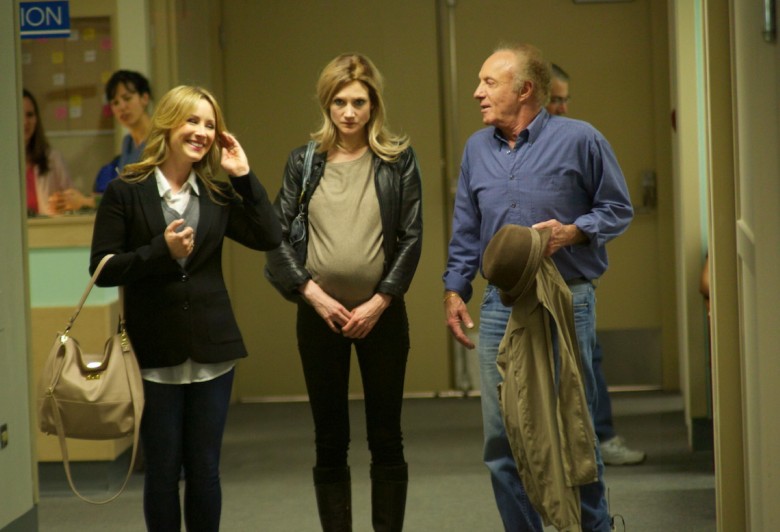 Your character Ruth is the last of her best friends to get pregnant, well, sort of. She's accepting of their family situations but they aren't so warm to her. So, this cliquey thing continues after grade 12 and carries through in life?
Well, to be fair I think Ruth was only tolerating her friends' family situations, but not truly accepting them—which was hurtful to her friends. It's tough when people you love aren't interested in your offspring; I get that. Ruth's friends are at a stage in their lives where they can't connect with someone whose still partying like she's in her 20s. But yes, I think cliques exist into adulthood. The women in Preggoland have been friends since high school so, in a way, I think they were stuck in their teenage dynamic.
Your baby shower gift in the film had me in tears! What was your personal favourite gift ever given to you?
Not to be a cliche but, my son's pictures he draws for me. Also, I am big Steve Wonder fan and my husband had all my friends and family sing verses of Wonder's rendition of "Happy Birthday" for my 35th and edited together into a music video.
If you could turn back time and tell your pre-pregnant self something about being a mom, what would that be?
Go see as many movies in the movie theater as you can! You won't get to another one for five years! Also, love your body, trust me, you look effing great.
Now that you're a mom, what's changed in you and how you view friendships?
I'm too busy packing lunches and changing diapers to obsess about myself which has been a great thing. It's not all about me anymore and I find that freeing. I have to put more trust in my friendships because I see the people in my life much, much less. But true, solid friendships are still there for you on the other side of the diaper soup and the ones that were more brittle anyway fade away—and that's okay. Friendships are about quality not quantity!
Sooooo, when are you having the next one? (wink- stereotypical next question for mom, right?) what other next step questions are you getting?
SB: Ha!   My son is actually 5 now and I also have a daughter who is turning 2 in June. I find pockets of time to write and am acting in television show on an ABC show called Mistresses. Life is beautiful chaos.  And no, I am not having any more children. With 2, I still might be able to avoid getting a minivan. Who am I kidding? I'll have a minivan by the time this goes to print. J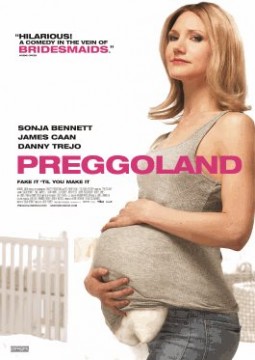 Star and Screenwriter Sonja Bennett's Feature Film Preggoland will be released in Vancouver, Toronto and Montreal on May 1st and in the US on May 8 in 10 cities.  The film opened at TIFF as a Special Presentation and at the Vancouver International Film Festival where it won the Most Popular Canadian Feature Film Award. It was also nominated for best BC film by the VFCC. Preggoland won the Best screenplay award at the Fargo Film Festival and most recently, the film won the Audience Choice award for Best Feature Film at the Omaha Film Festival.
Here's the official trailer…
https://www.youtube.com/watch?v=REG-1yINx4E