How do Canadians celebrate the nation's birthday? Most likely kicking back and enjoying the warmer weather with friends and family. It's a chance to slow things down and appreciate our country's finest offerings. We head to cottage country and drive through mountain roads. We go fishing and we head to a few of the events that are held in many cities and towns. We have all time favourite songs that always, ALWAYS reminds us of summer. We take in our share of arts & culture celebrating our creative minds.
I've been loving the MADE IN CANADA section in Apple iTunes — it's really neat to see how much talent our country truly has! If you're celebrating with friends and family this Canada Day long weekend or just chillin', you can find your favourite Canadian music artists or discover a few new ones! (My personal fave? Chromeo!) I'm discovering a few new French-Canadian artists as well like Marie-Mai and Karim Ouellet. You can also check out movies, music, books, apps, etc  in this category.
If you're planning to celebrate in one of our big cities and wonder what's going on here are a few apps that will help you plan your visits!
OTTAWA CITY APPS:
Canada Day in the Capital 
Universal (Free) The Canada Day 2014 in the Capital app is the official guide for the festivities in Ottawa and Gatineau. The app gives complete listings, by site, for all Canada Day activities taking place in Canada's Capital on July 1.
Ottawa Offline Travel Guide
 Universal ($4.99) Explore all the nation's capital has to offer this Canada Day long-weekend. The ultimate guide to attractions, museums, restaurants, bards, hotels, theaters and shops.
Spotcycle
 Universal (Free) Sportcycle is a free multi-city GPS-enabled app that helps you maximize your bike-sharing experience. Track the status of bike stations around you and then pedal away to your next destination.
TORONTO CITY APPS:
See Toronto – Official Vistors Guide
 Universal (Free) Get the inside scoop on Canada's largest metropolis and tops on all the exciting things to see and do while you are in the city.
Toronto Festivals and Events
 iPhone, iPad (Free) A complete Toronto festivals and events guide – featuring detailed descriptions, dates, venues, organizations, contact and more.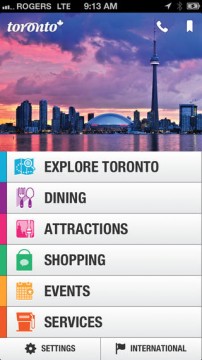 Toronto Patio Guide
 Universal (Free) Not wanting to miss a moment of the festivities? Catch it from the comfort of a patio using BlogTO's Toronto Patio Guide. With information on hundreds of Toronto's patios, you're likely to find one to please everyone in your group.
RocketMan Transit App
 Universal (Free) RocketMan recognizes public transit stops and bike sharing stations around you. Tap the bus or train stop to instantly find next bus arrival time, and locate the vehicle real-time location on maps. Easy to use, RocketMan is your ultimate guide to getting around Toronto this Canada Day long-weekend and anytime of the year!
VANCOUVER CITY APPS:
Visit Vancouver
 iPad (Free) Whether you're looking for a lovely hotel, a great place to eat, or a fun activity to try, this free app from Tourism Vancouver is a must for those who want to make the most of their time in this city.
Chop Chop
 Universal (Free) Discover restaurants in your area that offer a twist on coupon savings so you can enjoy great food at a discounted price.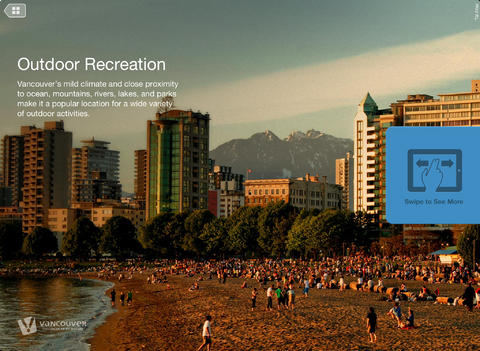 CALGARY CITY APP:
City of Calgary Canada Day
 Universal (Free) Whether you're enjoying music and interactive activities at Prince's Island Park, creating a picnic basket with fresh produce from the local farmers at Olympic Plaza, or experiencing the energy and ambience on the RiverWalk, Calgary has something for everyone on Canada Day.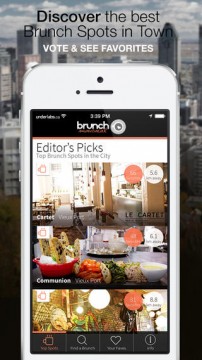 MONTREAL CITY APPS:
Old Montreal Guide
 Universal (Free) The Experience Old Montreal Guide provides you with the best local venues in Montreal through a carefully crafted selection of restaurants, boutiques, museums, art galleries, bars and other must-see tourist attractions.
Montreal Map and Walks
 Universal (Free) The ultimate app for discovering the city by foot. Walking tours include detailed and fully functional city maps to help explore the city and locating all the sights.
Brunch Montreal
 Universal (Free)  will guide and connected you to the best brunch spots in Montreal. This app is ideal for brunch enthusiasts or those looking to try new places and the best Montreal has to offer.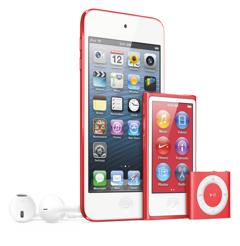 Oh! And if you're in the market for a new device for your downloading needs (and graduation gifts, hint!) I love the (PRODUCT) RED line from Apple. They'll give a portion of the purchase price to the Global Fund to fight AIDS in Africa.