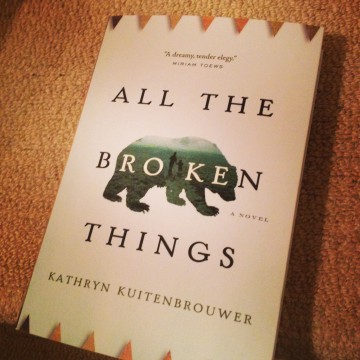 I think I fell in love with this book the first time I saw it. Throwing the old saying out the window, you really can judge this book by the cover. Kathryn Kuitenbower's All the Broken Things lives up to the beautiful, captivating artwork on the paperback.
Set in Toronto in 1983, Bo is a fourteen-year-old boy dealing with schoolyard bullies, class plays and first crushes. But Bo is a Vietnamese refugee also dealing with memories of the war torn country he left behind, his family's dangerous and tragic journey by boat, an alcoholic and depressed mother, and a younger sister born severely disfigured from the effects of Agent Orange.
When he's presented with the prospect of a job wrestling bears he finds an escape from the harsh realities of his life, and a mystical place where he has control. Eventually he's charged with a cub, whom he names Bear. With Bear, Bo can be the champion that he's always wanted to be, and his life takes on a magical quality. But the magic ends when he wakes one morning to an empty house, and sets out through downtown Toronto with Bear, in search of his mother and his sister.
All the Broken Things is an enchanting novel, grabbing the reader from its first page and holding on throughout Bo's journey. Bo himself is an absolutely unforgettable boy, and I've seldom felt as real a compassion for an imaginary person. I understood his exploration of what it meant to be an "outsider" and his odyssey towards love and acceptance. The relationships in this novel are deep and complicated; Bo seeks nurturing protection from his mother, but finds himself offering it to Bear and his sister, Orange, most often.
Readers will fall into the world of middle school, carnival freak shows and familial conflict and emerge with a better understanding of the human search for a place in the world. This is not a light read, but it is a novel whose characters will stay with you forever, and whose lessons will leave you changed. I recommend this powerful book to everyone.