What's all this buzz about Gilmore Girls?
The wildly popular hit television series about a mother and daughter had a loyal following for seven seasons. This month, Netflix will release Gilmore Girls: A Year in a Life,  a "four-part event" in what has been considered the revival show of the year! Fans globally are blocking off this coming November 25th, ready to binge away along with their BFF's, sisters, and yes, their moms!
But wait…are you one of a few who didn't grow up watching the show? Curious as to why people are SO giddy with excitement that recently thousands of fans across North America (including Toronto and Vancouver) waited for hours just to get a cup of coffee at the make-shift Luke's Diners? Yes, I was one of them. Ooookay, I know it sounds silly, but I had fun rehashing old episodes with strangers in line while we waited and got a hold of the fun Snapchat filter. Anyway, here's what you need to know whether you followed Gilmore Girls, or not! Consider this your quick guide that will get you up to date on what you need to know:
The Story
When Gilmore Girls debuted in 2000, it revolved around the relationship between Lorelei (Lauren Graham), a 32-year-old mother, and Rory (Alexis Bledel), her 16-year-old daughter who lived in small-town Stars Hollow in Connecticut. The stories they shared were tempered by the many quirky characters (see our guide below) who lived within the town. Although the original sets were not preserved, the production team had to rebuild the sets based on photos taken in the past. Fans can expect to see the town's favourite gathering spots restored in the four-part event including Luke's Diner, Sookie's Kitchen, the Dragonfly Inn, Lorelei's home, and the rest of the town.
The series was well known for its fast-paced dialogue, pop-culture references and endless amounts of coffee. Fans (like me) loved the wicked sense of humour and couldn't get enough of the rallying discussions. "It's going to be faster and more furious than ever, believe me, with longer scenes, longer speeches, (and) longer machine-gun dialogue back and forth," said Scott Patterson, who plays Luke Danes.
But what Gilmore Girls fans will be happy about is how each show will flow without ad interruptions. "The restrictions of having to break for a commercial kind of never made sense with this show," said Graham. "(With Netflix), they had the ability to tell the story exactly how they wanted to tell it. …I couldn't have hoped for anything better, really."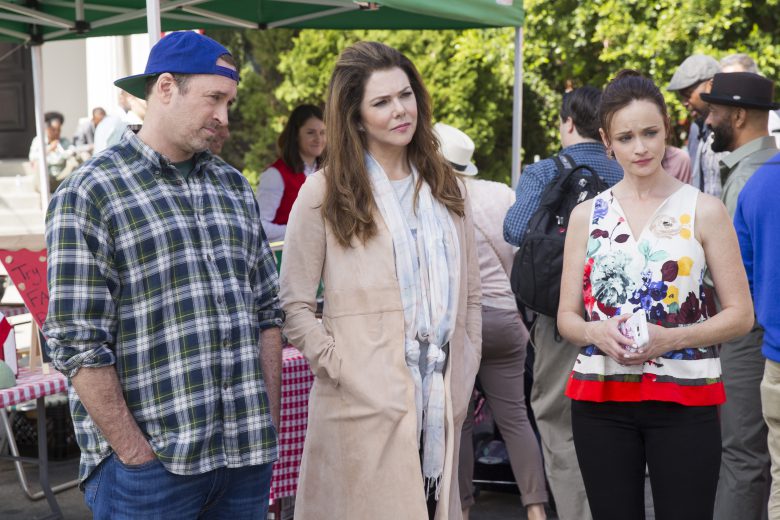 Where are they now?
The last time we hung out with them,  Rory had just graduated from Yale and was getting ready to cover Barack Obama's presidential campaign. Lorelei and Luke hinted at a possible future together. Flash forward to present day and Lorelei is still running the Dragonfly Inn and Rory is now 32 years old. What?!
"It's not a story about a little girl anymore who's in high school," said Lauren Graham, who plays mother Lorelei, "It's a story about a young woman and kind of the struggles she faces. Yet the dynamics between (Rory, Lorelei and Emily)…they've grown up, but they're the same. And that kind of foundation of 'Here are the people you have to rely on' can take you through any age."
Amy Sherman-Palladino, who co-wrote, produced, and directed the original series (up to and including season 6) as well as the new four-part series, mentioned this is no longer about a high school girl and her mom, but more about two grown women who now can sit and drink as adults and just talk.
Why the popularity?
"There's a sort of glow and a nostalgia for a simpler time," Graham says. "Amy always says she's incapable of accepting modern technology into her works, so it's about connection and people speaking to one another. It's just a very idyllic, fun, smart (place) to spend your time."
And what is it with moms with daughters bonding over Gilmore Girls? I met a few in line at the coffee shop who've been re-visiting previous seasons and found this was time well spent together. Netflix did a recent survey and discovered that globally, mother-daughter relationships, no matter what kind of relationship they have, can relate to the show. So, no surprise that they too are getting ready for "mother-daughter binging date night." More than half of mother-daughter duos surveyed (59%) report that post-show discussions are the best part of viewing a show together. In fact, watching together is so important that despite the distance, 41% think watching shows together brings them closer and will go out of their way to physically watch together when they can. Others commented on how much they wanted to call their mom and reconnect when they've watched the Gilmore Girls.
In addition to Lorelei and Rory, Emily Gilmore (grandmother) returns and viewers will see how she's been handling the loss of her husband, Richard. "We deal with flashbacks, we deal with memories, we deal with the ups and downs of grieving," said Bishop. The show will also be paying tribute to Edward Herrmann who played Richard Gilmore, who died in 2014. The four-part event will open with "Winter" and will pick up four months after the character's funeral in the show.
The Cast 
Alongside Lorelai and Rory, Gilmore Girls: A Year in a Life will see the return of many other familiar faces including:
Emily Gilmore (Kelly Bishop), the mother of Lorelai, with whom she shares a strained relationship, after a teenage pregnancy which saw Lorelai depart the family home. Emily implements 'Friday Night Dinners' with her daughter and granddaughter, after Lorelai is forced to ask her parents for money so she can put Rory through the prestigious and expensive Chilton prep school.
Luke Danes, (Scott Paterson) proprietor of Luke's Diner and Lorelai's partner (hooray!), after much to-ing and fro-ing, dating, and engagements throughout the seasons.
Lane Kim(Keiko Agena) who plays Rory's best friend. She's now a mother of twin boys but still plays in a band with her hubby Zack (Todd Lowe).
Paris Gellar (Liza Weil), Rory's no-nonsense, High School nemesis-turned-friend at Yale University.
Kirk Gleason (Sean Gunn), a well-meaning but emotionally-stunted long-time Stars Hollow resident who has worked at almost every business in town. Arguably, one of the show's funniest characters.
Rory's ex-boyfriends will also be returning, and fans of all three will be eager to see who she ends up with:
Dean Forrester (Jared Padalecki) – childhood sweetheart with whom she briefly rekindled a romance while Dean was married to Stars Hollow local, Lindsay.
Jess Mariano (Milo Ventimiglia) – bad boy (turned novelist in later seasons) and nephew of Luke Danes. They shared a somewhat tumultuous relationship that ultimately ended when he left town.
Logan Huntzberger (Matt Czuchry) – the wealthy son of newspaper mogul, Mitchum Huntzberger, who meets Rory at Yale. Despite his lazy-rich-boy persona and lack of commitment skills when they meet, Rory is able to bring out the best in Logan, who spends time in London working for the family firm and later proposes to her (although she declines).
One of the most anticipated return appearances is Melissa McCarthy as Sookie St. James, the clumsy head chef, co-owner of the Dragonfly Inn, and Lorelai's best friend.
We'll also see the town gossips, Babette (Sally Strutters), Miss Patty (Liz Torres), and the word on the street is that Grant-Lee Phillips will return in his role as the town's troubadour.
And why are they being so secretive and bringing attention to the "final four words" of Gilmore Girls: A Year in a Life ? We're very curious…but it sounds like we just have to wait and see. We tried to find out! Apparently, it's the way Amy Sherman-Palladino originally wanted to end the series.
But, okay… NO SPOILERS! We promise.
Invite your mom, sister, and BFFs to binge Gilmore Girls: A Year in a Life exclusively on Netflix globally beginning November 25, 2016. Each 90-minute chapter that takes place over the four seasons in one year.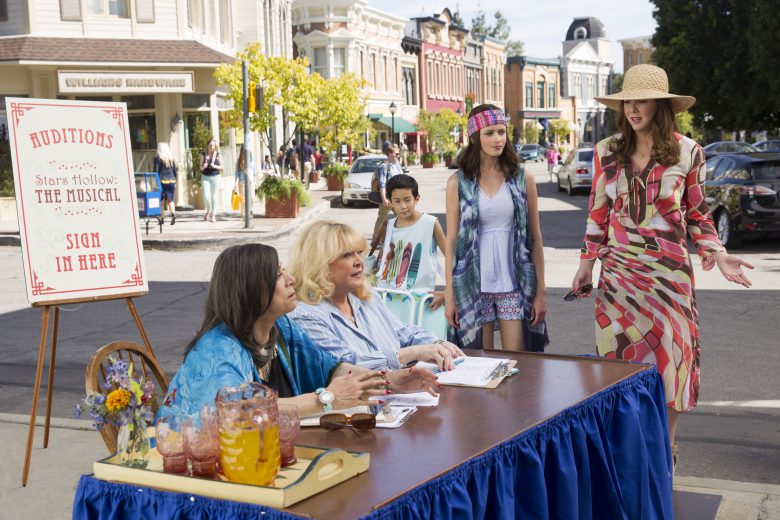 All caught up? Time to test yourself!
How much do you know about the Gilmore Girls? Here are some fun trivia questions:
In season 1, who told Lorelei about Rory's first kiss?
Mrs. Kim
How did Max propose to Lorelei in Season 1?
He had 1000 yellow daisies delivered to the Independence Inn.
When Logan met Rory, what was his nickname for her?
Ace
In "Winter," what is Rory's argument for keeping the town phone booth?
Where would Superman change when he comes to save the town from Ben Affleck?
What was the name of Rory's secret admirer at Yale in Season 4?
Marty
What did Lorelei name the dog she adopted in Season 6?
Paul Anka
In Season 2, what is the name of the lipstick Emily borrows from Lorelei during their spa weekend?
Vicious Trollop
Lorelei takes her coffee with a shot of _______?
Cynicism
What does Luke do to save Rory's going away party in Season 7?
Stays up all night sewing tents together to shield the party from the rain.