Written By Tracey
Tracey is a writer, humourist and raconteuse living in Montreal with her husband and two adorable punks. Here, she shares the details of precarity as she attempts to stay on top of the Mutherload. You can also read her personal blog, Grumble Girl.
Read Her Blog
"On Top of the Mutherload"
Go To Gallery Post
Gallery Post: From My Closet – December 10th…
Go to Video Post
Video Post: Trailer: "Turbo FAST"…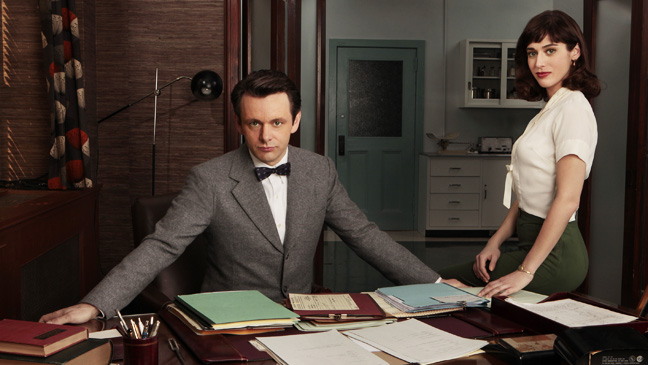 I've mentioned once or twice how people are my favourite subject, probably after sex. (I don't mean people interest me after sex… c'mon now – stay with me.) *ahem*
I have a lot of dirty books literature on the topic of sex, ranging from essays on female sexuality, liberation, and sexual philosophy, and then there's all the erotic stories, photography, and otherwise stashed-under-the-bed kinds of stuff. What my collection has in common is much of this literature cites the sexologist team of Dr. William Masters and Virginia Johnson's research, which was some of the most important work of it's kind, save for Albert Kinsey's research, which were mostly sexual surveys, conducted easily a decade before Masters & Johnson ever met. (There's a terrific movie starring Liam Neeson, called Kinsey, you could check out… but I digress.)
All of this important work has been cornerstone in what we know about the physical when it comes to sex. It was brand-new information, then, and a Rather Big Deal. Scandalous, even. All this sexy information out there on the wind, on the cover of Time Magazine and the like? It helped kick-start the sexual revolution. (It's amazing how information we take for granted now was so taboo once upon a time.)
And here's the cool thing – Showtime has gone and put a series together, starring Michael Sheen (excellent) and Lizzy Caplan (also excellent) called Masters Of Sex, based on the lives and work of Masters & Johnson. Beau Bridges does a wonderful job of portraying Bill Masters' academic mentor, too. I've watched the first three episodes, and I LOVE this series already. Based on what I know of these two, a few liberties have been taken here and there, but it's for the sake of engaging television.
It's all set during the early-to-mid 50′s, so if you enjoy the aesthetic stylings of Mad Men, you'll likely enjoy this one too. And if you don't like sex for some reason (though, really… really?) then turn the sound off and just enjoy watching men wander around in their bespoke tweed suits and bow ties, and ladies with pointy boobs, wearing pill-box hats and matching swing coats, sipping martinis and basically being divine in their mid-century modern homes, replete with kitchen appliances the colour of Easter eggs. Le sigh. It's all very… twee. *swoons*
It's good, fun television… and it will get you thinking. (About lots of things.) Enjoy it on Sunday nights at 10 PM on The Movie Network.
I'm gonna wear these shoes every time I watch from now on.