As parents we've known one thing to be true—everything is awesome, especially when you're part of a team! This insight came courtesy of "The LEGO Movie™", when our kids fell in love with the adorable Emmet and in the process reignited their love for the brand. Sure, we've had a dodge a few stray bricks on the stairs, but the creativity and imaginative play that those bricks inspire make every strategic maneuver well worth it.
Are your kids like ours? Obsessed with building and rebuilding every single thing that pops into their minds? Then you're going want to mark your calendar because the LEGO® Imagine Nation Tour is getting ready to head out across Canada.
The first-ever LEGO Imagine Nation Tour is making five stops across Canada this summer and fall, starting with a 3-day experience in Ottawa from June 10th to June 12th. Each event will offer five sessions throughout the weekend in each city.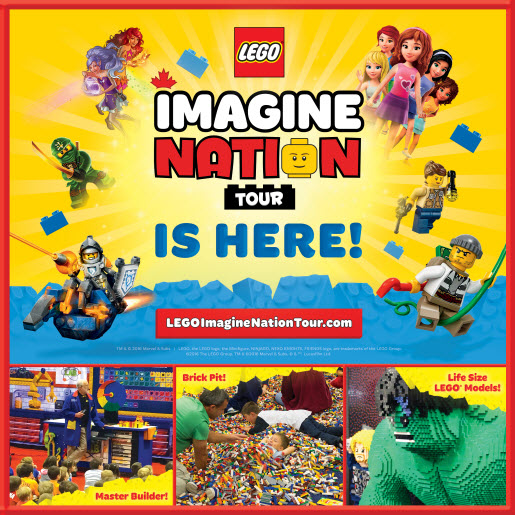 With experiences for builders of all skills and ages, the tour will cover 2.5 acres in a brick building extravaganza. Whether your kid is a Star Wars™ fan, a Minecraft nut or crazy for LEGO NINJAGO™ ninja, they will not be disappointed. With thirteen different pavilions and dozens of activities, your little builder will have hours of entertainment. The hands-on fun we've all come to expect from the LEGO Group even gets a new look with interactive digital experiences—kids will have a chance to bring their creations to life at any of the four digitally enhanced building pavilions.
When children have finished exploring their favorite LEGO sets, they can dive into the other one-of-a-kind experiences. In the Master Builder Lab, kids get expert building tips and tricks from one of only eight Master Builders in the entire world so that the entire family can perfect their brick building skills.
Grab a picture with any of over 20 life-size LEGO models, and build and display your own models in different themed areas. Be part of the creation of a 40' wide community-built maple leaf mosaic by letting the kids add their very own model.
Strollers are welcome and bringing your own snacks and refreshments are encouraged (there will not be concession stands on site). And remember to leave all your own LEGO bricks at home—there will be plenty to build at the LEGO Imagine Nation Tour.
Canadian Tour Dates:
Ottawa: June 10th to 12th
Montreal: August 12th to 14th
Calgary: September 9th to 11th
Vancouver: September 30th to October 2nd
Toronto: October 14th to 16th
Visit www.LEGOImagineNationTour.com for a full tour schedule, session times and details and to buy your tickets today (kids under 2 are free!).
This post is brought to you by LEGO Imagine Nation Tour but the opinions are our own.