You may have heard about the WE Organization founded by two Canadian brothers, Craig and Marc Kielburger. As young kids, they were looking for ways to do good any way they could. Craig and Marc spoke recently to a filled stadium in Toronto at the annual WE Day event and the new WE Day Family event, about how their parents not only supported their desire to help others but also led by example. Their mother not only stopped to give change to homeless people on the street but also asked them their names and looked them in the eye and had conversations. These warm and dignified moments continue to stick with the brothers to this day.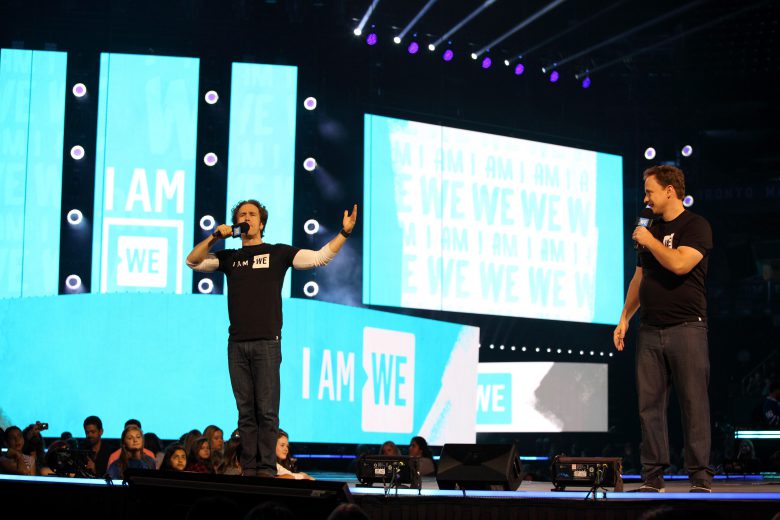 The WE Day event happens in many cities across North America and in the UK.  It spreads the message that kids are in control of their actions and celebrates their involvement in social issues, activism, and volunteer initiatives. It's not about one particular cause but about kids taking action and doing something to make the world a better place. From bake sales to donating birthday money to volunteering at community centres or building schools in impoverished areas of the world—we need to recognize and celebrate the positive actions big and small.  It's called the WE Movement and it's not just for kids and families.
During the WE Day events and throughout the year, we've noticed many corporations that are involved nationally. Companies like TELUS are not only committed to helping the charity's event financially but also dedicated to taking action. For the fifth consecutive year, TELUS is helping to inspire young leaders and support positive social change as the national co-title partner of WE Day. TELUS and WE have a shared vision—together, they want to help engage and empower youth to harness their innovative ideas, make positive change, and become community leaders, both locally and globally.
At WE Day this year we heard from many notable speakers like Chris Hadfield, Rick Hansen, and Margaret Trudeau, and we were truly moved by Gord Downie's performance from his Secret Path project. We were also moved by Hani Al Moulia's story. The refugee gave a speech about his family's experience moving from the city of Homs in Syria to Canada. Moulia, although legally blind, is an accomplished photographer who will be attending university.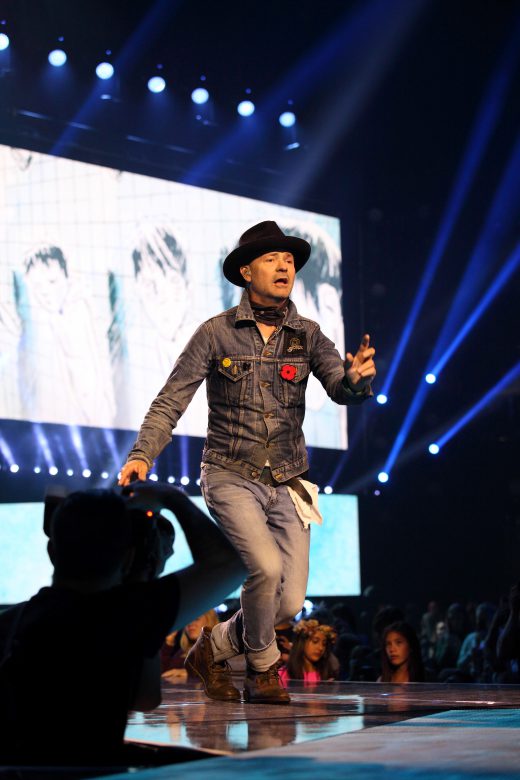 They all have incredibly inspiring stories and it made us, as a family, think more about what we can do to help our kids navigate this world and to rise above—just like the many speakers we heard on stage. Where do we start?
We all know that social media has become the most popular tool for communication for our kids today and we are all concerned about the possibility of cyberbullying. This is one space where they can do something good for themselves and for others.
TELUS is encouraging youth across the country to help drive awareness of cyberbullying by joining the online conversation #RiseAbove to help combat online negativity. For every voice heard using the hashtag, TELUS will donate $1 to the WE Organization.
I recently discovered that nearly one in two youth has experienced online bullying in the last four weeks.Bill Belsey, founder of bullying.org, explains that when people think of cyberbullying, they often think that technology or devices are the primary issues. "Cyberbullying is not about the cellphone or a social network. Cyberbullying is like traditional forms of bullying—physical, verbal, psychological, and social. It's a relationship issue and it's also about power and control." However, he goes on to explain that there are a number of issues that are unique to cyberbullying, namely the repetitive, harmful, and intentional use of technology.
Hey, let's face it. No one ever said that parenting would be easy, and while our own parents and teachers could guide us through past experience, we're on a relatively new frontier when it comes to the internet. We know social media is here to stay, and as parents, we're trying to keep up. While there are pros and cons to it all, I take the approach of understanding and using social media in a positive way. Believe it or not, there are many kids who do some good on their social media platforms other than upload the latest Snapchat filter.
If you and your kids want to know more about how to navigate online issues like cyberbullying, visit TELUS.com/RiseAbove.
Want to know how to incorporate everyday goodness too? We've discovered the WE app which offers great challenges and thoughtful actions for everyday life.