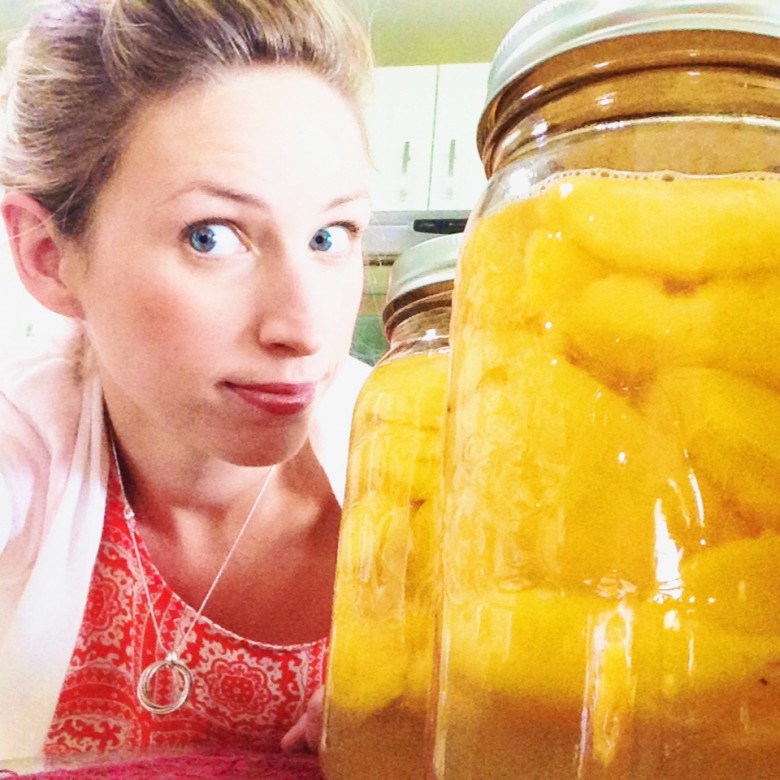 This morning I tucked my too-long bangs into a lovely Sister-Wife swoop, tied up my apron and set about canning a whole bunch of fresh, local peaches.
It was the first time I ever canned alone. In previous years, I tried the process under the direction of some experienced canners who did most of the dirty work so I wouldn't be afraid of doing it wrong and poisoning my family with botulism.
But this time? I did it ALL BY MYSELF!
But this time? I did it ALL BY MYSELF!
Granted, peaches are about the easiest thing a gal can preserve: you just peel them and toss them in a a jar with hot water and a sprinkle of sugar and boil let them in the hot water bath for 20 minutes. All of my jars sealed and I felt like a rockstar.
I am always blown away by how much time it takes to preserve food and am amazed by the strong, hearty pioneer ladies out there who toiled tirelessly in their prairie kitchens, storing away food for their entire families for the winter. It seems like an alternate reality now, where we can just hop in our SUV, drive to the grocery store and buy strawberries from the tropics in the off-season and load up our cart with whatever we feel like eating.
There are so many lost arts out there now: sewing, knitting, gardening, canning, etc. I know some of them are making a comeback, but I just haven't really made the time to master them myself and always think about how I would pretty much be the first to die in an apocalypse.  The grocery stores would shut down, then we would all starve, end of story.
Did you grow up learning the art of food preservation? Or is it new to you too? Do you feel it's worth the time and mess or do you make it a priority? The only other thing I have canned is an amazing pasta sauce that is super flavorful and chock-full of veggies and fresh herbs and I hope to can plenty of that again this year. Any other recipes worth sharing with this rookie canner?