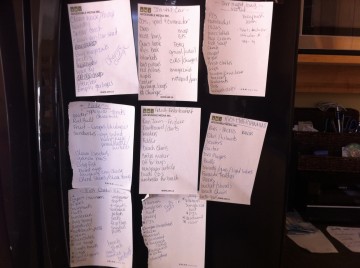 My wife and I take off for Cape Breton tomorrow. We are very excited but also a little anxious; it's a long, long drive. Not sure if you've ever driven out east but Cape Breton is about a 21 hour drive. More like 23 with us, the two kids and my bladder tend to slow us down a bit.
This will be our 7th time heading out that way and each one is adventure. Magellan GPS I am not, I get lost every time we go there. The worst part is, there's probably about 5 turns from here to that wonderful island. It goes like this….get on the EB 401, turn right in 1676 km, and you've reached your destination. Unfortunately I have no sense of direction. I don't know how it happened but back in '09 we left Toronto and drove through Calgary to get to Nova Scotia. One of these days I'll get it right. And don't even get me started on the snacks, I consume most of them before we get to Scarborough. I'm a glutton when it comes to snacks.
Now, I may not be the greatest behind the wheel but my wife is the best list lady. She is super organized. She has to make lists on a list. Right now we're down to 8 lists, originally she had 12. My wife condenses lists like Carnation does milk.
Thinking and anticipating this road trip has reminded me of road trips of the past. Remember hitting the highway when we were kids? Not quite as many luxuries as today huh? For example, our caravan has in it a dvd player, 26 movies, computers, toys, bikes, scooters, books, snacks – healthy and otherwise, headphones, pillows, blankets, baby-wipes, soccer balls, colouring books, and most importantly chocolate milk. Remember what we had? A game of eye-spy, and an Archie double digest.
Oh well, it's all about building memories right? It's not about what you pack in the car, but rather who's in it.
I can't wait, only one more sleep. I'll be sure to check in on my blog from beautiful Cape Breton or Calgary, it all depends what turn I take.