UPDATE:
It is here! The Frozen inspired wedding dress has made its runway debut. For a cool $1,399 USD, every woman can now channel Elsa on her big day. So what do you think? Do you love the blue toned, sparkly creation or are you still on the fence?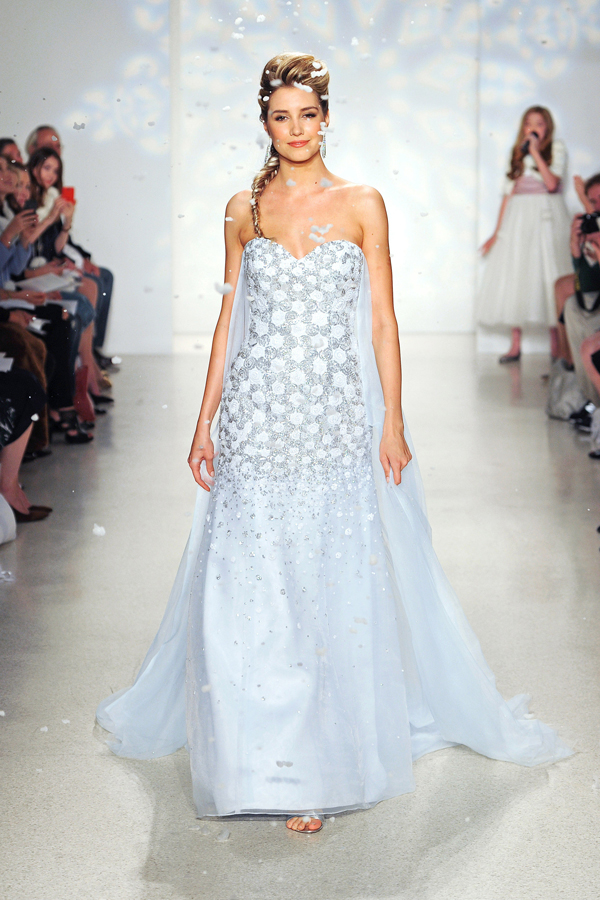 Have you ever watched five minutes of TLC's Say Yes To The Dress? Okay, well you know that part where the bridal consultant asks the bride-to-be, "What do you want to look like on your wedding day?" Then she throws a bunch of adjectives like traditional, elegant, and timeless. Or sometimes it's names, like Kate Middleton or Grace Kelly. Well now future brides will be able to to say, "I WANT TO LOOK LIKE ELSA!"
Yes, as in Elsa from Disney's blockbuster hit Frozen. Oh, you thought we (as in the world) were finally going to let it go? No, not until we get a sequel. And frankly,  it looks like Disney isn't trying to stop the Frozen mayhem anytime soon. In their latest move, Disney and bridal label Alfred Angelo have teamed up once again to create an Elsa inspired bridal gown to add to their Disney Fairy Tale Bridal Collection.
InStyle got an exclusive first look of the dress — a sketch depicting a full-length fit and flare gown, "made with layers of satin, tulle, glitter net and organza." It also includes a sweetheart neckline and train that drapes from her shoulders to the floor, a detail that "captures Elsa's regal appearance and her bold personality."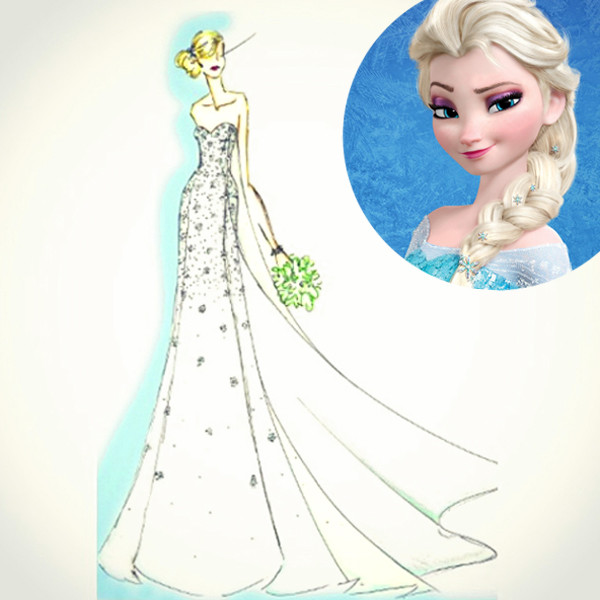 "A character like Elsa is a huge inspiration for any designer," Michele Piccione, Alfred Angelo's Chief Creative Officer, told InStyle. "She is beautiful and elegant, and her inner beauty shines through when she is ultimately not afraid to embrace who she is with confidence and poise." I mean who wouldn't want to channel their inner ice princess with a description like that?
Just imagine, this could be you on your wedding day:
The Disney Fairy Tale Bridal collection already has gowns inspired by many other Disney princesses such as Ariel, Aurora and Rapunzel. But if you want get your hands on this unique gown, you'll have to wait until January 2015. And just you wait. Say Yes To The Dress will totally have an episode with brides who want to be this icy Disney princess!