It's no surprise that someone like me, someone who works for a Children's Publisher, someone who writes and edits and researches children's books, would love books. books of all kinds. board books. picture books. chapters books. what have you. i love 'em.
and they are everywhere. i don't have enough storage space to keep all of them.
they are in Emily's room:
they are in Joshie's room (this is actually how he sleeps. books in bed):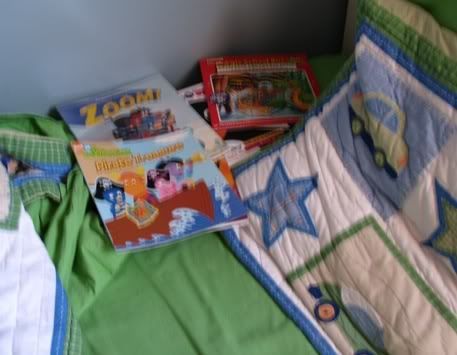 in the family room: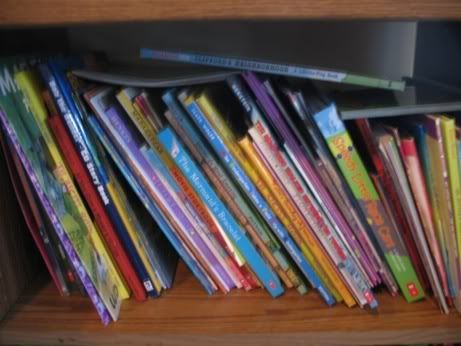 in the basement (what you can't see is that these shelves are each three rows thick full of books):
they are also in Isabella's room, but she's napping. wasn't worth the risk. sorry.
this is what it looks like when i come home from work on fridays: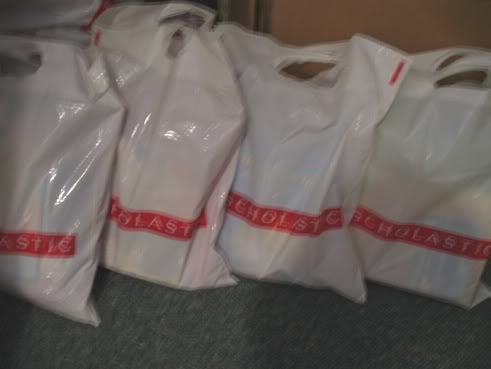 what are your favorite kids' books?
these days i'm loving the heck out of:
Do Princesses Wear Hiking Boots?
Chrysanthemum, Lilly's Purple Plastic Purse, Sheila Rae, the Brave, Lilly's Big Day….just about anything by Kevin Henkes. i think he's a genius.
anything Robert Munsch. my most favorite? The Paperbag Princess. my least favorite? Love You Forever (too creepy for me)
Fancy Nancy. Where the Wild Things Are. Angelina Ballerina. Tessa's Tip-Tapping Toes. Toot & Puddle. How I Became a Pirate.
i also love the Canadian staples. Phoebe Gilman. Barbara Reid. and the series books. Clifford. Franklin. Arthur. Magic School Bus.
what about you? any favorites? kids' favorites? any books that you can't understand the hype? i've got one…The Very Hungry Caterpillar…in my humble opinion is not a very good book.

song of the day: Fix You by Coldplay. I've been playing this song on repeat this morning. It's really quite amazing. the quiet organ. the slow beat. the lyrics. really one of their best. leave me a comment! if you're a lurker, let yourself be known. don't forget the word verification, though! leave me a comment on my other blog too. i love to know who's readng.