I have to say that I'm pretty proud of myself: I'm actually almost done with my Christmas shopping after an impromptu visit to the mall last week. I know, impressive, right?
I finished earlier than expected with an appointment last Wednesday and figured that a quick shopping trip was in order. It was mid-week, mid-day, and I was hoping that I'd hit the mall before the holiday rush was in full swing, but one look at the parking lot told me that I was dead wrong. Nevertheless, I was already there so I ventured on. I was waiting for a parking spot when the song "Don't You Forget About Me" by Simple Minds came on an 80s station that I love. Like most of you, I cannot hear that song without thinking of the movie The Breakfast Club.
Remember how The Breakfast Club so perfectly epitomized our high school years with its archetypal characters and curmudgeon of a detention supervisor? Just thinking about it makes me happy that I'm no longer a high school student. Who in their right mind would want to repeat those years? Perhaps the select few princesses and jocks, but certainly nobody that I know who made it safely out the other side. We're free, and we prefer to stay that way.
Caroline, in The Perfect Comeback of Caroline Jacobs, had it rough in high school. Naturally shy, she avoided confrontation and had few friends, two traits that followed her into adulthood. Now married with a teenage daughter, Caroline still prefers to keep her mouth shut when put in tough situations. Which is why it is so shocking when she tells off another mom during a PTA meeting.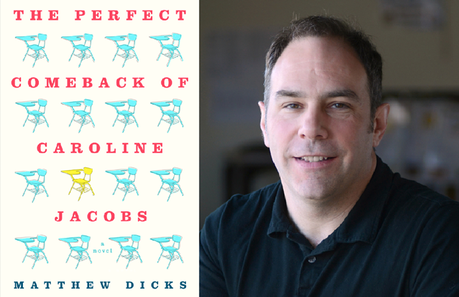 Caroline is a self-proclaimed pushover. She has let snide comments and underhanded remarks slide for years. But something happened when she lost her cool at the PTA meeting: something broke lose in her that she can't put back together. And now she's on the warpath.
Caroline is determined to face the person who made her high school years a living hell. Caroline's inability to stand up for herself all leads back to one moment in her school's cafeteria. She didn't have the perfect response then, but she sure as heck has one now. And she's going to say it to her bully's face.
After springing her troubled daughter from the principal's office, Caroline heads toward her hometown—daughter in tow, vendetta in mind. But even our strongest intentions can go awry, and Caroline, when face-to-face with the bully, suddenly feels conflicted. What Caroline thought would be an act of bravery morphs into something far from the scenario she had played out in her head.
Now Caroline has something much harder to face than simply her high school bully. Her perfect comeback—as it turns out—isn't so perfect.
Matthew Dicks is a writer and an elementary school teacher whose books have been translated into more than twenty-five languages. The Perfect Comeback of Caroline Jacobs is his fourth novel.