I love that my kids are active in team sports, and I've learned my role. I am there to watch them play. I do love to watch them play.
That means that from September to April, I visit approximately 8-10 hockey arenas per week (for real… can you imagine??). My bag for these months is full of mittens, lip balm and hand moisturizer.
As I change the calendar to May, I prepare for 8-10 visits per week to outdoor fields; soccer pitches or baseball diamonds. So, too, changes the content of my bag. I've always got a hat with me, a water bottle, a book (baseball games can get loooong) and sunscreen.
This week is National Sun Awareness Week in Canada, and I was shocked to see this info graphic.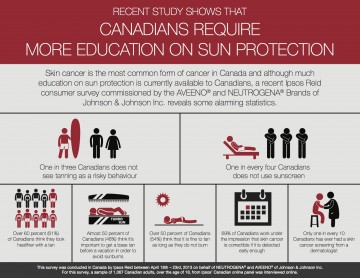 My absolutely favourite sunscreen to tuck into my bag these days is Aveeno Hydropsport Wet Skin Spray Sunscreen SPF 30  This stuff rocks. It is lightweight, non-greasy and works even when your skin is wet (without leaving that obvious white layer on your skin). The scent is very faint and a little goes a long way. This kept my entire family burn-free during last month's vacation in Jamaica, so you know it works.

I'll be stocking up on the sunscreen to have one at the bottom of everyone's bag (soccer bag, baseball bag, beach bag).