When we decided to take our first vacation to the Hawaiian Islands, friends were bombarding us with advice. What islands to visit was the most challenging part. Why? Each island is different from the other. Plus, if you're travelling that distance, you really should try to make the most of it, especially with kids.
We opted for two islands for our Hawaiian adventure. We started in Kauai which is known as the Garden Isle. I'll quickly tell you that it is what you envision Hawaii to be. Lush greenery with the scent of plumeria in the air. The waves crashing along the shoreline and a laid back environment. It's one of the quieter islands, and in hindsight, it was the best place for us to begin our vacation. We were thrown off kilter a bit with our younger son adjusting to the time change for a few days. But with not much planned, we were all able to just go with the flow.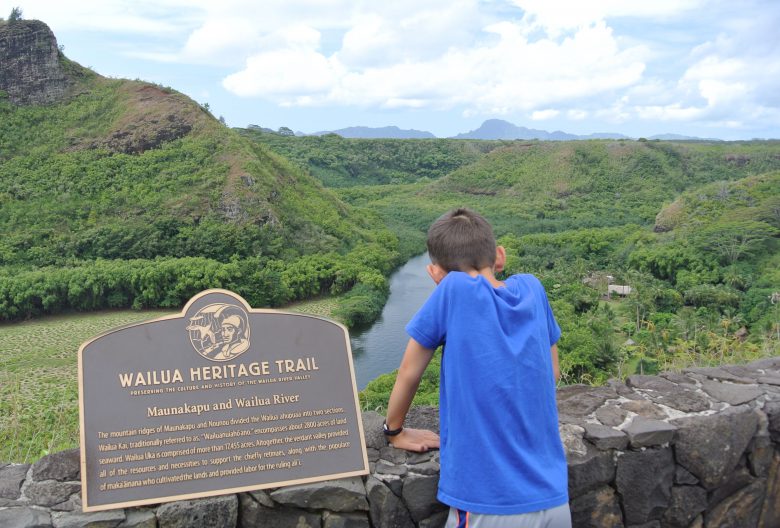 As you drive along in Kauai you'll notice wild chickens running around everywhere. It's pretty funny, but locals will tell you that Hurricane Iniki in 1992 devastated the island and in its path, it released many domestic birds into the wild. There are literally thousands and they have no natural predators. And they aren't worried about you staring at them in delight. We were quite fascinated when we stopped at one of the vista points overlooking the beautiful Wailua Heritage Trail and noticed an older man riding a scooter with bags hanging off both sides. We could hear his scooter approaching the small parking lot and apparently, so could hundreds of wild chickens who seemed to appear from every angle. We were in awe as the man dismantled from his scooter, opened up the bags and proceeded to feed the chickens. He didn't look official, but this was just one example that we started to notice of the people on this island. There's a lot of care and respect for nature and the environment.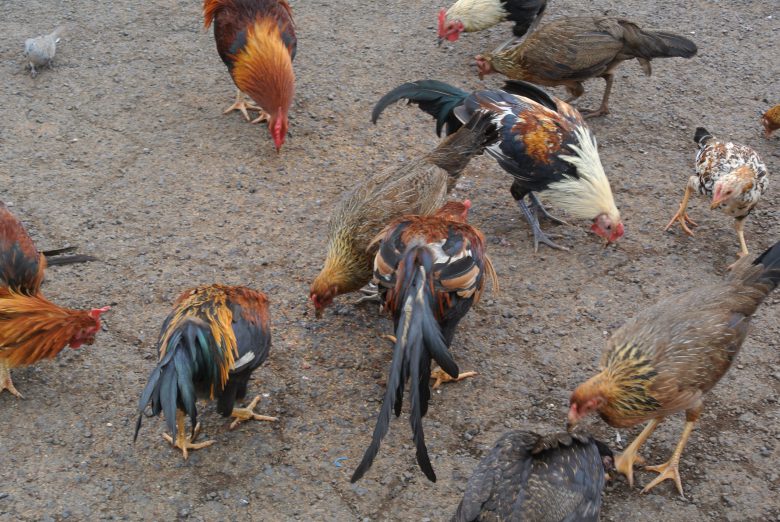 One early evening we drove into Hanapepe Town which was once one of Kauai's largest busiest towns. It's like time stands still here as we walked down the main street. Take a closer look at the building structures and you can easily be transported back to the early 1950s. One window of an abandoned building looked like an old diner that had a good layer of dust. However, most of the buildings are now home to mom and pop shops, art galleries, souvenir shops, and curiosities. Every Friday evening there is a street festival with local food offerings from BBQs to shave ice and flavourful popsicles. The artists and galleries are happy to chat with visitors, plus it's the perfect place to pick up a treasured souvenir. We discovered an antique shop at the beginning of the strip where we sifted through beautiful illustrations and paintings. Musicians dot along the street and, yes, you will hear everyone sing "It's A Wonderful World / Somewhere Over The Rainbow" and, yes, you will get misty-eyed as you look around you in this lush paradise. An older lady with a ukelele happily sang traditional songs and invited us to make our own leis with flowers she had collected earlier that day. Apparently, this little town was the inspiration for Disney's movie Lilo & Stitch.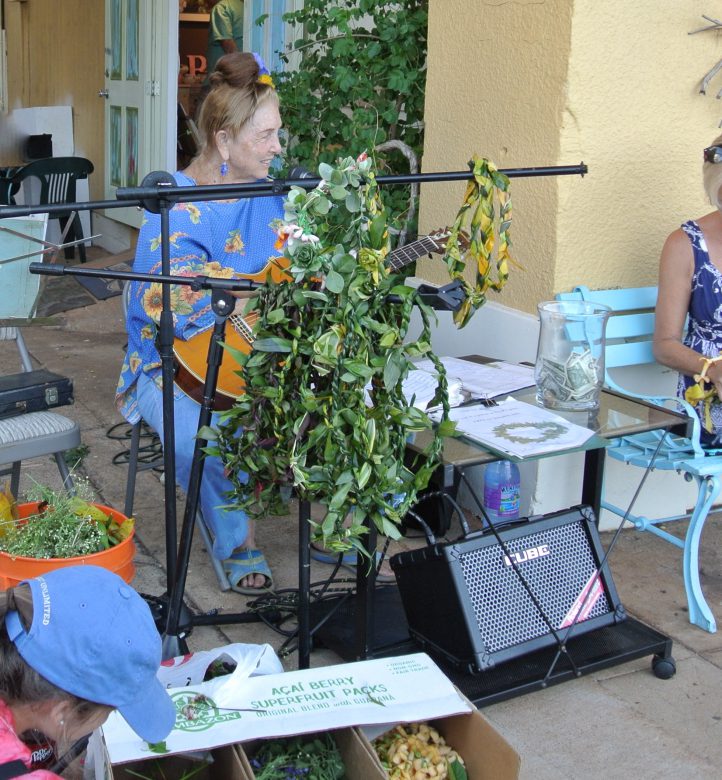 Since the younger one was happy to be quiet at the hotel for most of the stay here, hubby and older son decided to experience Kaui's Napali Coast by helicopter. It's the only way to see the perfect view of this stunning area, as it's protected land that is not easy to get to. The only land access to this area is an 11-mile trail that crosses five different valleys which, for seasoned hikers, would take probably two days to enjoy the scenery. But this 17 mile stretch of coastline has cliffs that are up to 3,000 feet tall and is worth the visit if you can afford the time and the budget.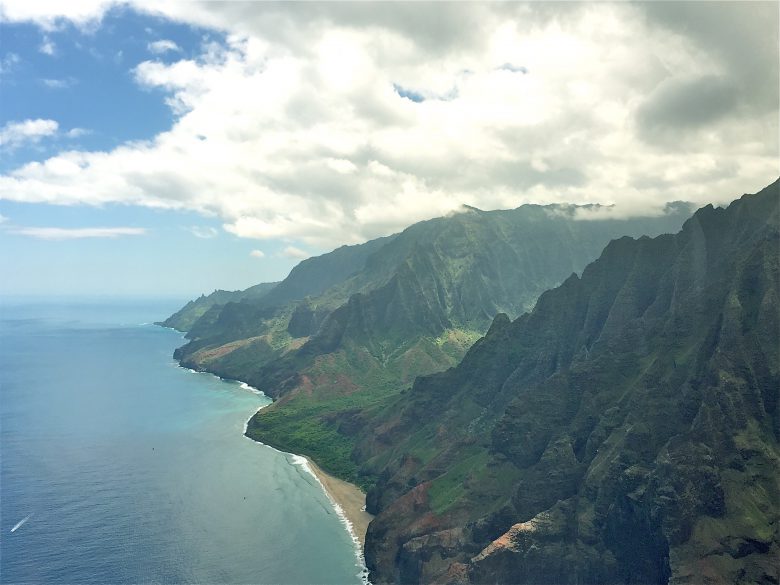 If you want to hang ten, or at least watch, Kauai has a number of beaches where you can catch the surfers riding the waves. Some of the world's best professional and amateur surfers are known to be from this island. Kiahuna Beach is great to watch beginners who won't have your heart beating out of your body. Hanalei Bay on the North Shore is a well-known hotspot for surfers and watchers. Haena Beach is considered one of the most beautiful. But you really can't go wrong with either.
Humpback whale sightings are not uncommon in the southern coastal areas like Poipu Beach if you're visiting between December and May. There are several boat tours that will take you further into the warm waters as well, to get an even closer look.
Kauai is also home to the largest coffee farm in all of Hawaii. The Kauai Coffee Company houses a quaint museum, a guided tour of the plantation grounds, and all the coffee samples you can handle. The variety of roasts from pure origins to blends can be tasted. And of course, available for purchase.
Kauai isn't as commercial or "touristy" as some of the other islands. It's a quieter island, and for families looking to explore nature, this is paradise. As for food, like the other Hawaiian islands, you will find Polynesian and Japanese influence in the cuisine. Yes, you probably would be able to order a burger and chicken fingers at the hotels, but why would you? Kidding. I know. Some kids like the comfort foods. Look out for Shave Ice stalls – think Sno Cones, but better. Jack it up with Macadamia Nut Ice Cream and that's what heaven would taste like. Trust me, one taste and you – I mean your kids – will be wanting this treat every day.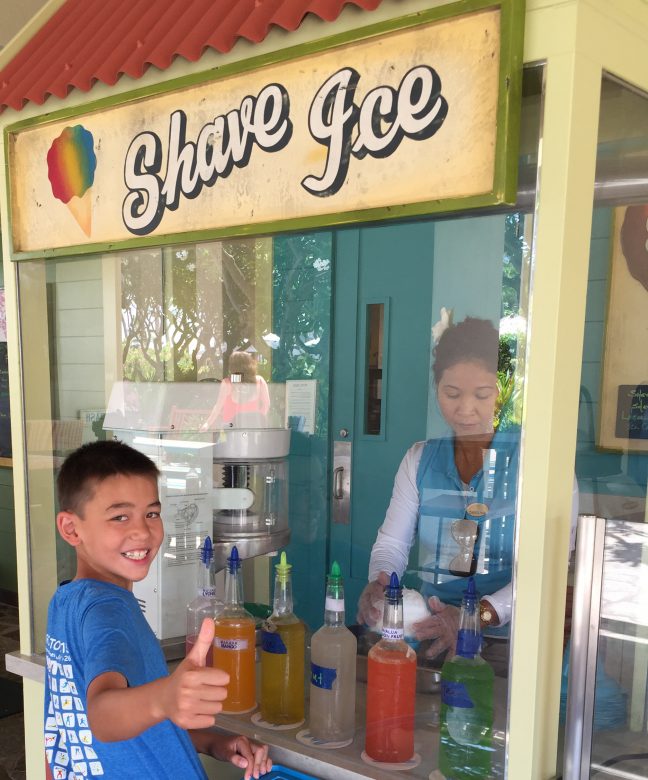 Be open to trying Musubi; a snack that is made of SPAM, rice, and seaweed. It's pretty much found everywhere, from local grocery stores, BBQ restaurants, and hotel snack bars. Apparently, Hawaii has the highest rate of SPAM consumption in the United States, and a visit to a local grocer will have you amazed at the variety offered. I'm kicking myself for not bringing some back. Just because.
We fell in love with Ahi Poke Bowls (say POH-keh) – a traditional Hawaiian seafood dish that cuts up pieces of fresh yellowfin tuna (served raw) and mixes it with a variety of seasonings, roasted seaweed and served over rice.
We spent five days in Kauai before jumping over to Maui and it was the perfect way to ease into Hawaii. And if you're wondering about Luaus? I'll put that in my next post! Stay tuned!
To plan your trip visit gohawaii.com the official visitors website.