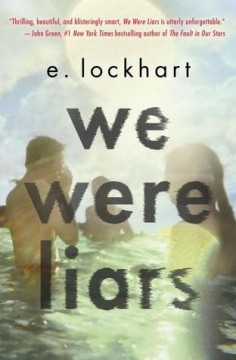 It's simple enough to pinpoint when reading Young Adult fiction became socially acceptable. "The Hunger Games" trilogy, marketed originally to the teen set in Scholastic fliers, spread like wildfire to the adult population. The caliber of the writing and the quality storyline meant mass appeal and we adults started to borrow books from our teenage kids and babysitters.
Fast forward a few years, and I find that I'm as apt to pick up a book in the Young Adult section of the bookstore as I am in the Literature section. All genres are covered (from "Fault in Our Stars" if you're looking for fiction to "Red Rising" if you want dystopian fantasy). With this week's release of "We Were Liars" by E. Lockhart add the suspense genre to the library.
From Goodreads,
A beautiful and distinguished family.
A private island.
A brilliant, damaged girl; a passionate, political boy.
A group of four friends—the Liars—whose friendship turns destructive.
A revolution. An accident. A secret.
Lies upon lies.
True love.
The truth.
 
We Were Liars is a modern, sophisticated suspense novel from National Book Award finalist and Printz Award honoree E. Lockhart. 
Read it.
And if anyone asks you how it ends, just LIE
This book was everything I look for in a great thriller. The characters were interesting and the story was spun out slowly like yarn from a ball. The writing style is distinctive; the sentences are a little choppy and fragmented and it took a couple of chapters to adjust to it. Once adjusted, the style encouraged a very quick read, which added to the heightened suspense.
The end was surprising and satisfying. The biggest favour I can do for you as a reader when it comes to this review is to not tell you anything about the plot, but to simply recommend that you rush out and read this book. It's the suspense that everyone will be talking about this summer, and you'll be better off having read it before your friends do.
This is not only one of the best Young Adult books I've read this year, it's one of the best books I've read. I couldn't put this down and read it over the course of 2 days. "We Were Liars" has a May 13 release date. Run to get your copy.