Heading to Orlando with your family? Great idea: with its climate, theme parks and outlet malls, this Florida city is a great family destination. And if you're into theme parks, the two flagship parks to visit when you're in the Orlando area are Walt Disney World and Universal Orlando.
Most people would plan a solid week in Orlando if they wanted to visit more than one of the major parks, but since my family and I only planned to be in the Orlando area for two days, we had to figure out how to do them each in a day. It might sound impossible — and it is a definite challenge — but it is doable!
If you plan to visit any Orlando theme parks, whether you want to pack it all into a few days or take your time to explore all there is to do, make sure you plan your trip in detail. Another definite must is to buy your park tickets in advance. Buy from a trusted source like Kissimmee Guest Services: not only will this save you time, it will also save you money. And who doesn't like saving money?
WALT DISNEY WORLD: FOUR PARKS IN ONE DAY
Walt Disney World consists of four separate theme parks (Magic Kingdom, Epcot, Animal Kingdom & Hollywood Studios) and you could easily spend a whole week taking in the attractions at this one destination alone. Having said that, it is possible to visit all four parks in one day (my daughters and I did it) but it is an exhausting sixteen-hour odyssey and I'd recommend at least two days here.
If you must do Disney World in a day, the smart thing to do would be to choose one of the four parks and spend your whole day there. However, trying to pick just one may prove difficult, as each park has its own can't-be-missed attractions. If you're anything like my family, and you can't seem to narrow down your choice, you will want to plan your visit right down to the minute so that you can hit all the highlights. In this case, you will definitely need to take advantage of Disney's FastPass+ program in order to minimize your wait time at the most popular attractions. I also bought a subscription to RideMax planning software to help me map out our (very long) day. Their site is full of great tips for visiting the Disney parks and I found their planning tool invaluable in helping me decide which parks to visit in which order.
We started our day at Epcot, and I decided to splurge on magic bands so that we wouldn't have to fumble around for our tickets every time we wanted to use a FastPass. I was also afraid we might lose the credit card-sized tickets but, truth be told, we just wanted the magic bands. Unfortunately an error was made somewhere between my planning (using the My Disney Experience website) and the ticket booth, and both of my daughters' magic bands were programmed with the same ticket. When we tried to enter the park, it appeared as though one of us hadn't paid! The front gate staff politely and efficiently moved us aside to help resolve the problem. It turned out to be somewhat complicated and we were escorted to an air-conditioned building where our helpful guest experience representative issued all new bands and passes, as well as taking the time to show me how best to use the My Disney Experience app on my iPhone. Because this all took time, he made it up to us by giving us bonus FastPass+ options for the day. Moral of the story? Disney knows how to do customer service right, especially when things go sideways.
After we'd had our fill of Epcot, we caught the bus to Animal Kingdom where we ate lunch and rode some more rides, including one of our favorites: Expedition Everest.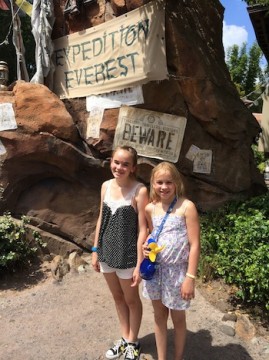 From there, we headed to Hollywood Studios to take in more rides, and then hopped a bus to Downtown Disney where we ate dinner. Our last stop was the Magic Kingdom – the most iconic of the Disney World Parks – where we enjoyed several of our favourite rides, watched fireworks and enjoyed a parade (twice)!
Seeing all four Disney parks in one day was an adventure, and I'm glad we did it. The Disney one-day marathon is not for everyone, but all four parks definitely are.
UNIVERSAL ORLANDO: HARRY POTTER AND MUCH, MUCH MORE
For a family of Potter maniacs like ours, the main attractions in Universal Orlando are Diagon Alley , Hogsmeade  and the Hogwarts Express train that connects the two. These theme areas, known as The Wizarding World of Harry Potter, were our definite priority when visiting Universal Orlando.
Because Diagon Alley and its flagship attraction Escape From Gringotts opened recently, we knew there would be long lines. Our plan was to arrive before the park gates opened (we were an hour early) and race to Diagon Alley as soon as we were allowed in, making straight for Escape From Gringotts. We had heard stories of line-ups (or queues, as they call them in the Potter-themed areas of the park) in the 7-hour range, so we wanted to do whatever we could to minimize the chances of the same. In the end, we were lucky and our wait was only 2 and-a-half hours. But we truly didn't mind, because the beauty of all the Harry Potter attractions is that the wait is so much a part of the experience.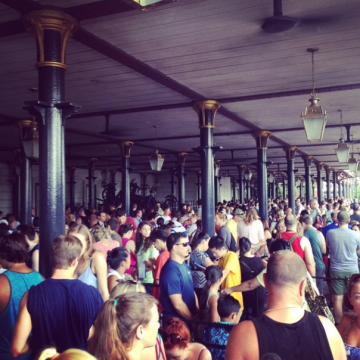 You could spend your entire day (or more) exploring all the little nooks and crannies in Diagon Alley and Hogsmeade, but you can also do them justice in one day. Both areas are a definite thrill for the Harry Potter fan, but neither is very heavy on attractions (there is one ride in Diagon Alley, the Hogwarts Express and 3 more rides in Hogsmeade). Spend some time browsing the streets, get yourself a wand at one of several shops and definitely try  butterbeer (the iconic wizard soft drink) – it tastes exactly how we imagined it would.
If you still have some energy left after your wizarding adventures, there is still a lot of Universal left to explore outside Hogsmeade and Diagon Alley. There are the movie attractions like Despicable Me: Minion Mayhem, Transformers: The Ride 3D, The Adventures of Spiderman and more. In addition, there is a whole section dedicated to Marvel comics which we also loved.
Even though we only had two days to enjoy all that Orlando has to offer, we had a magical time. You may not relish the thought of fitting "it all" into a single day, but know that it is possible (to those not averse to a lot of walking, that is!) If you decide to spend time in the Orlando area with your family (and I heartily recommend that you do), I also recommend you check out Kissimmee Guest Services. Their helpful staff are experts in the area and its attractions (including so much more than the two parks we were able to visit) and they can advise you on the best, most enjoyable way to plan your Orlando vacation. And be sure to book your tickets through KGS – they are authorized sellers for several Orlando-area attractions and their low price guarantee means you will get the best price going: even better than what you'd pay directly at the parks. We were thrilled with our KGS experience: they even delivered our tickets to our vacation property prior to our arrival. What great service!