Hockey season can be awfully long in a Canadian household. With three kids who play the games at varying levels of the competition, pre-season training starts in August, we've usually got our first tournament by Labour Day, and weekends are all tied up until playoffs end sometime in April. My husband and I have been in as many as nine arenas on a given weekend, dividing and conquering to get everyone where they need to be. We often feel like zambonis passing on the ice by the end of the season.
I read Jen's fantastic recommendation for a romantic getaway last month and knew it was something that we as a couple desperately needed, but I couldn't figure out how to accomplish it. The thought of coordinating three schedules while we were away was so overwhelming.
Sometimes we can't get away for a long weekend…or even for a weekend. Sometimes all we can manage is 24 hours.  Ontario's Finest Inns, Hotels and Spas to the rescue! There is an entire website's worth of fantastic and romantic getaways available within a few hours drive of us, and after a little research, a little babysitting coordination, a little carpooling organization, we were on our way.
Earlier this month we escaped for a one-night getaway to Niagara-on-the-Lake and it was the perfect interlude for my husband and I. We left on a Saturday morning (after my daughter's 7am practice…I caught a quick nap in the car ride), and stopped for lunch en route at Ravine Vineyard. It was a wonderful little find based on a friend's recommendation, and we enjoyed the scenery from their beautiful dining room and a delicious meal.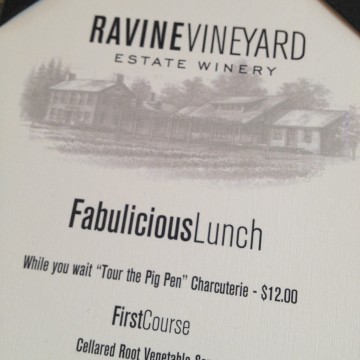 We checked into the beautiful Charles Inn in downtown Niagara-on-the-Lake and started feeling spoiled immediately. Our room was elegant and cozy, with a gas fireplace and well appointed suite. The Charles Inn is an historic inn (built in 1832), recently rated one of the top 25 small hotels in Canada, and one of the top 5 for romantic getaways. The staff is warm and gracious, and the location is perfect for easy access to spas, golf, theatre and shopping.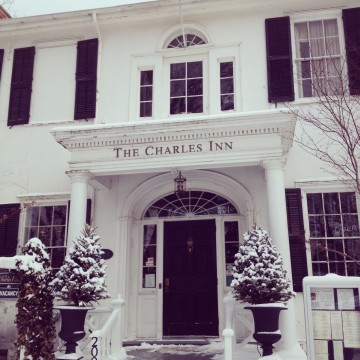 After a walk around town and down to the Niagara River, we returned to The Charles Inn for our evening in the dining room. We spent over two hours savouring and being wowed by Executive Chef Steve Sperling's Six Course Tasting Menu, with Ontario wine pairings. Highlights for me were the pan seared Quebec foie gras with roasted shallot and maple bread pudding. My husband loved the Atlantic salmon mi cuit with fingerling potatoes, pickled beets, radish and fennel.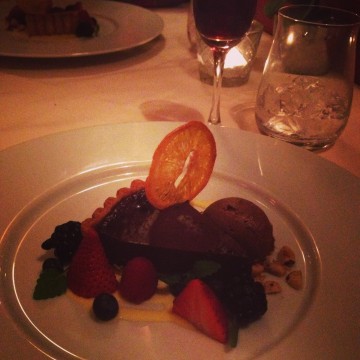 We both enjoyed the dessert and loved the Lailey Vineyards Cabernet/Merlot so much that we trekked out the next day to procure a few bottles.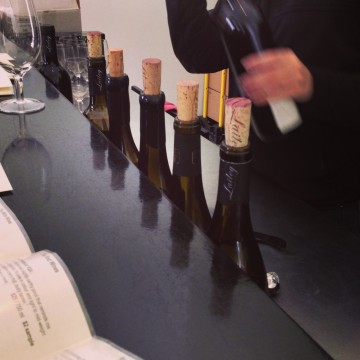 We enjoyed a great protein packed breakfast by the fireplace in The Charles Inn before saying goodbye to our 24 hours of escape, and heading back home (in time for my son's Sunday evening playoff game). We were both really surprised and relieved to find that even a mini getaway like that could make us feel more sane, more connected and relaxed enough to tackle the homestretch of this hockey season.
Bring on Spring. We look forward to a return visit to one of Ontario's Finest (in between baseball and soccer games!)