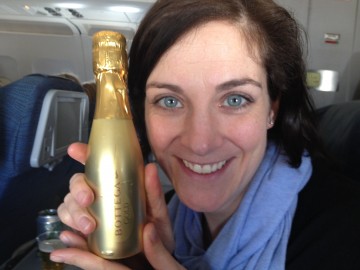 This post is contributed by Allyson Nowell, a world traveler in the "old" days, now a nurse and married mom of two small children. Allyson's desire to find the perfect balance between family fun and relaxation on her vacation adventures have this time lead her to the beautiful and family friendly offerings of Florida.
Anyone who lives away from family (your own or your spouses) can hopefully relate to my situation.
My husband is originally from the UK and I am a born and bred Canadian and whether we have lived back in the UK or here in Canada, all of our recent vacations, since having children have been spent visiting our families. Don't get me wrong, this is something we love doing and from the beginning of our relationship together set this out as a priority for our limited vacation time and resources.
Prior to our kids arriving on the scene and even our relationship starting we both travelled a lot – in fact funnily enough, we both met while on vacation visiting our families. Between us, we have been to many different parts of the world – on long trips travelling and for vacations and it is definitely something we love and have begun to miss – the discovery of new places and relaxing in the sun on a beach.
However, these trips were all 'sans' kids and when we recently started thinking about having an actual family holiday – just the 4 of us, escaping from winter for a while – we were a bit stumped with what some of our keys wishes or priorities would be.
We have two children, 3 (son) and 5 (daughter), so our first decision was that the focus really had to be on them for it to be truly fun.
Our daughter speaks almost non-stop about all things Disney, somewhat fuelled by a fantastic trip she did with her aunt and cousin just under a year ago so we started giving Disney World in Florida  some serious thought. The kids would have a great time, it offers more than enough to keep us constantly busy, staying on the resort provides lots of accommodation choices and food options without too much planning. But the question I kept asking myself was "Could I really 'do' Disney World for a week? Would this really be the 'holiday break', we needed?"
I wasn't sure it was.
When I was young my grandparents, like many Canadians, owned a condo in Clearwater, Florida where we spent many a happy March Break enjoying the sun and amazing beaches so when I was considering the Disney dilemma about being able to chill out for a bit I began to think about combining Disney with a beach break too.
The idea of having both the crazy fun experience of Disney that my children would never forget, split with the relaxation of the beach very quickly became what I hoped to be the perfect balance.
I began to look at beach options in Florida close to Disney and what I found was an overwhelming amount of choices. Some were slightly longer drives than I wanted to do with young children but there was still so much to choose from.
As a bit of a sentimental old soul, I was quickly drawn back to the gorgeous beaches of Clearwater and Sandkey where I had such great memories as a child myself.  Being under a 2 hour drive from Disney World and being located on the gulf side of Florida it tends to be a bit warmer and has calmer waters – great for us and the kids.
My mind was made up – I decided it was the perfect location for the second half of our holiday.
I quickly booked the tickets before I could change my mind and started planning for 3 days at Disney World where would be busy and 4 days at Clearwater St. Petersburg where we could relax a bit.
Whew, what a relief!
Now the hard part was done…wait, now how do we tell the kids?