Christmas is fast approaching and while some domestic divas have already completed all their holiday shopping, I know I'm not alone in admitting that I have yet to get up the nerve to brave the mall parking lots and (even worse) cash register lineups! Now, I'm not exactly the type to avoid a mall (far from it!) but I will admit that if I could accomplish my Christmas shopping in a more comfortable environment, I would. And while more and more Canadians are turning to the internet for their holiday shopping, I'll admit I was captivated by the concept of the Virtual Toy Store (created by Mattel and Wal-Mart).
The Virtual Toy Store takes busy malls and lugging packages out of the equation and allows time-crunched people to get their holiday shopping done while commuting to and from work. Here's the idea: you're making your way through a busy commuter train station along with all the other lemmings, when up ahead, a shimmering wall of toys beckons. The unique and visually fun Virtual Toy Stores feature display walls of over 50, three-dimensional toy images and allows commuters to choose their favorite toy off the shelf, snap a picture of its corresponding QR-code with their smartphone and pay in one seamless transaction.
This year, they had toy walls set up in Toronto's Union Station and Vancouver's Waterfront Station (both closed this week) as well as in Montreal's McGill Station (open until December 16). But fear not! Even if you missed the pop-up Virtual Toy Store (or if, like me, you don't happen to live in one of these three cities) you can shop the Virtual Toy Store on its national site, www.walmart.ca/VirtualToyStore.
Mattel has carefully selected a list of this season's hottest toys from big-brand favourites like Barbie®, Monster High®, Hot Wheels®, Fisher-Price® and Thomas & Friends™. What's more, Walmart Canada then ships purchases directly to the buyer's home with free shipping*, all in time for the holidays.
All of which is awesome, but what you're really dying to know is, "which of these toys or games will the kid on my list really love?" Well, today's your lucky day, as I recently had a chance to review some of Mattel's hot holiday toys with my own youngsters (and a selection of honoured guests, to round out the ages and genders). Below are our personal top five favourite picks for this holiday season.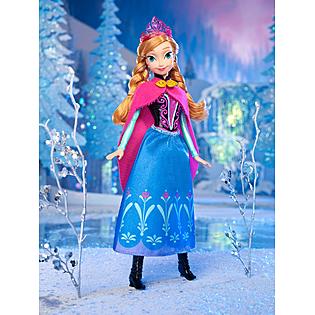 Disney Princess Frozen Sparkling Princess® Anna
This toy gets top pick on our list. All three of us girls absolutely adored the Disney film Frozen, and its main character Anna: a free-spirited daydreamer determined to save her kingdom from eternal winter. She's instantly recognizable in her signature outfit from the film, and any kid who likes to play dress up with dolls will love this toy, whether they've seen the film or not. But you really should see the movie as well. My girls have gotten countless hours of play out of this toy so far. They even loved her so much we had to go out and buy her companion doll, Sparkling Princess Elsa.
Ages 3 and older | MSRP $20.99 | Walmart, Toys R'Us, Loblaws, Sears, Target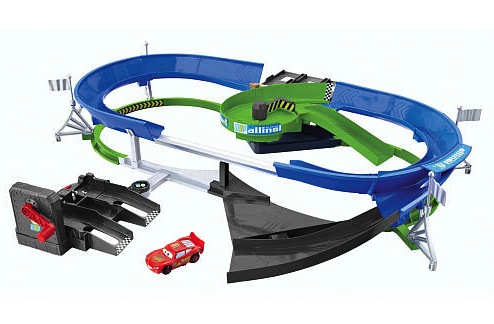 Disney/Pixar Cars Stunt Racers Double Decker Speedway
When this toy arrived, I was waiting to arrange for a boy to come and play with it, since I didn't expect it to catch the fancy of my two daughters. But out of the package of five sample toys/games that we received from Mattel, this was the one they were dying to open first. The two-level track set is all about the cool stunts that Disney/Pixar Cars characters can perform. And once we got it together, it really was a lot of fun. But as with most toys, beware: assembly may take longer than you think!
Includes 1 Stunt Racers vehicle. Ages 5+ | MSRP $39.99 | Walmart, Toys R'Us, Target, Loblaws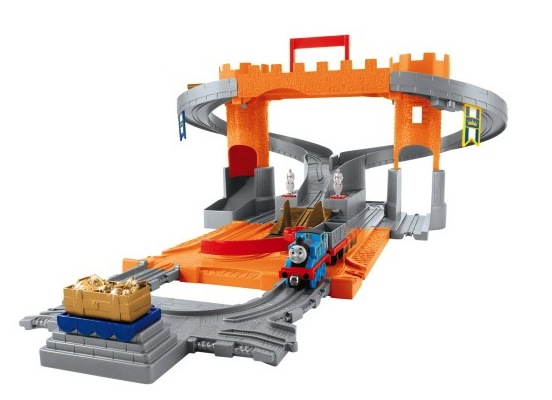 Thomas & FriendsTM Take-n-PlayTM Thomas' Adventure Castle
Inspired by the new Thomas & Friends™ DVD , King of the Railway, Thomas' Adventure Castle is a portable track set that folds up for on the go play! And for parents of young children,  Take-n-Play toys are GOLD. This one is a lot of fun to play with, too. This set comes with a Thomas die cast engine to race down the track with the Troublesome Truck in hot pursuit. As they zoom downward, flags drop, knights appear and the treasure is revealed! It's a lot of fun and as an added bonus, all Take-n-Play playlets connect together for mix-and-match fun. This one is perfect for the Thomas fanatic on your list.
Ages 3 + | MSRP $34.99 | Walmart, Toys R'Us, Loblaws, Sears, Target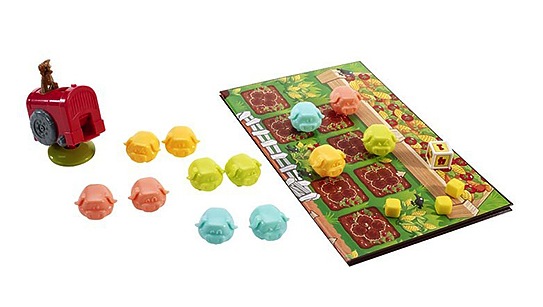 GO PIGGY GO!
I'm going to dub this game the surprise winner of the bunch. I'll admit it: at first look, I was intensely skeptical about its prospects. I've played enough gimmicky little-kid games to know that they can often induce in adults the desire to stab forks in one's eyeballs. So I was a little worried. But GO PIGGY GO! won me over. It's brilliant in its simplicity, quick enough to keep younger children interested, and provides surprising opportunity for strategy play. Plus, you get to shoot tiny sugar-cube-sized hay bales at your opponents' piggies. And who wouldn't love that?
Ages 5+ | MSRP $19.99|Walmart, Toys R'Us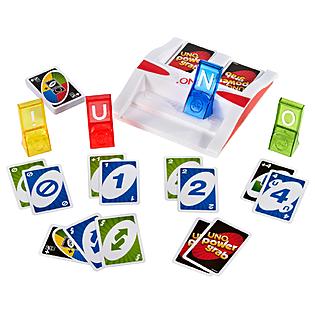 UNO® Power Grab™
We're a game-loving family, so we were very excited to try the new UNO® POWER GRAB™ Game. We've always enjoyed the traditional UNO card game, so we were intrigued by the addition of Power Towers that, when swiped, can be used to block action cards or sabotage opponents. Because the gameplay is similar to the classic version, it wasn't too difficult to catch on and so the new game learning curve was a little less steep. It was definitely faster and more frantic/exciting than classic UNO, and it makes a great addition to our collection for those times when you want a fun, adrenaline-pumping action game.
Includes 112 UNO® cards, 4 Power Towers and a discard tray/storage unit. Ages 7+ | MSRP $19.99 | Walmart, Toys R'Us, Loblaws, Target
For more information about hot holiday toys, please visit www.mattel.ca/holiday and www.walmart.ca/VirtualToyStore.
*Some exceptions. See www.walmart.ca/VirtualToyStore for details.
All opinions are my own (or those of the children I played with). Mattel provided samples of the toys and games reviewed, but I was not compensated for this post.