Boston is a city that I can almost call my second home as I've visited more times than any other destination in the world. It's rich in history, arts and culture; there is no shortage of food and of course, shopping (ahem… there is no sales tax on clothing priced at under $175 and then there's only 6.25% above that). It's also a walking city. Just ask anyone what you "must do" in Boston and they'll always bring up the Freedom Trail — the 2.5 mile route that guides you to significant historical sites that can all be done on foot. Boston is one of America's oldest cities with no shortage of things to do and if you're planning to do some exploring with the kids, here is our list of what to see and do as compiled by myself with input from my kids… some of which we've done several times!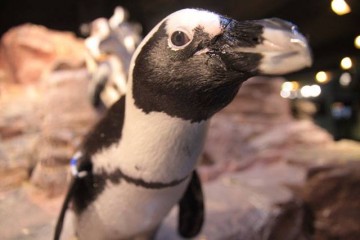 NEW ENGLAND AQUARIUM: You enter and notice the vast spiralling floor to ceiling tank home to many sea creatures. You won't want to leave. But you'll also see adorable penguins up close. Ever wonder if penguins have ears? Or if they sneeze? A special Penguinology Adventure Guide is currently offered to visitors. There are several species that call the Aquarium their home but you'll also delight in visiting the Leafy Seadragons, Jelly Fish, and Green Sea Turtles. There are thousands of creatures to visit here in a variety of exhibits. Visit the Shark and Ray Touch Tank, The Yawkey Coral Reef Center and many more. Admission: $24.95+, $17.95 for kids ages 3 to 11.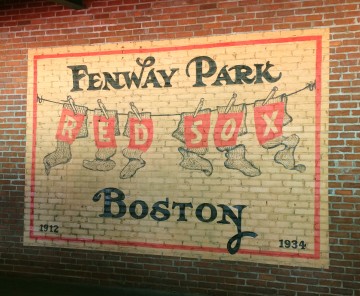 BOSTON FENWAY PARK TOUR: You can't visit Boston without visiting "America's Most Beloved Ballpark" and if you're lucky enough to experience a home game, do it! But if the dates (tragically!) don't work, this one-hour walking tour of the stadium will offer any baseball and history buff enough fun facts to knock your socks off. Find out about The Green Monster and Pesky's Pole. Discover the significance of the one lonely red stadium seat. If no games are scheduled on the day of the tour, you may even be lucky enough to venture into the legendary press boxes. Admission: $16 adults, $12 for kids ages 3 to 15.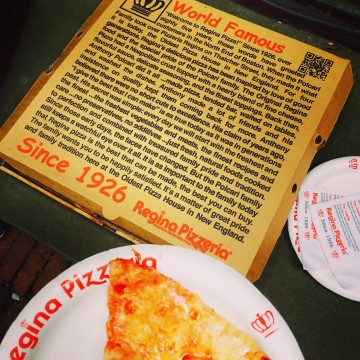 BOSTON PIZZA TOUR: The North End is an incredible neighbourhood that can't be missed. We've enjoyed many meals in this area (don't miss Mike's Bakery for their famous cannolis!) but this time we decided to experience the Little Italy Boston Pizza Tour. Lead by locals, (our guide was Anna!) who were born and raised in the North End, we knew we were getting the true taste of Boston not some "canned" tourist tour. What makes this tour a real winner is the combination of seeing 6 historical sites (including Paul Revere's house and the home of where Rose Kennedy was born) and having a taste of what the locals consider the best pizzas in town. Each tour gives you three slices of pizzas while other notable pizza hotspots were pointed out. Other restaurants and Italian favourites are also pointed out, including the best bread bakery, located down a tiny, easily missed alleyway. This tour was a great balance of my hunger for history and the kids hunger for pizza. The 2 hour tour (ours ran almost 3 hours as we had a chatty bunch!) is done on foot and definitely fun for the family. Cost: $39 per person.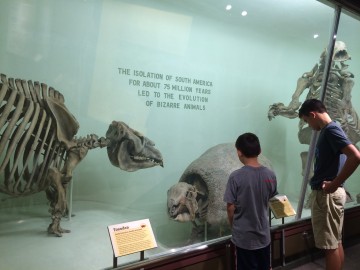 HARVARD MUSEUM OF NATURAL HISTORY: It's worth taking a visit across the Charles River and into Cambridge — the home of America's oldest university. Harvard is impressive in all sorts of ways and you can't help but look around and feel like you're walking amongst scholars. The fresh faces had inspired my older son who's just entering high school. Also located on the grounds of Harvard University is the Museum of Natural History. Thismuseum houses the most spectacular collections from rocks and minerals to animals and sea creatures. While the kids love exploring the extensive collections, you cannot miss the Glass Flower collection by artists Leopold and Rudolf Blaschka. This permanent display of over 3000 meticulously shaped botanicals is a stunning observation in the details and yes, all done in glass. You won't believe your eyes! The commissioned collection began in 1886 for the university as they wanted life-like representation of the plant world. Also, the knowledgeable staff at the museum offer amazing nuggets of interesting facts. Be sure to ask about the original entrance way to the museum. Admission $12 adults, Kids ages 3-18 $8.  

MUSEUM OF SCIENCE: Be prepared to spend a few hours here with the many exhibit halls. Don't miss the Butterfly Garden where tropical species fly freely amongst the exotic plants. Dinosaurs are always a hit as well but be sure to visit the Grossology exhibit if you're going soon! Kids will love learning about why we burp, fart and get answers about stinky body odor and snot. Yep, you've been warned! Then be prepared to check out the new 4D theatre experience (opening late summer) that is unlike anything you've experienced before. This Museum is a treasure trove of fun and learning. Admission: $23+ adults, $20+ kids ages 3 to 11.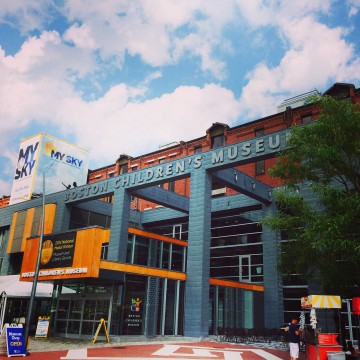 BOSTON CHILDREN'S MUSEUM: An entire museum for kids? Yes! Founded in 1913 by educators, this museum offers everything that kids love to get their hands on!  Upon entry kids can't help but gravitate to the floor to ceiling climber. That's a good 15 minute rest for moms and dads while you watch them navigate this incredible structure then explore the Science Playgrounds and learn about bubbles and waterways with Peep, investigate nature with researchers and see why physics rule the raceways. Visit the special exhibits and communities of Boston and learn about music, people and even "jump up" on a carnival style ride! Use your body to create energy through Kid Power (think using your body weight to understand how pulleys work). Then take a walk into another world and visit a 100 year old traditional Japanese Home — a gift from sister city Kyoto. Admission: for kids and adults $14. Friday night admission special discount. 

BOSTON PUBLIC GARDEN: Not as overwhelming as Central Park in New York, The Boston Public Garden (and the Boston Common) is a great retreat in the centre of the city. In 1634, it became the first public park in America. Take a stroll through the park (or "paak" as the locals say) with the tall breezy willow trees and ponds.  Take in a concert,  look for the bronze statues of ducklings, have a picnic, and enjoy the playground. If you have a chance, take in a Swan Boat ride. The rides have been active since 1877 and run from April to September. Cost per ride: less than $3 per person.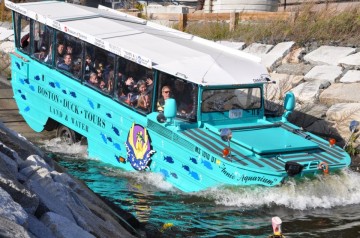 BOSTON DUCK TOURS : A little pricey but the kids LOVE this! This fun tour on board WWII style amphibious vehicles gives a great overview of Boston through the main attractions and famous landmarks, then dips into the Charles River for a gorgeous view of the cityline. Most of the tours are directed, and driven by,  highly animated "ConDUCKtors" that really make it worth while. Once we had a viking wearing a kilt. He was hilarious. Be prepared to QUACK!  Tickets are $34.99 adults, $31.99 kids ages 3 to 11. 

SKYWALK at the Prudential Centre: If you have time to drag the kids shopping down along Boylston, head to the Prudential Centre and give them a break here. This incredible view takes place on the 50th floor of the building and offers an unparalleled 360 degree panorama view of the city. The Observation Deck also offers a self guided audio tour for adults and kids. An interesting historical timeline of Boston are displayed.

BOSTON PUBLIC LIBRARY: This incredibly massive library opened in 1848 and was the first publicly supported free municipal library in the world. It continues to serve as the city's library but step in for a quiet afternoon and wander through the study halls. The library has over 7 million books in it's holding. Note the artwork, statues and wall paintings like "The Quest and Achievement of the Holy Grail" that was installed in 1895. Many "first editions" including works of Shakespeare are here in the collections. You can download self-guided tours of their collections online. Arts and Architecture tours are also available (I'll do that on my own next time!). Kids say the library reminds them of scenes from Harry Potter. Admission is free.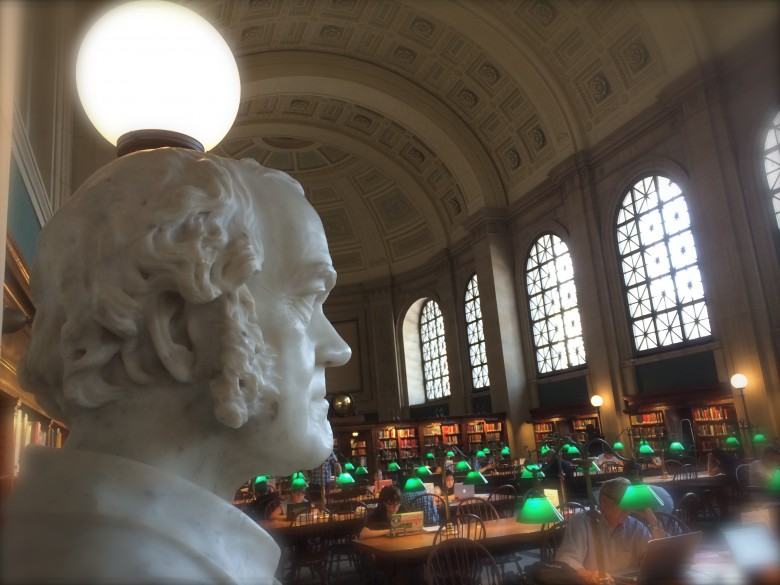 And just in case you are make your way through number 1-10, here are my noteworthy runner-up destinations. 
Ride the T:  My boys have a fascination with planes, trains and automobiles so we make a point of using public transit just to experience the difference from what we have at home. The Boston Subway (aka the "T") was the first underground transportation system in North America and started running in 1897. It's an affordable way to get around when the kids get tired of all the walking. Kids ages 11 and under ride free with an adult.

CityPASS Boston: Roaming the various attractions can be pricey so it's definitely worth checking out the savings by investing in a CityPASS. A booklet can save you 47% on admissions compared to regular admission prices to 5 best attractions in Boston and who doesn't want to save some $$? CityPASS is also available for other major cities. 

FOUR SEASONS HOTEL:  Situated at the foot of the Boston Public Garden, this hotel has a few special treats for their little guests. Every Friday and Saturday night, children staying at the hotel are invited to "Raid the Fridge" in their pj's in a secret behind-the-scenes location. The hotel's Passport Program welcomes wee guests with scavenger hunt map to be used within the hotel. There are also cooking classes for kids guided by their in house pastry chefs. Older kids are also invited to scan an exclusive QR code to customize their amenities from the hotel's stash. From Thursday to Sunday local Gifford's Ice Cream offers favourite regional flavours like Maine Wild Blueberry at the hotel with their pop-up ice cream shop.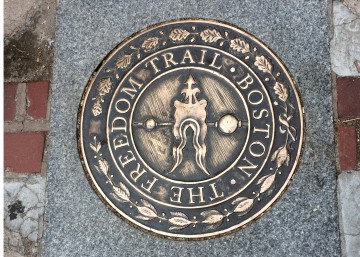 FREEDOM TRAIL: While kids may not be too interested in completing the entire walking trail in a day (there's so much to do in this city), you will inevitably stumble upon many landmarks regardless. Just look for the red brick line running through the city. One of my favourites is the Old North Church located in the North End. It's history is quite unique with association with Paul Revere and the fateful evening that ignited the American Revolution.  as well as the individual family pews that remain intact in this still active church.
MAKE WAY FOR DUCKLINGS: The famous picture book and story by Robert McCloskey that has sold millions of copies since  it was first published in 1941. This classic tale of a mommy duck and her ducklings that made the Boston Public Garden their home is a charming read for families. You can visit the bronze sculptures of the ducklings in the garden and if you're visiting around Mother's Day, there's an annual Duckling Parade!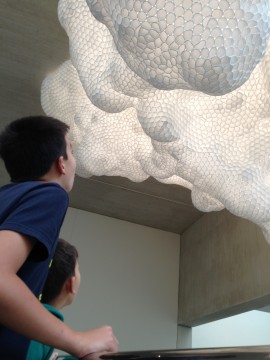 MUSEUM OF FINE ARTS BOSTON: There are over 450,000 works of art in this museum located on Huntington Avenue. Various exhibit halls from ancient Egypt, European and Asian collections  to contemporary art are housed here. Beyond the expected, discover thought inspiring galleries like The Ives Gallery that is showing "Art can be…" exhibit. This particular gallery space is about triggering responses and finding a connection with the viewer. But if you're taking the kids, discover the Family Art Cart where activities are designed for children ages 4 and up with their adults or explore the museum with Art Cards searching for objects. Family Activity Totes are also available for kids that are filled with self-guided gallery activities, colouring pencils and sketchpad. Admission: $25 adults, $10 youth ages 7 to 17, children 6 and under free.

ISABELLA STEWART GARDNER MUSEUM:  This particular museums is one of my all time favourites not only for the collections but the setting. Isabella Stewart Gardner was one of the world's biggest female supporter of the arts. Her friends included leading artists like John Singer Sargent, James McNeill Whistler and Henry James. Married to John Lowell Gardner Jr. they settled in Boston. In the late 1880s, they travelled across America, Europe and Asia. One of her favourite destinations was Venice, Italy where they often stayed in Palazzos. Her love for Italian culture and arts inspired the design of her museum that houses her once intimate collection of fine arts. Today, it also features contemporary artists and musicians. The museum's collection holds more than 2500 works of art from some of the world's most notable artists including Raphael, Michelangelo, Rembrandt, Degas, and of course, Whistler and Sargent. Admission $15 adults, Free for kids under age 18 and everyone with the name "Isabella".

FORMERLY KNOWN AS THE BIG DIG: Boston was home to an eye-sore of an elevated highway that ran through the city. The traffic was horrendous and city's solution was to bury it.  Well, after years of watching this construction, we've noticed a significant change in the urban landscape. Much of where the highway once soared are now green spaces that are enjoyed by locals and tourists alike with over 45 parks now studding the route. On the edge of the North End, a commemorative garden was erected that is now known as the Rose Fitzgerald Kennedy Greenway Conservancy.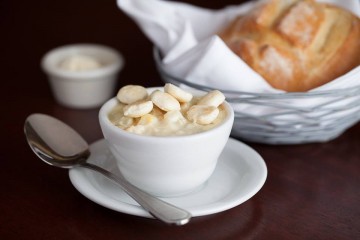 Chowda (yes, we say it like that): When in Boston you gotta have the New England Style Chowder — we've tried many different ones and it seems like every restaurant has been awarded "best of" in this city. No surprise as they lay claim to this delicious creamy soup. Quincy Market food sellers have options served in big sour dough bread bowls — and we love this. But head to places like the Bristol Lounge, Four Seasons Hotel or Atlantic Fish on Boylston that consistently get our top marks. For your "Lobsta Roll" and fresh Oyster fix, head to Neptune's Oyster in the North End but be prepared to wait for  seat…and wait…seriously wait.
UNION OYSTER HOUSE: It may sound "touristy" but this is America's oldest restaurant (started serving food in 1826) and remains a popular spot for seafood. We had ventured here and it was fun seeing the old furnishing and decor. Located near Faneuil Hall (another great spot to venture for for shopping and good eats). 

Any other favourites you'd like to share? Feel free to let us know in the comment section below!