When my husband and I started dating, we, like other couples seeking out compatibility, asked each other the usual questions—ones that got to the heart of our moral compasses. We discussed religious beliefs, political affiliations, hopes, dreams, desires and fears. When we eventually got around to discussing children, we agreed that we wanted to be parents. The difference? He wanted 12 children; I wanted two. So we compromised: we would have two.
All joking aside, I never intended for my daughter to be an only child. My life plan included being married, with a career and having a few kids. It never crossed my mind that my body wouldn't cooperate with my goals.
Infertility is heartbreaking. Like so many other women, I struggled to get, and stay, pregnant. I had several miscarriages, both before and after the birth of my daughter, and was ultimately told that my eggs are unviable. I'm fortunate though. I have one healthy, brilliant child for whom I'm so grateful.
Once I moved through the inevitable sadness that comes with an infertility diagnosis, I began focusing on the benefits of having an only child. Did I want her to have a sibling? Of course. But considering the expenses of raising a child and the amount of energy and attention it takes, I realize now how much we can provide for her: summer camp, vacations, education and all of our love and devotion. Is she spoiled? No. Is she blessed? Yes.
And I'm content.
What I'm not, however, is good marriage material for the men of Colonia LeBaron, a small, religious colony in the Mexican countryside 200 miles south of El Paso, Texas. Established in 1944, the members of the colony follow the fundamentalist Mormon teachings of Joseph Smith, with special regard to polygamy and childbearing.
In her memoir The Sound of Gravel, Ruth Wariner tells, in raw, innocent prose, the story of her childhood. Raised in the colony established by her grandparents, Ruth is her mother's fourth child and her father's thirty-ninth. Strict believers of particular Mormon teachings, the colony members dutifully spread their faith by having as many children as possible.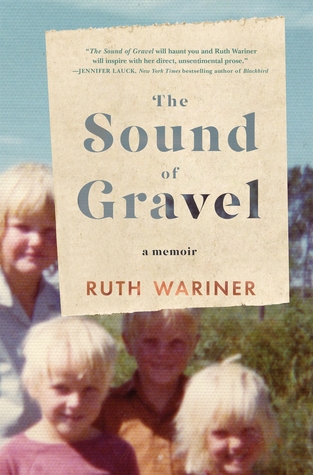 Left widowed in the wake of her husband's murder, Ruth's mother remarries and continues having children. Their family, and the families of her stepfather's other wives, are staggeringly poor. Ruth's memories are nearly incomprehensible at times as she recalls living without electricity, surviving on a diet of beans and witnessing and falling victim to her step-father's horrific abuse.
Yet the memoir doesn't lack for love. Ruth is fiercely devoted to her siblings and mother and her patience for and devotion to their well-being is admirable. As her mother continues having child after child, Ruth's heart swells for each new sibling even as her own responsibilities grow well beyond the reasonable expectations of a young girl.
An impromptu visit to her grandparents in San Diego provides Ruth with a glimpse of a different kind of life. Ruth basks in the safety and security that her grandparents provide and is devastated when her stepfather returns to take them back to the colony. It isn't until years later that Ruth finally escapes a life filled with hunger, fear, tragedy, and yes—love, dreams, and hope.
Ruth Wariner left Colonia LeBaron at the age of fifteen and moved to California where she raised her three youngest siblings. She earned her GED and put herself through college and graduate school. The Sound of Gravel is her first book. Flatiron Books, 2016.