With a marketing line like "your door to more", the 2014 Nissan Versa Note is a small car with a rather big claim to live up to. I'll admit it – I was a tiny bit skeptical when I picked up this car. After all, its sticker price is below $20,000 ($18,680 for the model I drove) and that usually translates into little more than a human-sized version of a matchbox car. I expected this vehicle to get me from A to B, but not in any great comfort and certainly not with any kind of pizzazz.
Well. I was wrong.
It's more than you'd expect in every way.
The 2014 Nissan Versa Note's price tag is definitely designed to appeal to the twenty-something set, but this car offers features you would not expect for its class. My first surprise was backing out of the parking lot – in the middle of the console a screen lit up with the Class-Exclusive Around View®  Monitor, displaying a birds-eye view of the car. That wowed me. It also made parallel parking at my downtown destination a breeze!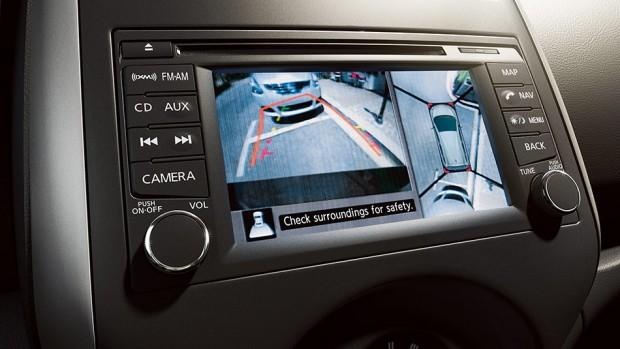 I definitely did not expect this kind of technology in a car at this price point. Heck, I spent a lot of money on my last car purchase just to add technology like this. But the Around View® Monitor isn't the only high-tech feature that the Nissan Versa Note offers. This vehicle is packed with the kind of bells and whistles I would only expect in a car nearly twice the price: Sirius XM satellite radio, Bluetooth hands-free phone with voice-activated commands for talking and texting, and a USB port with iPod control and charging capability. It was great to be able to plug in and listen to my latest playlist, and when I needed directions, I just mapped the address on my iPhone, plugged it into the USB port and let the phone do the talking. Who needs an expensive GPS?
Technology features aside, I was pleasantly surprised by the get up and go of the Versa Note's 1.6 L DOHC 4-cylinder engine. I drove it for a week both in the city and on the highway on snow- and ice-covered winter roads and always had enough power and stability to handle any conditions I encountered. The 4-way adjustable driver's seat was very comfortable, and the leather-wrapped steering wheel and intuitive console helped to make this a fun and comfortable drive. The rear is spacious and comfortable – we easily fit a tall adult in the back without having to move the front seats forward, and taking two kids in the back for a long drive to a hockey tournament was a breeze. The hatchback is spacious enough to fit several large suitcases (or one full-sized hockey bag) beneath the tonneau cover.
After a week of driving it, I would have to say that the 2014 Nissan Versa Note 1.6 SV more than delivers on its promise of being "your door to more". It's more than you'd expect in every way: more space, more comfort, more technology, more value for your dollar. If you're in the market for a new car, do yourself (and your wallet) a favour and consider a Versa Note.