When I noticed the sign in the hotel bathroom on that first night in Dominican Republic, I knew this trip was going to be full of surprises. Seduced in my hotel room within minutes of arrival. Dominican Republic was about to show me a side I hadn't expected.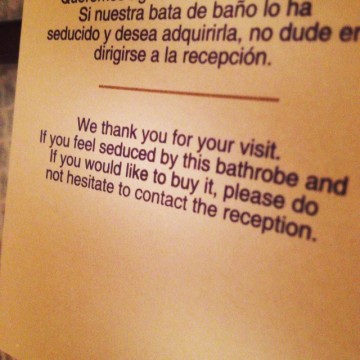 The invitation to explore the cultural and ecotourism sides of Dominican Republic piqued my interest. Canadian travelers have long been aware of the easy direct flights from many Canadian cities (gate to gate for those of us traveling Toronto to Punta Cana was just over 3 hours),  and I'd heard a lot about the all-inclusive resorts of Dominican Republic (Canadians were the first tourists to the island, and flock to all-inclusive areas in Puerto Plata, Punta Cana and La Romana).
My family has done and enjoyed all-inclusive, but as the kids get older, they're looking for less packaged vacation, and more experiential travel. This trip showed how much more there is to this jewel of an island.
The focus on this trip was the province of Barahona, and early pre-trip research didn't turn up a lot of recon. This area in the southwest of the country is fairly undiscovered by the North American tourist, making it ideal for the Canadian family seeking something different, unexplored and adventurous.
The drive from Punta Cana to the region is about six hours total, but easily broken up by a night in the capital city of Santo Domingo. Alternatively, fly to Santo Domingo, and use your downtown hotel as a base and head out on a tour of the city. The Barahona area resorts reviewed both offered shuttle service from Santo Domingo, so you can spend the three-hour drive enjoying the experience of moving further away from civilization into the wilds of a jungle and desert ecosystem.
Stay for Activities and Adventure
You'll have to leave your air conditioned van to get to Rancho Platon, but by the time you make it half way up the seven kilometre mountain drive from Paraiso in your bumpy, open air four-by-four Jeep, your kids will be feeling like Indiana Jones and you'll be joining them on the escapade. Rancho Platon was operated for years as a coffee plantation (and is still working today), but seven years ago owners Minerva and Manuel decided they needed to share this treasure with a broader community and began to build their "labour of love."
A true eco-resort, all electricity is generated onsite (and pool water is from the rivers), but don't expect to give up any creature comforts.  Whether your family is staying in a tree-top cabin in the sky, or in the cozy bungalow tucked beside the waterfall, you'll enjoy a great night's sleep and wonderful meals in the main dining area. The resort is family-run, and eager to please, able to teach you a merengue or fix you a local delicacy.
All onsite resort amenities are included in the accommodation costs, and include horseback riding, hiking with a guide, zip lines, tubing down the river, and water toboggan.
Stay for Great Food and Spa
After a few nights of tree-top accommodation, land back on earth at the beautiful Casa de Bonita . Adults will enjoy the absolute luxury, but the kids won't be out of place  and will enjoy the pool, tennis courts, bike trails, and canopy trail with 10 zipline platforms.
There are 13 rooms and one suite in this boutique hotel, recently voted among the best "ecolodge" hotels in the world.
A high point of a visit to Casa de Bonita is a tour of the chef's garden. Galmy Guevara started  cooking at the resort when she was 16, and 18 years later she oversees a garden from which she draws fruits, vegetables and herbs for daily meals.
Explore
Do arrange for a day trip to Bahia de los Aguiles. Both resorts will shuttle you out for the two hour drive through amazing ecosystems including lush mountain regions reminiscent of Hawaii and red dirt deserts of bauxite that will make you feel like you've traveled to Australia. Eventually you'll come upon the beach town of Playa de los Patos. This beach town has restaurants with the best fried fish, lobster and shrimp on the island (not to mention the Presidente Cervezas),  and from there you can charter a small boat out to Eagle's Bay, an 8-kilometre long beach near the southernmost part of the border with Haiti. The bay is part of the Jaragua National Park, a preserved area. Kids will love exploring the lagoons and pre-historic caves of the area. Adults will park with a cooler on one of the most beautiful stretches of beach in the world.
Relax
As wonderful as adventure and eco-travel is, there's always a place for pure indulgence. I found it with a  massage at Casa de Bonita. The spa is located in open huts beside a babbling river, and the open air treatment left me feeling absolutely relaxed and spoiled.
There's also plenty of opportunities for siestas by the pool, afternoons spent reading in hammocks and evenings unplugged over family games and stories.
Exploring Barahona unearthed nary a resort bracelet, nor a single Kids Club, and no merengue lessons by the pool…this is a sophisticated adventure for families ready to be seduced by the country.