A visit to New York City during the holiday season was on my "bucket list" for years. I'm a city girl after all and I've lost count of how many times I've been for vacation or work but never during this magical time of year.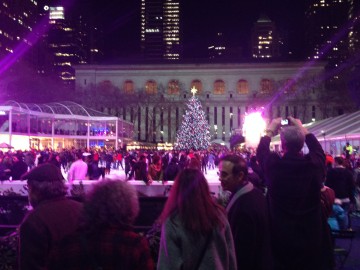 We brought the kids for the first time. Our older one is on the verge of turning 14 and the little one is 9. It was the perfect time to introduce them to one of our favourite cities. We envisioned twinkly snowflakes falling on 5th Avenue with hot chocolate in hand while we pressed our noses on against the Christmas windows. We had no idea that the weather was going to be a balmy 19 degrees celsius the weekend before Christmas! So, wearing no jackets we ventured through the concrete jungle where Christmas is a larger than life.  "You think Toronto is big? Welcome to New York City!" I said to my older son.
There were visitors from around the world and it was shoulder-to-shoulder pedestrian traffic especially at nighttime when all the lights were glowing — but we knew it would be busy. We took the kids to see the big tree in Rockefeller Center with all the skaters. Yes, it's one BIG tree. We also took them to Bryant Park where there was another grand Christmas tree and even larger public skating rink. There were  artisans selling their handcrafted goods in the Winter Village. By the way, this public space has been called Bryant Park since 1842. It's had a checkered past but today, the park has been transformed into a space enjoyed by locals and tourists alike. Through the winter months there's free skating – you can rent skates on site.
We visited Grand Central Terminal to peek at the historical train tracks and lunched at the legendary Grand Central Oyster Bar & Restaurant. Our teen tried his first raw oyster (note: the best time to have Oysters is in December) as little guy had clam chowder while all around us were business people enjoying their holiday luncheons. Strange that this landmark restaurant is located in a train station. The Oyster Bar first opened in 1913 and had struggled at times with the travel trends of society. Today, it has definitely has secured it's reputation for offering the freshest seafood in town.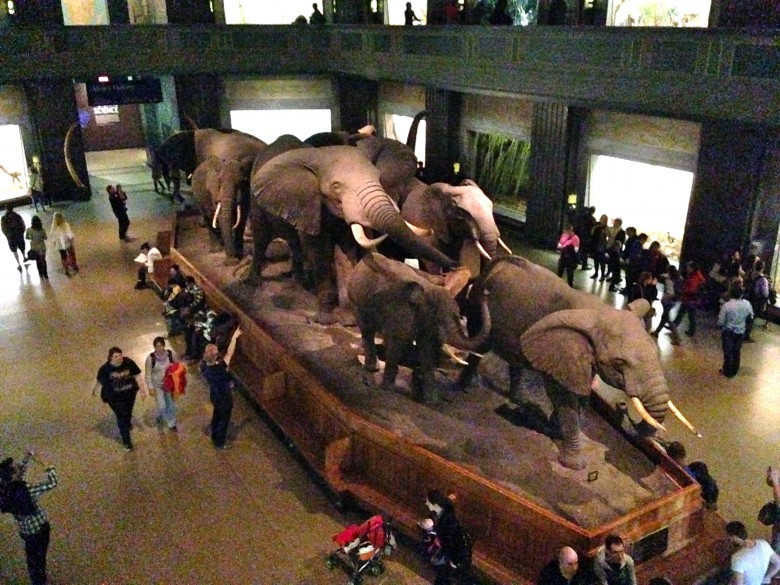 We also wanted to spend time at the American Museum of Natural History since little guy and I had recently experienced a "night at the museum" at Toronto's Royal Ontario Museum.With so many great exhibits we made sure to visit the Frog exhibit and the beautiful Butterfly Conservatory. Dinosaurs was a must as well as looking for Teddy Roosevelt and the Easter Island sculpture (remember, Dum Dum ..me want gum gum?). You'll definitely want to set aside a good 3 to 4 hours for this grand museum. There are 45 permanent exhibit halls to see as well as special ticketed exhibitions and IMAX films. There are guided tours including, of course, the Night At The Museum Tour where you will go looking for a few highlights from the film. And yes, you can spend the night here. Check their calendar to book.
I had learned that contemporary artist Yayoi Kusama had an installation at the David Zwirner Gallery  so we planned a visit. We figured that the popularity of this artist would mean a possible wait so we decided that hubby and the boys would head out to Chelsea Pier and the High Line so I could have time to visit the gallery. When we arrived we realized that the line was well over 3 hours wait and visitors were allotted 45 seconds to experience Kusama's "Infinity Mirrored Room – The Souls of Millions of Light Years Away" and her  works "I Who Have Arrived in Heaven". So…
We decided to walk along the High Line that runs from Gansevoort Street in the Meatpacking District to West 34th Street on Manhattan's West Side. If you're not familiar with the Park it's  a stretch of public space that was an abandoned railroad line. It's spotted with artwork — currently showing Busted – a collection of statues that play with the popular tradition of urban monuments that have defined public spaces for centuries with a sense of humour. It's a pretty walk above street traffic gives you a different view of streets of New York. Chelsea is great for the shopping and cafes.
I had promised them a stop at Magnolia Bakery for my favourite cupcakes and banana pudding if they could handle the mid-day sugar rush. A cupcake each was all any of us could handle. We checked out the shops like Marc Jacob's temporary custom hat shop located in the permanent shop (413 Bleecker Street) and we picked up a wool cap for grandpa at the iconic Goorin's Bros. Hat Shop (337 Bleecker Street). This particular shop is began on the streets of Pittsburgh, Pennsylvania in 1985 and continues to follow the family's art of hat making. It's a great little shop with staff that's very passionate about the craftsmanship of their hats. It's very neat!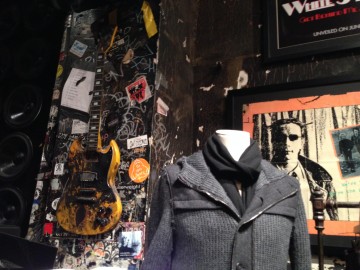 Hubby, who is a big Ramones fan, and older kid wanted to visit the John Varvatos Flagship shop (315 Bowery). The shop is in the space of the legendary CBGB – home of many American punk bands. The original walls are all intact with the grunginess and serves as the perfect setting for this "rock meets fashion" designer label for men.
Our kids wanted to go to the original Momofuko's Noodle Bar (171 1st Avenue between 10th & 11th) where we sat the bar and spoke with the manager who was interested in finding out how we would compare them to the one in Toronto since the sources for each noodle bar were different. Both very good!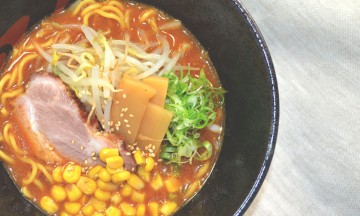 Our boys are big ramen noodle fans so we didn't mind taking them. And their pork buns are always a must!
We also visited Sapporo (152 W 39th Street between 6th & 7th)another popular spot that they both still are talking about. We  stumbled across this little restaurant a few years ago wandering the streets and return each time we visit. According to the owners, they were the first to bring Ramen to New York City in 1975 and they definitely fill your belly! While the ramen is delicious, you'll also want to try the Kimchi Chahan – a Japanese style fried rice that I'm still craving.
Hubby took the boys to visit the National September 11 Memorial & Museum where they searched for names of those we knew. Hard to believe that my older one was not even two years old when 9-11 changed the world. That day made us all collectively hold our breathes and, to this day, still makes me stop what I'm doing at the sound of low flying airplanes.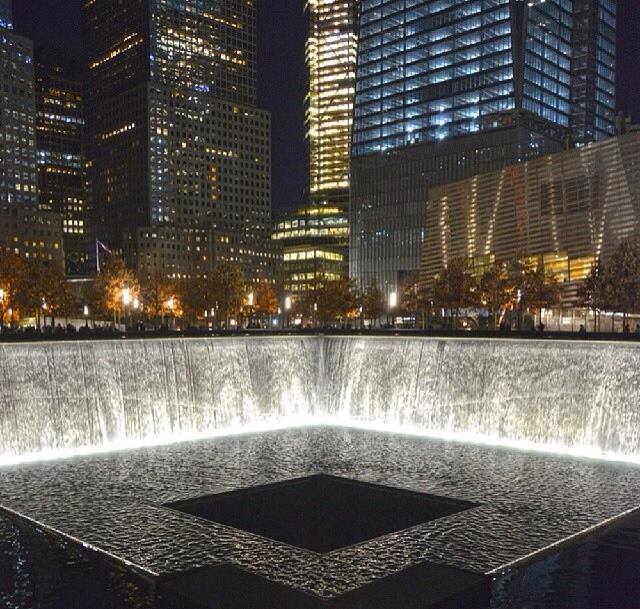 We also dropped into St. Patrick's Cathedral (5th Avenue) since the doors were opened. The historical landmark is under major renovations but is opened during the day for visitors. "Oh, Wow!" the kids gasped when we entered into grand doorway. You can download the Cathedral Tour App to help guide you through the history and the treasures of faith within.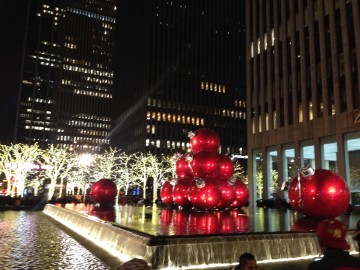 Nighttime along 5th Avenue is magical as the shops are all decked out for the holidays. Saks Fifth Avenue stopped traffic each time the light and music show lit up the side of the department store to the delights of all ages. While the holidays are definitely magical, you don't need to break the bank to enjoy this city. There's tons to do and great decorations/sculptures throughout the city that could easily turn a weekend trip into a city "scavenger hunt" any time of year just for fun!
The boys, especially the older one, was absolutely blown away with Central Park and Times Square. Even though they've seen the city on TV or in the movies it just doesn't compare to experiencing the city for real. I admit that we were exhausted at the end of each day but they didn't seem to be bothered by all the walking during the day. There was so much to see that I think they actually didn't realize how much we had walked in 4 days.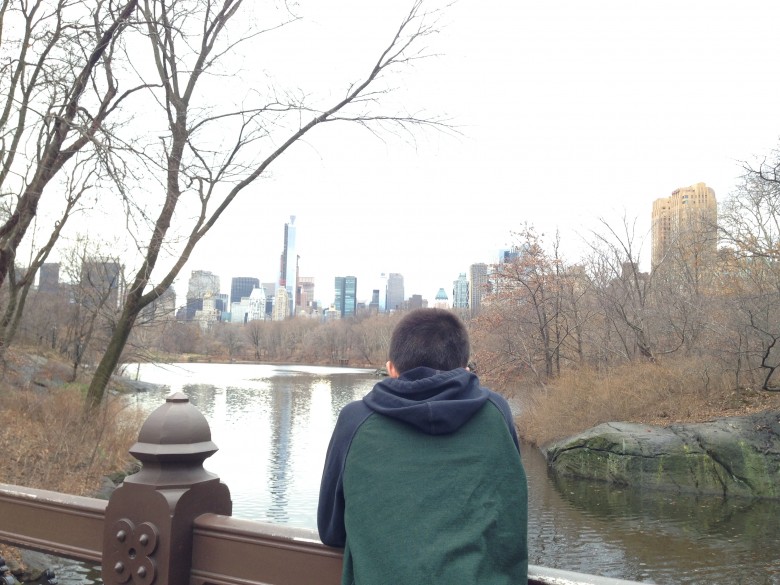 New York does Christmas big and the kids are already talking about going back next year. We were fortunate with the unusually warm weather this time around but I still dream of hot chocolate and roasted chestnuts from the street carts. We'll return with the boys as there's still so much we want to show them!
USEFUL NEW YORK TIPS:
1. New York City is a test of patience. It's crowded but it's worth it! If you're with your kids you'll want to bring extras to keep them entertained waiting in line at popular restaurants… and not necessarily even "touristy" restaurants. Even Sapporo, was an hour wait.  Note: if you're a table of two it's much easier to get tables. If you're more than 4 people it's best to avoid smaller restaurants or be open to splitting up your group.
2. Public washrooms are easier to find than you might think. Duck into department stores, hotels, and big restaurants for washrooms.
3. Yes, those cute dressed up characters in Times Square are NOT official. If you take a photo with them they will expect a tip.
4. Walk. Don't drive. You're better off planning ahead of time what areas you'd like to visit and take your time. There are lots of cabs but if the weather isn't on your side, you'll have a hard time finding one. Or take public transit. The city's subway grid is manageable don't be afraid. Just know where you're going before you go. Grab a map from your hotel concierge and ask for specific directions via subway.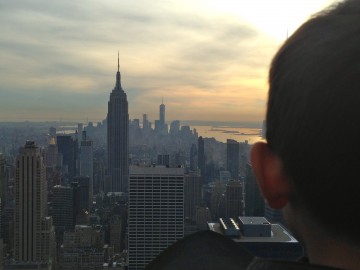 5. You could wait sometimes an hour  more to go up the Empire State Building…instead, visit the TOP OF THE ROCK (Rockefeller Centre) for a pretty view of the city that's less crowded.
6. My friend was also in NYC the same time we were and was disappointed in the shopping since she had mentioned that she stuck with the big department stores that had the same sales and merchandise as back home. We like visiting areas like NoHo for the great architecture and Chelsea. Also we like to shop at places that we don't have north of the border (yet) like Muji, Uniqlo, and Henri Bendel's.
If you are planning a trip to New York City, visit www.nycgo.com to find out what's happening!
Here's the absolutely incredible Saks Fifth Avenue Holiday Light Show! The music filled the streets and it was amazing!!!
[youtube id="a8vwrz4fZJw"]
What are your favourite things to do in NYC with kids?
I haven't listed out everything we did, saw or ate… I could go on and on! So, if you have any questions feel free to leave them in the comment section below!
…and yes, we did visit FAO Schwartz.