My kids started bugging me for a Sphero a few months ago. You know how kids are with their "wants" ? It's relentless. They had seen it in the Apple Store and my older son had come home and did his research. Here's the thing… in our household if the kids really want something then they have to state their cases and do some research. It's not good enough for us to hear that a friend already has one or that "it's cool".
WHAT IS IT?  The Sphero 2.0 is a tech toy ball that is controlled with a smart device and connects via Bluetooth. I admit that the concept sounded pretty cool but for the price tag of $130 I needed to know that it does more than roll around and look cute.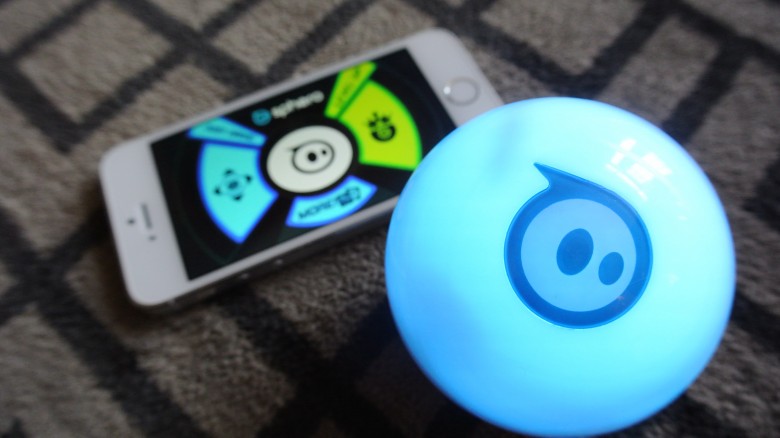 "Mom, it's not just a toy!" said my older one. "You need to learn how to control it and you can even take it outside so we can get fresh air!" Ha! He knew what I was thinking. We've spent enough time this winter cooped up indoors and as the weather warms up, we are SO spending more time outdoors. "Plus there are cool apps that you can play with," he continued.
As fate would have it, I was invited to the TIFFkids digiPlaySpace last month and Sphero was there with a hands-on installation. When I saw the tech ball in action, and having a chance to give it a whirl myself, I could see why my kids were keen on it. It's not only fun to play with, but it's also an interesting exercise for the creative mind.
We decided to test one out and well, faster than I could say "hang on and let's read the instructions" my 9 year old zipped through the initial set up on the Sphero and he was on his way. Creating ramps and courses for the Sphero to race through the house was half the fun. It basically took over our entire first floor as they used everything and anything to create obstacle courses. Yep, that's how we roll.
The Sphero is about the size of a baseball and is waterproof. My biggest concern has been not breaking it with all the jumping and dancing the toy does… yes, it dances. This baby can move! And it moves fast at a rate of 7 feet per second! So far, it's held up and happily rolls along.
WHAT WE LOVE: Rolling, jumping and dancing with glowing colors is cool but what takes this gaming device further are the apps that support Sphero. The games offer interactive opportunities for kids and adults and each time I look at the app store there seems to be yet another fun way to play with it. Games like Sphero Golf, Sphero Exile, Sphero ColorGrab and Sharky the Beaver are big hits with us. And there are many more!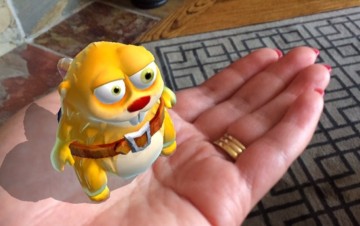 Sharky the Beaver app is particularly impressive as the character is based on Augmented Reality and it just boggles my mind. On your smart device Sphero is transformed into Sharky (a goofy beaver character with a shark fin tied to his waist) who runs around eating coins and butterflies to get points. What's really cool is how you maneuver Sharky around on your device while it's showing your immediate surroundings in the background while you're playing. I've been having tons of fun playing this one as you can see! I'm keeping this as my next party trick!
While the price tag seems a little steep, it's constantly offering new gaming apps that keep us playing with Sphero in different ways. In the past few weeks I've noticed special offers on their website so keep an eye on that if you're interested.
For more information, visit gosphero.com
Orbotix (maker of Sphero) also looked at other ways to take this gaming fun to the next level by creating SPRK – an educational program that teaches the basic concepts of coding, robots and math. It's an accessible way to show kids that it's not that intimidating and expand their creative thinking. The Sphero 2.0 works on iOS or Android. It's available at the Apple Store and online.
Here's more information about it…