I can hear the water streaming in the background and the quiet whispers of enchanting music. It's hard to believe that this spa is in the core of the city just mere steps from many offices. It's an urban escape if only for a few hours out of my busy schedule.  I let the soothing voices take me away leaving any stresses at the door. Welcome to the Shizen Spa at the Cosmopolitan Hotel.
I look around to see the richness of dark wood and candlelit buddhas placed along the steps to the lounge area. It's this kind of zen-like atmosphere that appeals to me the most. Warm and inviting. "You're welcome to use the hot tub before your treatment," said the hostess. The lounge is a decent size. There's an area is set up for manis and pedis at the entrance but a few steps up and there are lounge chairs that curve to hug your tired weary body. The large jacuzzi hot tub is crystal clear and begging me to go in but I peek over to the corner and a cozy nook offers a tray of pastries, lemon water and tea. Today's selection included a calming Ayurveda 100 Mystery tea that I just can't get enough of.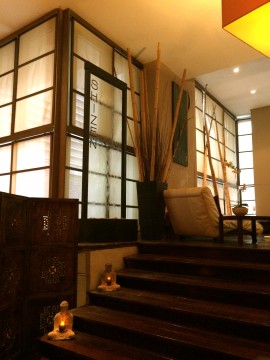 I'm here on this day to experience the new Moroccanoil Hydrating treatment for body and hair. I already use Moroccanoil on my hair on a regular basis so this offering piqued my interest.
Asami, a cheerful Japanese lady has me settled into a candlelit room comfortably and starts with my hair treatment. If you've ever had a scalp massage, you know that it's does wonders for releasing tension from your hardworking brain. I'm like absolute puddy in her hands. She continues to gently and soothingly work in the Moroccanoil into my hair. I washed my hair early in the morning so the nutrients of the oil would gain the best benefits from this treatment. I was happy that my hair didn't feel greasy afterwards. That goes to show just how dry my hair is after the long cold winter! There are different grades of hair treatments here depending on your hair type. The Masque is suitable for extra dry and brittle hair as well.
Following my caressing hair treatment, Asami moved onto the body scrub in combination with a massage. This is the time of year to do this after our skin has been kept in cold temperatures of our extra long winter! The body scrub combines orange peels that sloughs away dead skin. It's invigorating and re-energizing. I find myself breathing in deeply for the love of the light orange scent alone. Once Asami was done she applied the nourishing Body Souffle. Just as it sounds, it's lightly whipped and smells delicious! She continues to massage those tired hotspots and at one point she says "wow, you must be always be at the computer, your shoulders and neck are like rocks!"
But that's okay, she works out a few kinks in my neck and I am deeply grateful.
The Moroccanoil Hydration Treatment is available through the Shizen Spa at both Cosmopolitan Hotel and Pantages Hotel. Graeme Harper, director of the Shizen Spa, had recently introduced the new body treatments to the spas. "We wanted to offer something that we thought the urban market would appreciate – the Moroccanoil brand is loved by so many," said Harper.
"Wow, you must be always be at the computer, your shoulders and neck are like rocks!"
Moroccanoil began when co-founder Carmen Tal was travelling in Israel. She was introduced to a hair salon where she experienced the nutrient richness of this oil treatment and noticed her hair was instantly transformed from damaged to shiny. After that experience she wanted to make the oil treatment accessible to all women. Since then, Moroccanoil has become one of the most popular treatments for salon and at-home use. Now the brand has extended it's line to include body care products and therapeutic treatments available at spas around the world.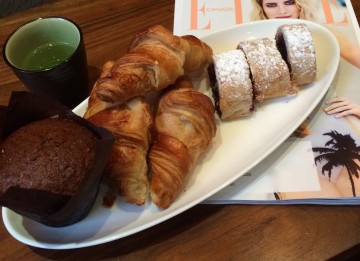 This is my first visit to the Shizen Spa at the Cosmopolitan Hotel and it's a hidden gem in the city. Just steps from King and Yonge, this spa is convenient for the busy downtown crowd, spa lovers and visitors alike.  How did I not know about this spa before? It's tranquil and I'm grateful to have a chance to experience it.
Moroccanoil Hydration Treatment is 50 minutes… $105
Features the exfoliating benefits of a body buff, made from rich orange peel. A hydrating and nourishing body souffle that is combined with a classic massage techniques will soothe dry skin. A relaxing hair treatment is the start to a ritual that will lead you through the scent and feel of Moroccanoil.