Technology is amazing, isn't it? I love telling my teenager about owning my first "cellphone." It was 14 years ago…just before he was born. I felt it was a necessity for emergency purposes. I could call my parents or my hubby without having to find a phone booth.
"You could only call from it? That's it?" he asked me.
"Yep, that's it," I would reply as he shakes his head.
It's amazing how far we've come and what these devices are capable of. Cell phones started physically big and then went small…but now…they're all getting bigger again with all they can do. But you may have heard the term "phablet" now and then. That's the mish-mash term of phone and tablet. If you're the type that carries a phone and a tablet around, you may be interested in switching to this two-in-one device.
In the Fall,  I had the opportunity to test out the Samsung Galaxy Note 3 and the accompanying new Galaxy Gear — a watch-like device that makes you feel a bit like James Bond. Only cooler.
So, after playing a bit with the two devices here's what I found interesting…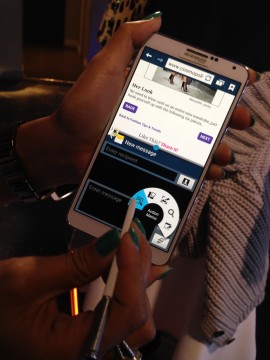 SPLIT SCREEN: Since this device is bigger than a phone and smaller than a tablet, this split-screen capability is handy for us multi-taskers. I'm often flipping from Twitter to Facebook to the Internet to my emails multiple times each day for work. It's a simpler way to view two screens side-by-side and a huge advantage for this device.
S PEN: I know some people can't get use to keying into the screen with their own fingers and prefer a stylus-type device as well as handwriting. The Samsung Galaxy Note 3 gives you the option of using the exclusive S PEN on the device. It's a great option rather than typing in your notes. The S PEN is built into the device and as soon as you remove it, the S PEN activates the menu with options ready to go. Taking notes are easier now.
SCRAPBOOK: This neat feature allows you to save content you find on the internet into "scrapbooks." Say, you find a really great article or recipe, you can grab the page and save to read later. You can also make notes on what you save. You can use the handy S PEN to easily circle the content and simplify the saving process. It will save the URL (link) for future reference.
AIR GESTURES: Say you're  in the midst having lunch at your desk or trying out a new recipe with hands a little sticky, turn on the handy feature to use AIR GESTURES. This allows you to access the most important features of your device, like checking for missed calls, and unread messages by the simple wave of your hand. Swipe screens by hovering over the device.
S VOICE COMMANDS: Now you can activate some of the most common features of the device by voice. Dial a number, send a text and play music.  Wake up the S VOICE feature like "Hi Galaxy" and it recognizes your desire to use this feature. On the "Say what you want" screen you can ask questions like "What's the weather in Bahamas?" and it will deliver your answer.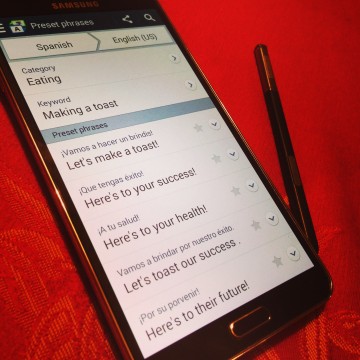 S TRANSLATOR: This features comes pre-loaded on the device and perfect for travelling. Previously, I've had to download apps and sometime worry about data and  roaming charges.
S HEALTH: exclusive to the Samsung this feature helps track your stats like blood pressure, weight, and even keeps track of your exercise needs and work outs. Perfect for this time of year right? Walking Mate is a built-in step counter and recorder – as long as you have it in your pocket while in movement and you've turned on this feature. Handy! It also has a food tracker that where you can enter your meals. It notes calorie intake and  helps you with your weight goals.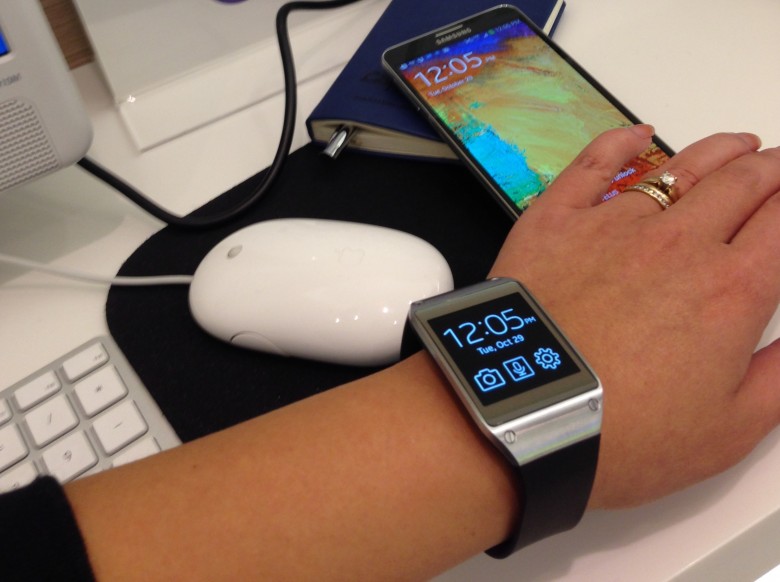 GALAXY GEAR: Dubbed the first "wearable tech" in the market, Samsung delivers a fun gadget that makes anyone feel like an international spy. Why all the buzz around this watch-like device? The GALAXY GEAR corresponds with the Samsung Galaxy Note 3. You can check your emails notifications, appointments, and missed important calls without pulling out your actual phablet. You don't want to be rude right? You've seen those people. But take note, it's meant to provide you with notices rather than actually responding to emails.
With the GALAXY GEAR you can also take photos a little more discreetly…um hello, restaurant lovers who snap pics of every dish. I'm talking to you! It's also handy for events such as Fashion Week. When I was viewing the collections and wanted to take pics as reminders for write ups it was the ideal time to use the GEAR. You know how fast those models walk down the runway?  This 1.9 megapixel camera comes in very handy for pics and quick videos!
I was a little concerned about this particular future and just how discreet it would be. Safety and privacy is always a concern. Samsung has thought of that too. I had learned that when photos are taken, the device will make a "shutter" noise. This cannot be turned off. It also doesn't allow you to immediately upload to your social media. This may be good or bad depending on how you use social media. In most cases, it's not a big deal to send the photos from the GEAR to the phone where you can then upload to your social media…but I guess it depends on just how much of a social media addict you really are!
The Samsung Galaxy Note 3 is beautifully designed as well. It's sleek and surprisingly light for all it can do. While the Samsung GALAXY GEAR is a little on the masculine side there's no doubt it will be refined in the future. It's fun and definitely has that cool factor.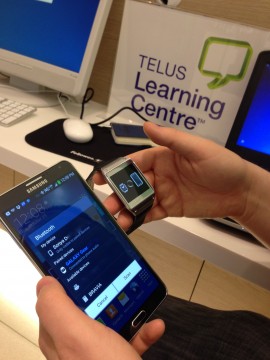 Samsung has also created How-To Guides on the various features on the devices but I also made a one-on-one appointment with Paul (my go-to guy) through the Telus Learning Centre to help me initially. While his job is to know the ins and outs of every device they have available, I loved that I could sit down with him and take time to find the most useful features to suit my lifestyle.
For more information about the Samsung Galaxy Note 3 and the Samsung Galaxy Gear visit www.samsung.com or  www.telus.com  and other service providers.
This post is not sponsored. I was provided with the Samsung Galaxy Note 3 and Gear through Telus for review purposes only.