My two young kids have a serious case of what I (fondly) like to call 'selective eating'. As you can probably imagine—especially if you too have 'selective eaters' at home—I am constantly on the lookout for nutritious and delicious foods that my kids will not just eat, but actually love to eat. Breakfast is a particular concern, as I am someone who truly believes that breakfast is the most important meal of the day, and I want to feel good about what I serve my kids before they head out the door.
We all know that it's essential to make sure our kids have the fuel and energy they need to start their day off on the right foot. But, as any busy stay-at-home or working parent knows, although we all have the best of intentions, mornings can be hard/tough/seriously hectic! We not only need to make sure that our kids eat a healthy and balanced breakfast (that is quick and easy, too!), but there are beds to be made, lunches to be prepped, kids to get dressed and teeth to be brushed—all before shuttling the kids off to school or camp.
Enter Sally's Cereals, a line of delicious breakfast cereals. And I must admit—they are kinda saving my life (and by life, I mean mornings) these days.
I first came across Sally's Cereals at my local grocery store and although I was intrigued, I was also tentative about buying yet another breakfast cereal that my kids would turn up their noses at. So, I passed them by without much thought. However, when I was recently reintroduced to Sally's Cereals, I decided to give them a go with my kids, because you never know, right?
What initially sparked my (and more importantly, my kids) interest was Sally's bright and colourful packaging and innovative cereal flavours. With nine unique flavours that are reminiscent of our childhood favourites—think Berry Colossal Crunch, Marshmallow Cocoa Crunch, and Cinnamon Bliss), there is a ton of variety to choose from. And—perfect for any busy parent who is trying to cut down on the number of errands they do—Sally's Cereals are conveniently available at many major retailers and grocery stores including, but not limited to, Walmart, Giant Tiger, Real Canadian Superstore, Loblaws, Zehrs, your independent grocer, Fortinos, Provigo, Valumart, select Sobey's stores in the West and Atlantic regions, and Federated Co-operatives.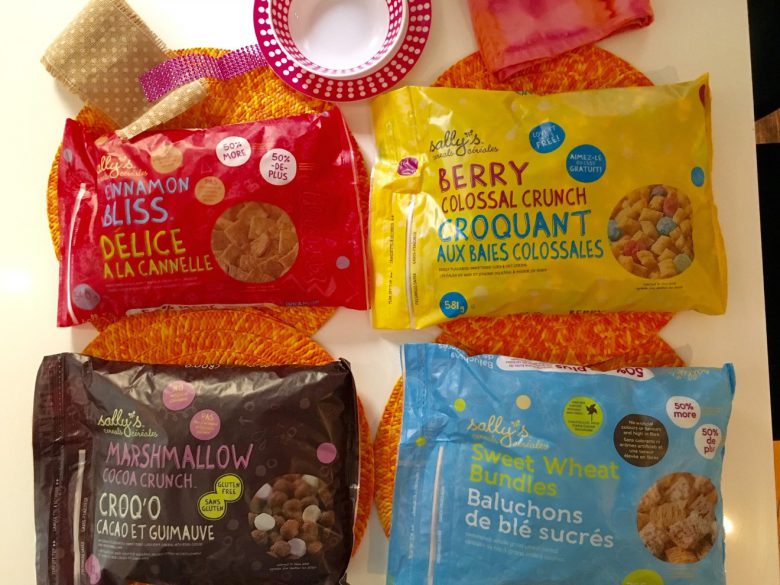 Like most working families with young kids, my husband and I appreciate great value and we are always looking for ways to provide great tasting food for our family while sticking to our budget. Sally's provides tasty breakfast cereals at a lower price than many national brands. They are able to do this by offering innovative flavour combinations in box-less packaging. The result? You get more great cereal for less money. A no-brainer in our books. And Sally's Cereals re-sealable bags mean the cereal stays fresher, longer.
So far we have tried four of the nine varieties of Sally's Cereals: Berry Colossal Crunch, Marshmallow Cocoa Crunch, Cinnamon Bliss and Sweet Wheat Bundles. As it's summertime and we are operating on a slightly more casual schedule at home, we decided to set up a fun, summer-themed table spread complete with DIY tie-dye napkins at our breakfast bar to test them all out.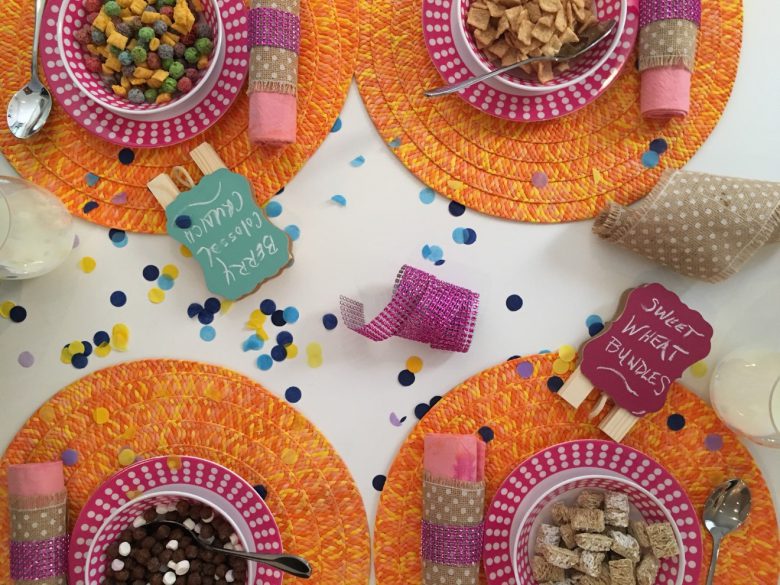 And much to my surprise (and delight!), my kids loved them. The cereals were wholesome, sweet but not too sweet, crunchy and delicious.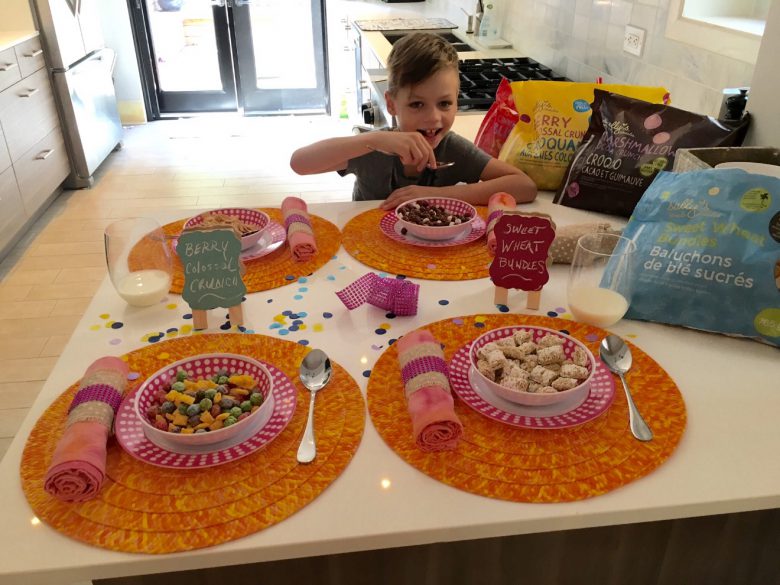 Another reason that you can feel good about choosing Sally's Cereals is that they are environmentally conscious. I am committed to helping my kids learn to make choices that are environmentally friendly. Choosing Sally's Cereals makes this easy, as they minimize the impact on the environment by using box-less packaging.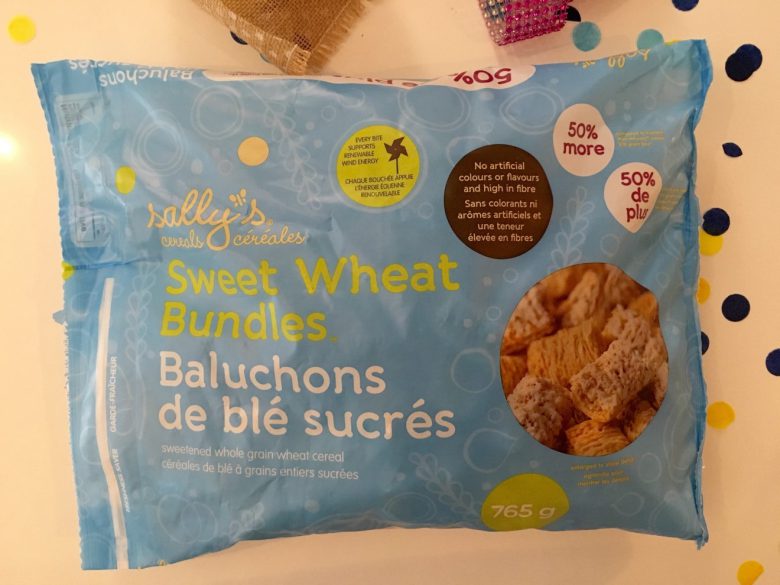 So, what's my final verdict? We will definitely be choosing Sally's Cereals as a quality, easy breakfast for our family and we are all excited to try more of their innovative flavours. Breakfast has become easier (and dare I say even fun!) and everyone is walking out the door happy and with a tummy full of delicious cereal.