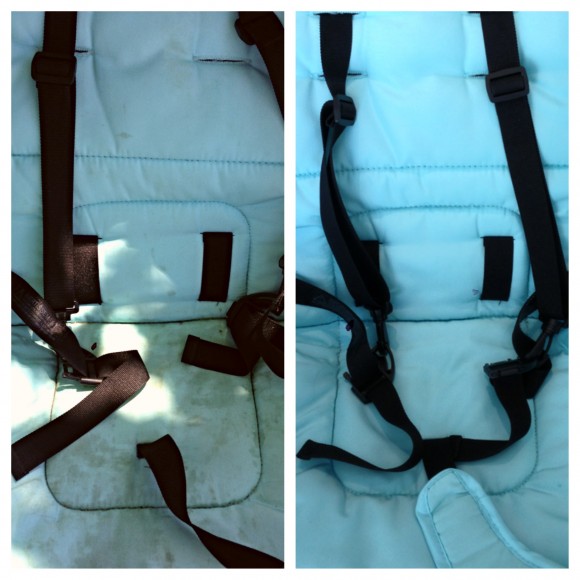 BEFORE                                                                              AFTER
I've got three days left of work before my maternity leave begins and a list of little projects to get working on before #2 arrives – I am totally in nesting mode. That said, Liz from 
Stroller Spa Toronto 
couldn't have contacted me at a better time.
Her 
stroller detailing business
 takes scuzzy strollers and car seats and makes them look new again. And when I say this I mean it! She took my two-year-old, toddler stained 
Bumbleride Stroller 
(see photo on left) and now look at it (photo on right), it looks ah-mazing. Shiny, clean, sanitized and ready for our new little babe.
Now this isn't just a simple cleaning job. Liz takes your stoller for several days (if you don't have a back-up she provides loaners) she completely disassembles it, spot treats all of the stains with a non-toxic cleaner and then steams it clean with a high-octane steam cleaner. She even cleans and picks the wheels and polishes and steam cleans the chassis. It's the full meal deal. She also does repairs on a variety of strollers if that's what you need.
So, if you have a stroller or car seat that needs a good scrubbing, get in touch with Liz. SUV strollers cost $80, umbrella strollers cost $50, car seats are $45 and if you require pick-up and delivery she can provide that service for an additional fee.
I highly recommend her service and I am so happy with my brand new-looking stroller. Bring on #2!
Thanks Liz!!